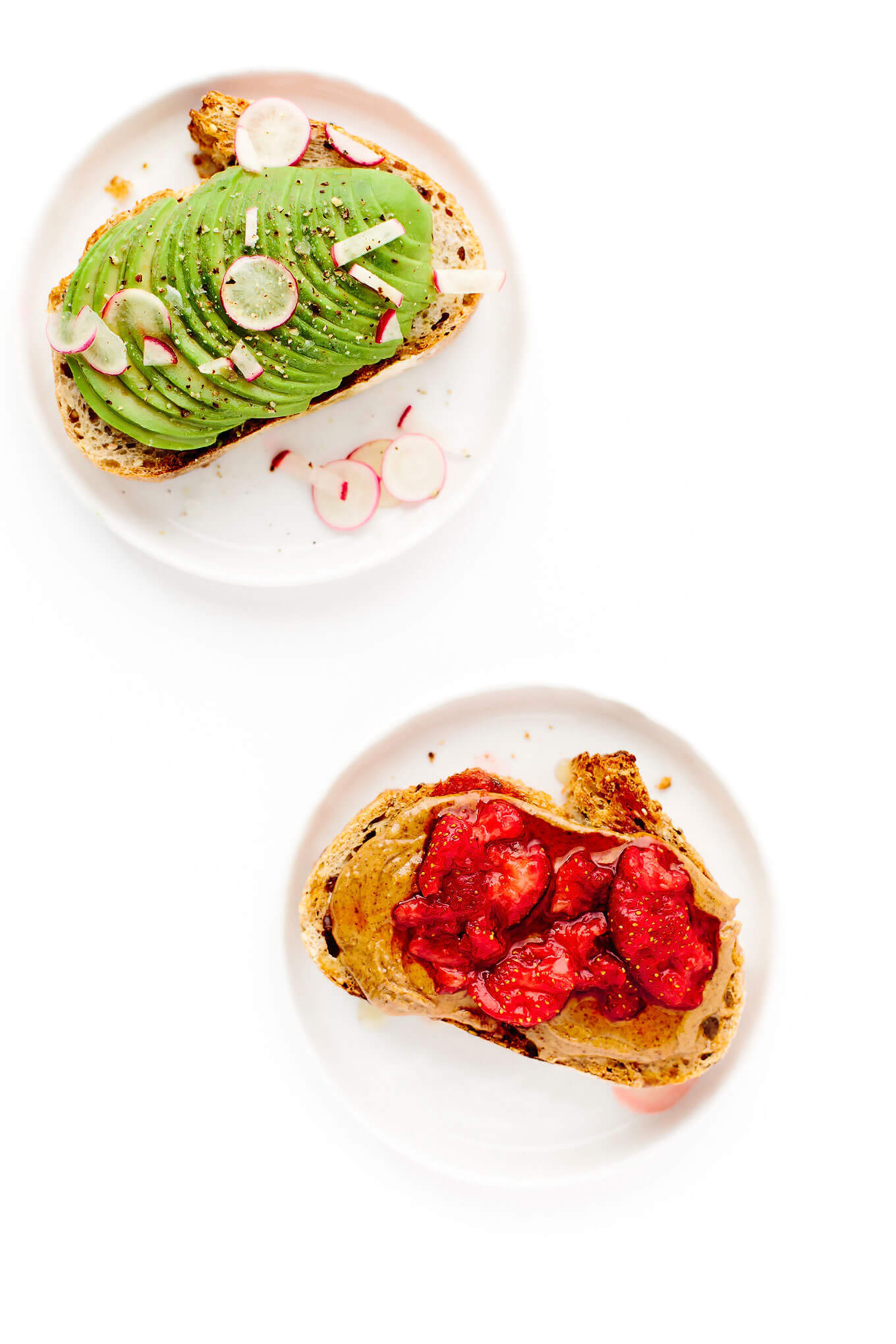 This post is sponsored by Naked Juice. All thoughts and opinions are my own.
One of my favorite parts about this time of year is the range of fresh produce. From fruits to veggies to fresh herbs, nature's bounty overflows from the produce aisles and local farmers markets.
Throughout nearly seven years of blogging, I've written about farmers market excursions on many occasions.
In fact, one of the very first posts I ever wrote was about a magical trip to Green City Market. Other than the fact that I no longer eat dairy-based cheeses, nearly everything about that post still rings true all these years later.
The farmers market is truly my summertime happy place. If it wouldn't be judged as a bit creepy or altogether quirky, I'd happily plop down and people- and produce-watch for hours.
And whenever I'm in a recipe idea rut, the farmers market is my go-to cure. A few minutes amid pretty produce with a peaceful breeze in the air, and the lightbulbs begin to flash.
Heirloom Tomato, Basil + Balsamic Zucchini Noodles
Avocado + Heirloom Tomato Toast with Balsamic Drizzle
Spring onion tart (again, from pre-vegan days)
Usually, I'll plan out a general recipe idea whilst perusing; however, as I meandered through the vendors' tents and overflowing produce bins at a neighborhood farmers market the other week, a delicate spring rain picked up speed and morphed into a full on torrential downpour.
Thus, I quickly grabbed what looked good—radishes, some gnarly looking heirloom tomatoes, teensy ruby-hued strawberries, and the most wonderful seeded bread from a local bakery—tucked the goods into my bag, and made a run for the car.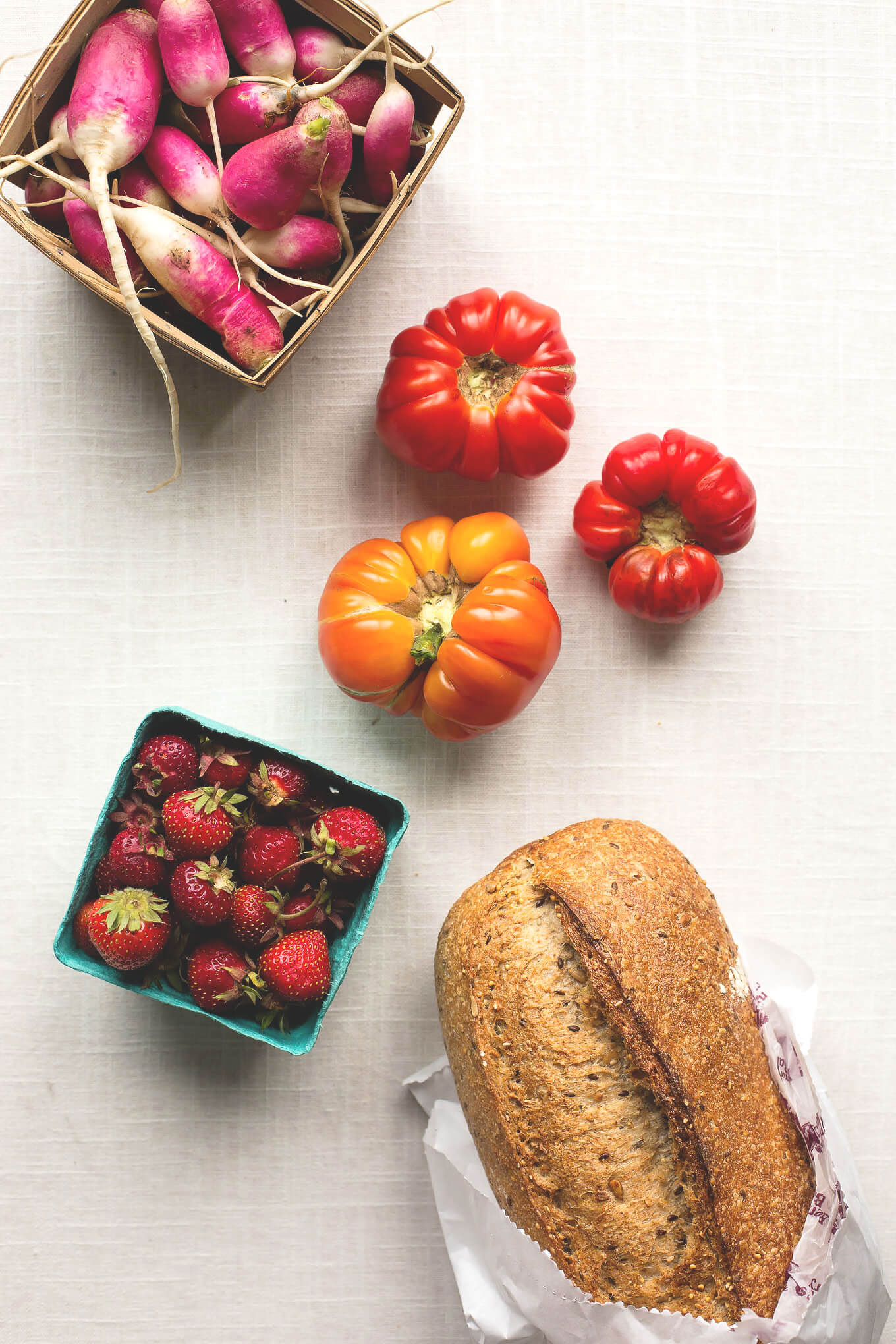 As I unloaded the rather small but intriguing farmers market haul onto the kitchen counter, a simple idea came to mind:
Farmers market toast... two ways
Both toasts would feature that beautiful seeded bread.
One toast would feature the radishes while the other showcased the strawberries.
And thus, two types of breakfast toast—one sweet, one savory—came to be.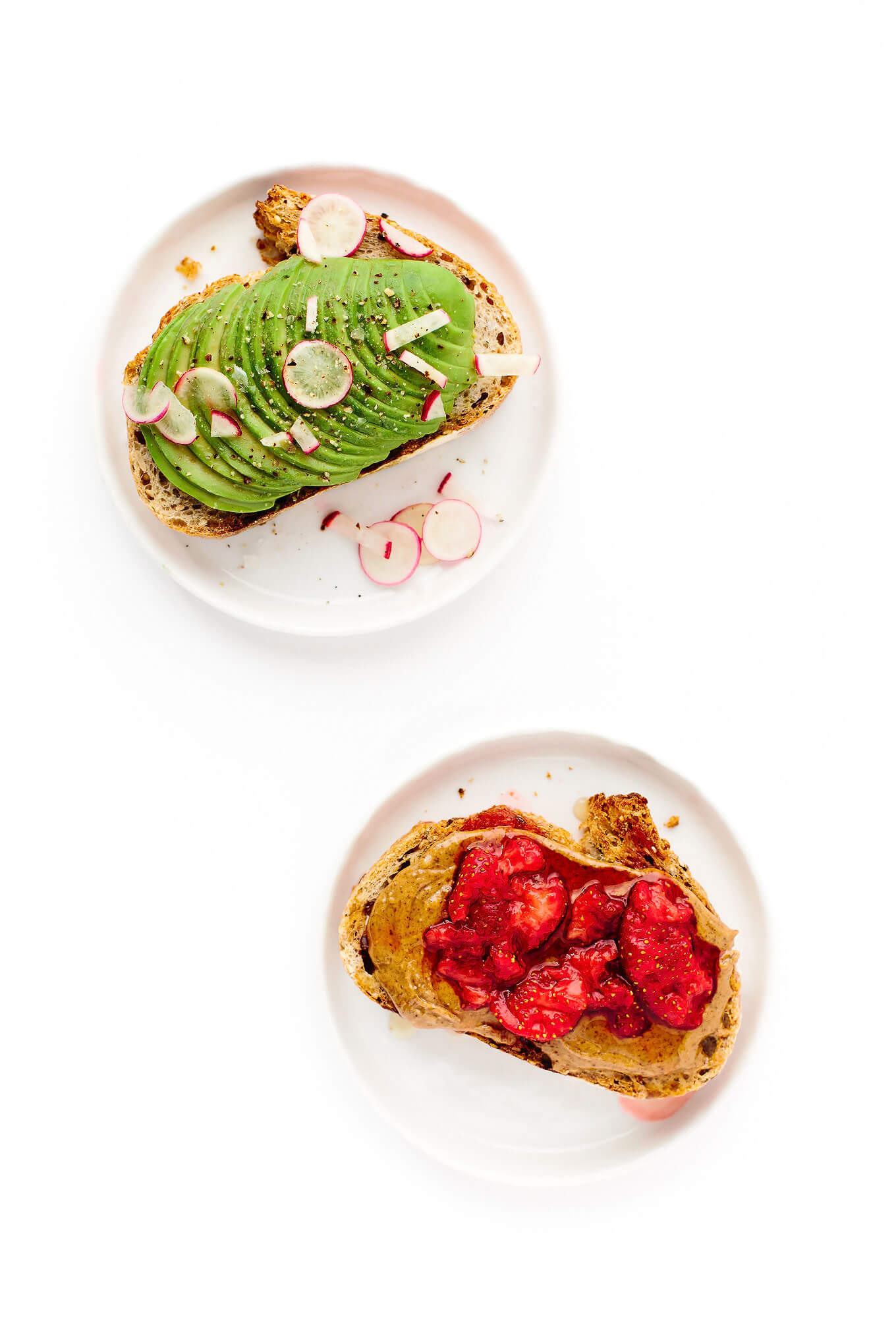 The top toast—Sliced Avocado, Radish + Lemon Toast—is a springtime twist on classic avocado toast. I love how the fresh crunch of the radishes and the brightness of the lemon juice play off the creamy avocado. It's a simple yet immensely satisfying combination.
To bring an extra boost of vitamins and minerals to the meal, I paired the savory toast with Naked Pressed Bright Greens juice—a blend of apple, cucumber, celery, lettuce, lemon, kale, spinach, and wheatgrass. If you're looking for a green juice that offers both a welcoming freshness (with a hint of sweetness) and packs a punch of nutrients, Bright Greens is an excellent go-to.
The bottom toast—Smashed Strawberry + Almond Butter Toast—is like a jazzed up, fancy version of a pb + j. Seeded bread is toasted, slathered with drippy almond butter, and topped with gently smashed strawberries, a drizzle of vegan honey or pure maple syrup, and a pinch of ground cardamom (optional). This toast works especially well with those tiny, farm-fresh strawberries you'll find at markets this time of year. The berries tend to be super tender and juicy, nearly bursting open when pressed.
I paired the sweeter toast with Naked Pressed Bold Beet juice—a blend of beet, carrot, cucumber, apple, lemon, orange, and ginger. I've found this juice to be particularly energizing as well as digestion soothing, making it ideal for kickstarting each day.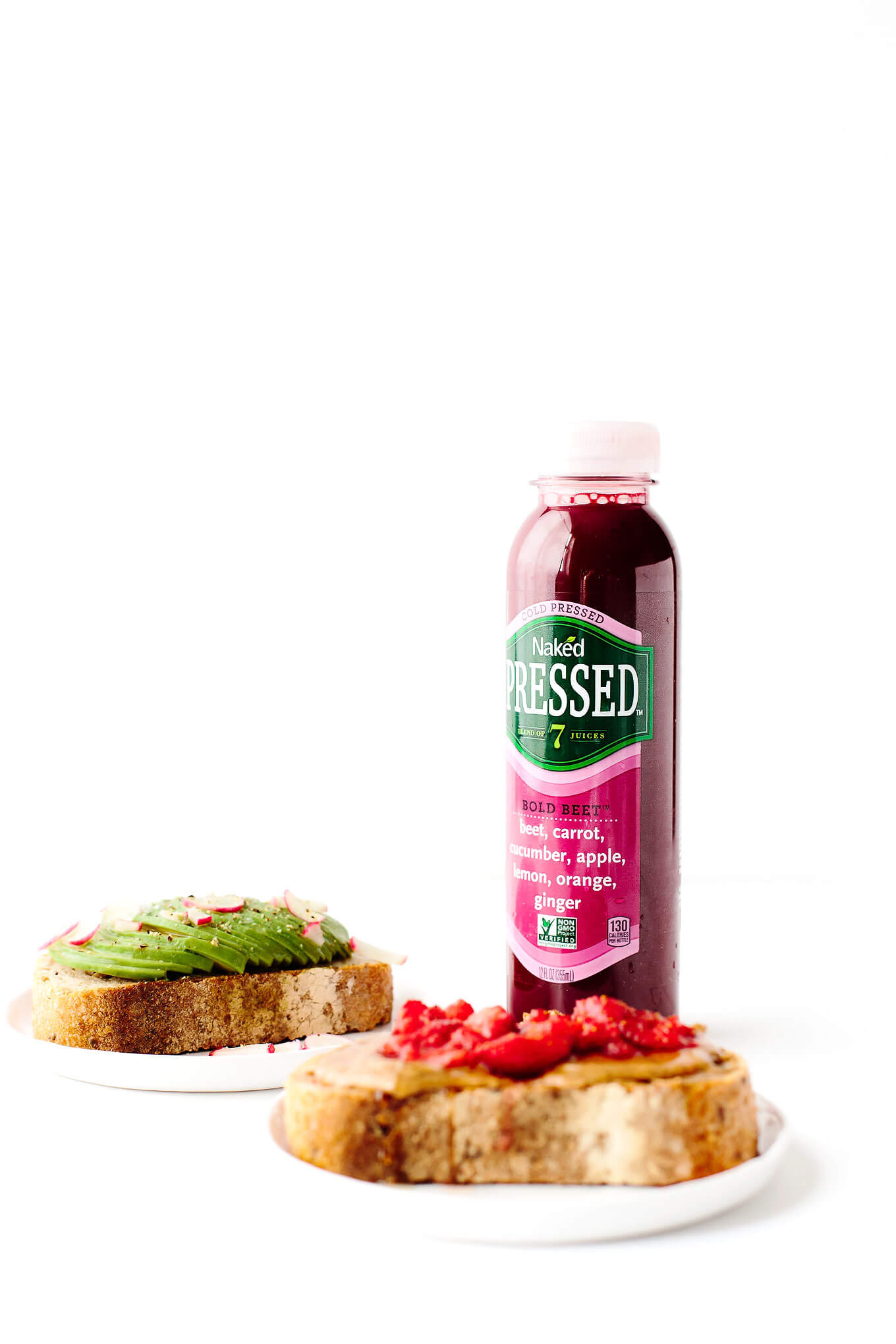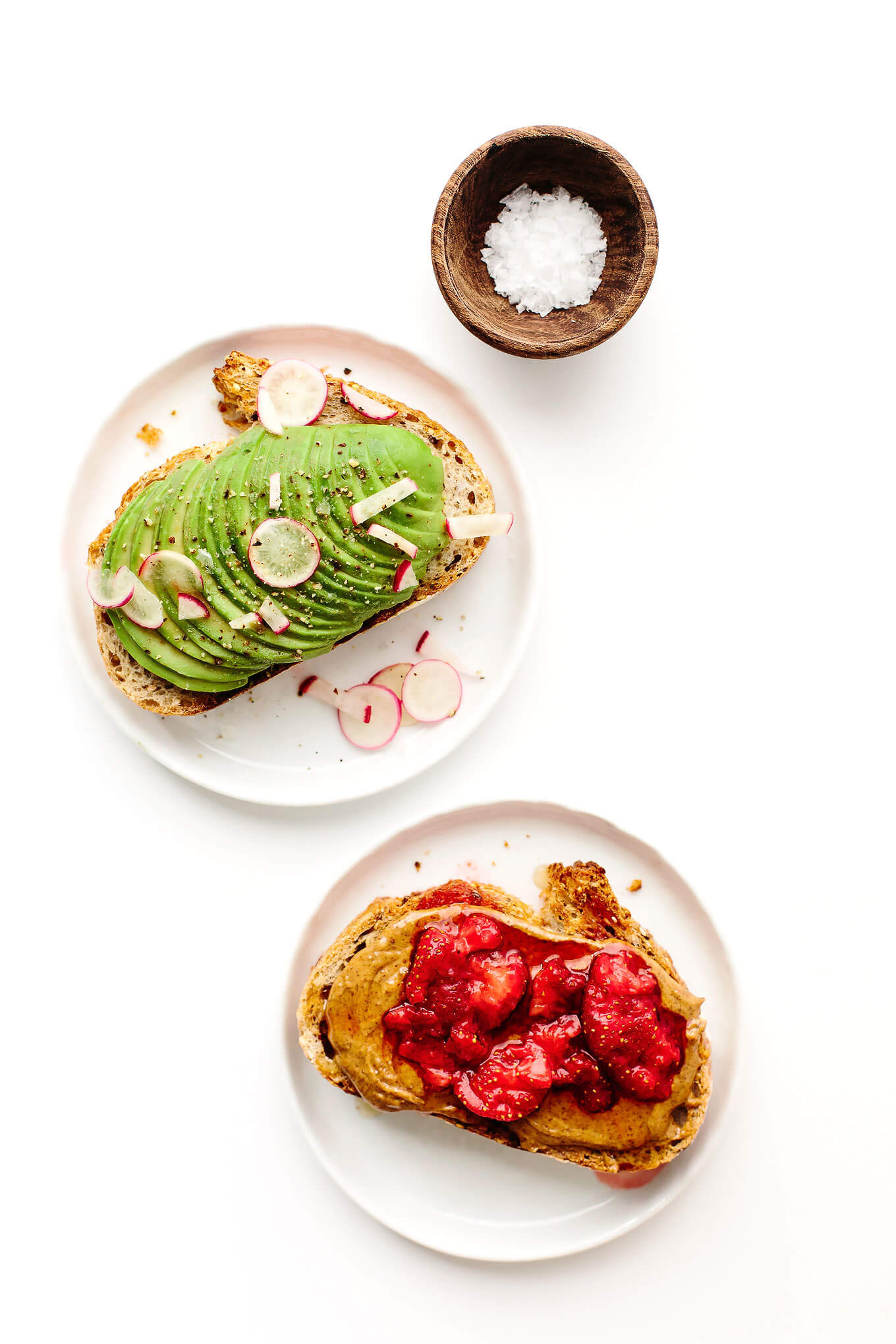 📖 Recipe
Farmers Market Breakfast Toast Two Ways
Ingredients
Smashed Strawberry + Almond Butter Toast
2

slices

sunflower seed bread or other seeded bread, toasted

2–4

tablespoons

natural almond butter

½ to 1

cup

small ripe strawberries, washed and hulled

Pure maple syrup or vegan honey (e.g., BeeFree Honee)

Pinch ground cardamom

(optional)

Pinch large flake sea salt

(optional)
Sliced Avocado, Radish + Lemon Toast
2

slices

sunflower seed bread or other seeded bread, toasted

1

small firm-ripe avocado, halved, pitted, peeled, and thinly sliced

Handful French Breakfast Radishes or radish variety of choice, washed and thinly sliced

1

lemon, halved

Pinch large flake sea salt

Freshly ground black pepper

Olive oil (optional)
Instructions
For the Smashed Strawberry + Almond Butter Toast
Slather the toasted bread slices with almond butter.

Add the strawberries to a small bowl and use the back of a fork to gently smash the berries, releasing their juices.

Top each toast with the smashed strawberries, drizzle with the maple syrup or vegan honey, and sprinkle with sea salt and cardamom (if using).

Serve immediately.
For the Sliced Avocado, Radish + Lemon Toast
Top the toasted bread slices with the avocado and radishes.

Squeeze a bit of fresh lemon juice over each slice, season with sea salt and black pepper, and drizzle with olive oil (if using).

Serve immediately.