A few weeks back, I posted this recipe for Blueberry + Buckwheat Granola. Today, I'm kind of cheating this whole recipe-creation thing and presenting you with a subtly modified granola bar version of that granola.
Some people say If it ain't broke, don't fix it.
I say If it's delicious, remix it.
These Blueberry-Buckwheat Granola Bars are packed to their chewy edges with nutrients and superfood ingredients. Oats, raw buckwheat groats, almonds, puffed millet, blueberries, chia seeds, and hemp seeds are sprinkled with cinnamon and cardamom and coated in a sweet mixture of maple syrup, almond butter, and coconut oil. The granola mixture is then spread out over a pan, pressed together into one large bar, and popped in the freezer for 30 minutes to set. After that, it's time to slice and savor.
I had a few trusted granola bar lovers taste the bars 1) out of the refrigerator and 2) out of the freezer, and the feedback was consistent across all raters (granola stats at your service): bars out of the freezer for the win. So, I recommend storing these granola bars in the freezer to keep them firm and lend a chewier texture. They hold together well enough to be out of the freezer for an hour or two, but I wouldn't expose them to too many elements (e.g., the bottom of your work bag, left sitting in a black car on a steamy summer day, used as a pillow to sleep on under your desk at work, etc). I hope you enjoy these granola bars as much as Dan and I have; we can't get enough of them and have each been noshing on an average of 2.5 per day. If I turn into a buckwheat groat, you'll know why.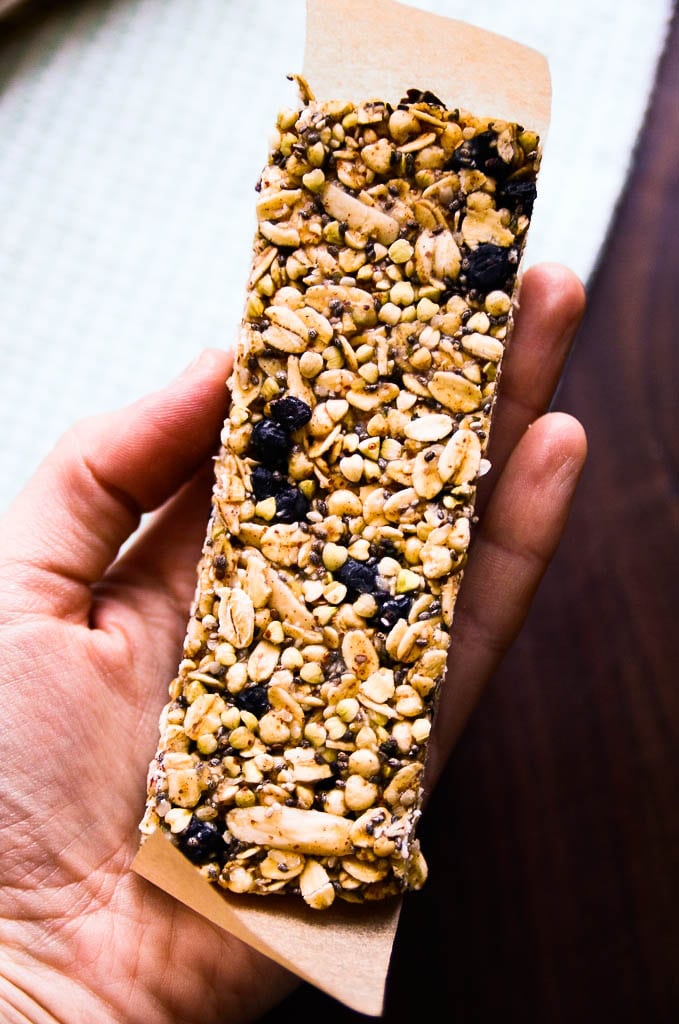 Blueberry-Buckwheat Granola Bars
Recipe type:
Breakfast, Snack
Ingredients
2 cups rolled oats
1 cup raw buckwheat groats
1 cup dried blueberries
1/2 cup slivered almond
1/2 cup puffed millet or brown rice
1/4 cup chia seeds
1/4 cup hemp seeds
1 teaspoon cinnamon
1/4 teaspoon cardamom
1/2 cup creamy raw unsalted almond butter
1/2 cup pure maple syrup
1/3 cup coconut oil
2 teaspoons pure vanilla extract
1/4 teaspoon fine grain sea salt
Instructions
In a large bowl, stir together the oats, buckwheat groats, dried blueberries, almonds, puffed millet, chia seeds, hemp seeds, cinnamon, and cardamom.
Melt the almond butter, maple syrup, coconut oil, vanilla extract, and salt in a saucepan over low heat until melded together. This will take about 3-4 minutes.
Pour the warm mixture over the dry ingredients and gently toss to coat.
Line a medium-sized jelly roll pan with parchment paper, making sure you have edges of parchment paper sticking up on all sides.
Pour the granola bar mixture into the pan and press down with your fingers to create an even layer. You can also spray a small rolling pin with coconut oil and roll it over the top to compact the granola mixture.
Once the mixture is pressed down and feels adhered together, place the pan in the freezer for 30 minutes to set.
Carefully lift the parchment paper and the large granola bar out of the pan and place on a cutting board.
Using a sharp knife, slice into 20 granola bars.
To store the bars, place pieces of parchment paper between granola bar layers and keep in an airtight container. I like to store these in the freezer as they hold together best that way.