Yesterday started off like any other day. I woke up, hopped in the shower, and tossed on a podcast while getting ready. Usually one to hem and haw over what to listen to, yesterday I impulsively hit "play" on the episode at the tippy top of my unplayed feed: TLS #186: Things I'm Afraid to Tell You by Jess Lively.
The episode is an updated extension to a blog post Jess wrote nearly five years ago. One in which she courageously outlined the things she'd been afraid to share online for fear of rejection, judgement, etc.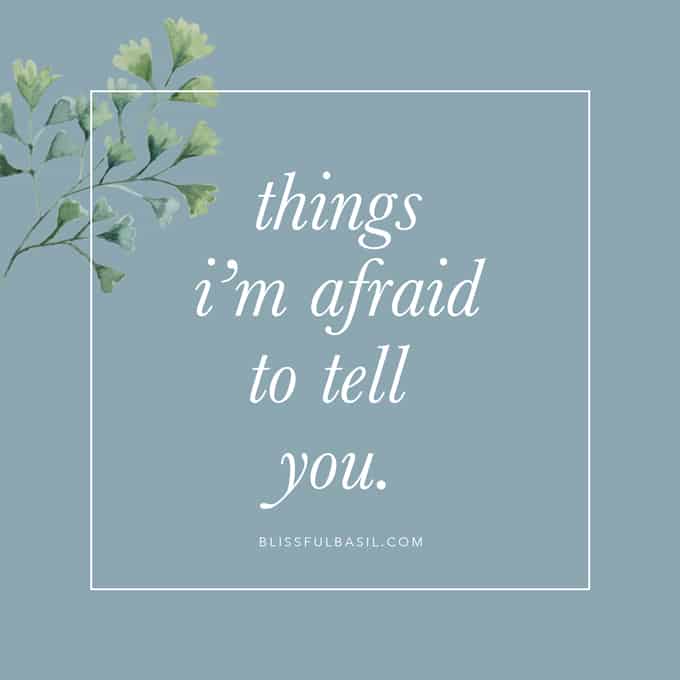 I won't spoil the episode by detailing Jess' personal list, but I'll say this: it was perfectly timed wisdom and one of those serendipitous perspective-shifting moments.
You know the type? Moments when, within the boundaries of ordinary circumstances, we fatefully collide with the answers we hadn't yet realized we were seeking. When one of the questions, doubts, or fears embedded within our internal narrative rises to the surface and is greeted by a resolution. This was absolutely one of those moments.
Realization
When I started blogging, my only goal was to scratch a curious summer itch. I thought, "Hey, this might be a fun way to keep myself entertained this summer," and began writing my first post a few minutes later. Very few people read what I shared those first handful of months. So few, in fact, that the first time the blog broke 100 pageviews in a day, I thought one of my posts had surely gone viral. Now there are times when I click on 'Real Time' stats in Google Analytics and realize there are over 100 people actively perusing the site in just that one given moment in time. Things have certainly changed.
The sea of beautiful eyes on this space has expanded beyond my wildest dreams, opening up possibilities, opportunities, and adventures that have shaped my life in the most wonderful way. It's been both inspiring and humbling at the same time. And my goodness, receiving a heartfelt email from someone who has been touched by the blog in some way makes my heart feel as if it just might explode with gratitude. So much gratitude.
But the more eyes there are, the more pressure I've put on myself to tiptoe, tread lightly, and color well within the lines. Not because you've asked me to but because my fears have. In the past, I frequently wrote blog posts that veered into psychological topics and uncertain life territory. In recent years, I frequently veer but rarely hit 'publish'. Why? Because I'm afraid.
Afraid of being judged for my vulnerabilities or angering people who meandered here through the interwebs for the recipes only. As I listened to Jess' podcast yesterday, I realized that I've been so afraid, in fact, that I've even been afraid to tell you I'm afraid. How crazy is that?
So much fear, so little time.
But then it dawned on me. What's on the other side of fear? FREEDOM. We always have a choice. We can observe fear from a safe distance, allowing it to become the self-imposed limitation that fastens us to where we are. Or we can take a deep breath, run forward with as much valor as we can muster, and bravely climb the fear fence that stands in our way, using it as a tool to propel us closer to where we want to be.
Only time will tell how I'll feel on the other side of clicking 'publish' on this post, but for now I'm armed with running shoes and wings.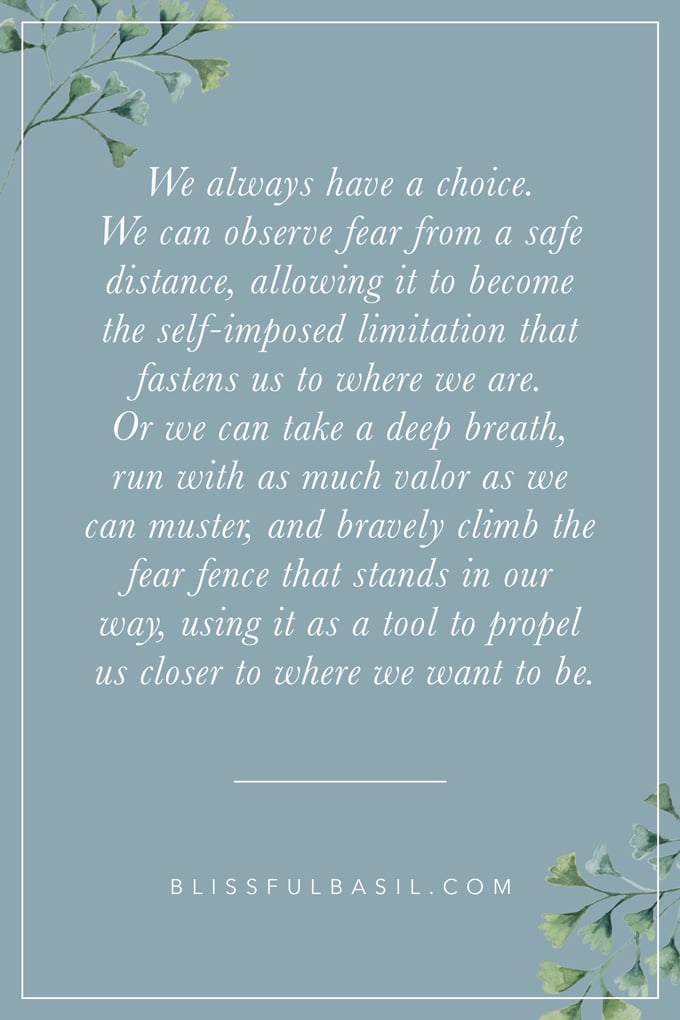 Resolution: Telling You the Things I've Been Afraid to Tell You...
But first, I want to clarify that my intention in sharing isn't to solicit your understanding but to solicit my own. To look fear square in the eyes, give it a high-five and a fist-bump, and release it right here in front of you.
Here goes nothing something...
»»» Lately, I've had this broad, looming sense of uncertainty and confusion about how to best move forward with the blog and my career in the new year. There are so many things I want to share and ideas I want to tackle that I often don't know where to begin. Most of all, I've been struggling to pinpoint a single path that encompasses my love for cooking, fuels my curiosity for holistic wellness, and plays on my strengths as a psychologist. For months, my plan was to create a separate platform to house all wellness- and psychology-related materials, but I'm worried that maintaining two separate internet spaces will leave me spread thin. On the other hand, I'm worried that if I infuse Blissful Basil with too much psychobabble you'll all go running. Still an unsolved mystery but it feels less scary now that I've called it out.
»»» I've developed pretty thick skin over the years, but just the other week a snappy blog comment written by a total stranger made me cry. Not the first time, probably won't be the last.
»»» Comparison truly is the thief of joy, and sometimes I go a day or two without checking my social media accounts in an effort to avoid comparison and nip feelings of jealousy in the bud. On occasion, I end up feeling guilty for taking that time away.
»»» I'm my own harshest critic and despite preaching the importance of self-compassion to others, I often need reminders to be gentle with myself.
»»» Sometimes I have no idea what in the heck to write for blog posts, and I worry I'll bore you all to tears. You'll know I was having one of those days when you stumble across a post with exemplary brevity! Here's a smoothie! It's refreshing, tart, and colorful. Enjoy!
»»» I often talk myself out of new ventures and projects that I'm passionate about for fear that I'll be labeled a fraud or someone will question, "Who does she think she is?!" Imposter Syndrome, anyone?
»»» I'm fascinated by the cosmos, spiritual exploration, energy fields and auras, and intuition. I'm constantly curious about these things but rarely share my thoughts for fear of being perceived as "out there" or woo woo.
»»» The song "Auld Lang Syne" (i.e., the NYE song) stirs up dark memories of SAD winters passed. Even though I've been effectively managing the good ol' winter blues for years now, I still wince at the sound of it.
»»» My biggest fear is disappointing people.
»»» Despite being a well-documented phenomenon that affects the vast majority of bloggers, the seasonal dip in traffic known as the "Summer Slump" still messes with my head.
»»» After 10+ years of being on the pill (the one with a notoriously terrible reputation), I stopped taking it earlier this fall and have been battling weird but surprisingly common withdrawal side effects like hair loss, dry skin, and bloating. Of all the side effects, the worst has been a decreased appetite, because it makes brainstorming new recipes and recipe testing particularly difficult. It's hard to come up with creative ideas when nothing sounds appetizing! Thankfully, I stumbled across this blog post from The Holy Kale about two months ago. It outlines a slew of tips and tricks to naturally combat BCP withdrawal (a whole foods plant-based diet is one of them). I've also been taking a maca supplement, a broccoli-based detox supplement that efficiently escorts xenoestrogens out of the body, and a natural hair and nail support supplement. If anyone has faced similar side effects from BCP withdrawal, please feel free to reach out. I'm an open book with this stuff and happy to share what's worked and what hasn't. I'll tell you one thing, this maca supplement has been a game changer for energy and cycle regulation (no affiliation with the brand whatsoever, simply based on my personal experience).
WHEW. Think that's it. Fears released. I feel lighter and surprisingly more peaceful. Just one thing left to do now: scoot the mouse across the screen and click 'publish'. Ready, set...