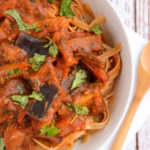 Print Recipe
Simple Eggplant + Tomato Sauce
This simple eggplant + tomato sauce has a surprising addition: cinnamon! The combination of cinnamon and cilantro adds warmth and freshness to this hearty pasta sauce.

1

small eggplant, washed and sliced into 2x1-inch thick pieces (leave skin on)

2

tablespoons

sea salt

1

tablespoon

olive oil

2

cloves

garlic, minced

5

plum tomatoes, cut into 16ths

1 (15-ounce)

can

tomato sauce

½

cup

chopped cilantro

2

teaspoons

cinnamon

1

teaspoon

coriander

1

teaspoon

smoked paprika

pinch

cayenne pepper

½

teaspoon

sea salt or to taste

8

ounces

pasta or grain of choice, cooked
Spread the eggplant pieces out over a baking sheet and sprinkle with 2 tablespoons sea salt. Let the eggplant "sweat" for at least 30-45 minutes. Rinse salt off completely and pat the eggplant dry.

Add in the tomatoes, eggplant, tomato sauce, cilantro, cinnamon, paprika, cayenne, and sea salt. Simmer for 30-35 minutes, stirring occasionally.

Serve over pasta or grain of choice (I used brown rice linguine).