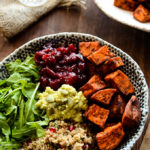 Print Recipe
Grab-N-Go Sweet Potato, Cranberry & Quinoa Power Bowl
Power bowls are my go-to meal for energy and ease during busy weeks. I set aside time on Sunday to prepare the cooked elements (e.g., roasted vegetables, high-protein grain, sauce), and then spend five minutes in the morning assembling the bowls before I head off to work. This particular power bowl has a bit of holiday flare thanks to the cinnamon-paprika sweet potatoes, spiced cranberry sauce, and red-and-green flecked quinoa. It's packed with complete protein sources, healthy fats, and superfoods to power through the busiest of weeks.
For the Roasted Sweet Potatoes
For the Spiced Cranberry Sauce
For the Mashed Avocado (you'll need these ingredients each morning)
For Garnishing
1

cup

fresh baby arugula

Lime wedges

Black pepper
To Make the Sweet Potatoes
Preheat your oven to 425F.

Cut your sweet potatoes into equal-size wedges or large cubes and transfer them to a baking sheet that has been lined with parchment paper.

Drizzle on the olive oil and sprinkle on the cinnamon, paprika, and sea salt.

Toss to coat.

Roast for 20-30 minutes or until fork-tender and golden.

Refrigerate in an airtight container until ready to use.
To Make the Quinoa
Add the quinoa and water to a medium sauce pan. Bring the mixture to a boil, reduce heat, and simmer for 10-15 minutes or until the quinoa is translucent and tender.

Drain off excess water and transfer to a bowl.

Add in the chives, pomegranate seeds, hemp seeds, balsamic vinegar, and tamari. Toss to coat.

Refrigerate in an airtight container until ready to use.
To Make the Spiced Cranberry Sauce
Add the cranberries, maple syrup, water, cinnamon, and cardamom to a large sauce pan. Simmer for 15-20 minutes or until the cranberries have burst and broken down into a chunky sauce, stirring occasionally.

Let cool and transfer to a glass jar.

Refrigerate in an airtight container until ready to use.
To Make the Mashed Avocado
Prepare the mashed avocado in the morning just before assembling the power bowl.

Add the flesh of the avocado to a bowl and squeeze the lime juice over top. Sprinkle on some sea salt, and use the back of a fork to mash the avocado. Stir in the chili flakes.
To Assemble the Bowls
In an airtight container or bowl, add in some sweet potatoes, quinoa, fresh arugula, cranberry sauce, and mashed avocado. Garnish with black pepper and a fresh spritz of lime juice.