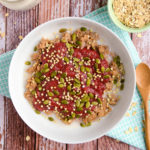 Print Recipe
Coconut Oatmeal + Raw Strawberry-Chia Jam
Rolled oats are simmered to perfection in a delicious mixture of coconut milk, cinnamon, and cardamom and topped with a raw strawberry-chia jam. This breakfast is packed with healthy goodness and nutrients.
1

cup

sweetened vanilla coconut milk (from carton, not a can)

1/2

teaspoon

cinnamon

1/8

teaspoon

cardamom

1/2

cup

rolled oats

2

tablespoons

chia seeds,

1/2

tablespoon

coconut butter or coconut oil

1/2

tablespoon

pure maple syrup or to taste

1

cup

fresh strawberries, hulled

2–3

pitted Medjool dates

optional toppings: buckwheat groats, pepitas, almond butter
Add the coconut milk, cinnamon, and cardamom to a medium sauce pan and whisk together.

Bring the coconut milk mixture to a boil, add in the oats, reduce the heat to low and simmer for 10-15 minutes, stirring occasionally.

Turn off the heat and stir in 1/2 tablespoon chia seeds, coconut butter, and maple syrup.

While the oats are cooking, make the raw strawberry-chia jam by adding the strawberries and dates to a blender and blending on high for 1-2 minutes or until smooth. Transfer the jam mixture to a bowl, stir in 1 1/2 tablespoons chia seeds and let the mixture rest for 10 minutes to thicken.

Pour the oatmeal into a bowl, spread the jam over the top, and top with extra toppings if desired.

Note: if you prefer overnight oats, simply add the coconut milk, cinnamon, cardamom, oats, 1/2 tablespoon chia seeds, maple syrup, and coconut butter to a bowl and refrigerate overnight. Then, top with strawberry-chia jam, pepitas, and buckwheat groats.