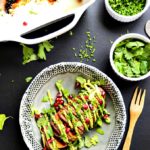 Print Recipe
7-Ingredient Hasselback Sweet Potatoes with Avocado Aioli | vegan, gluten-free
Tender hasselback sweet potato slices are topped with garlicky avocado aioli and sprinkled with pomegranate seeds, cilantro leaves, and fresh chives. It doesn't get much simpler or tastier than this dish.
For the Hasselback Sweet Potatoes
To Make the Hasselback Sweet Potatoes
Preheat oven to 425F.

One at a time, make 1/6-inch-thick slices down the sweet potato, stopping about 3/4's of the way through. Repeat with each sweet potato, being careful not to slice all the way through.

Place the potatoes in an oven-safe baking dish, drizzle with olive oil, and sprinkle with sea salt. Make sure the olive oil drips in between the slices.

Bake for 45 minutes to 1 hour or until all slices of sweet potato are tender. Baking time will vary depending on the size of your sweet potatoes.

Remove from oven and let cool.
To Make the Avocado Aioli
Scoop the flesh of the avocado into a food processor. Add in the minced garlic and sea salt, to taste. Process for 2-3 minutes or until smooth, stopping to scrape down the sides as needed. Transfer the avocado aioli into a piping bag, if desired.
To Assemble
Transfer each sweet potato to a plate. Pipe or dollop the avocado aioli on top of the sweet potatoes and sprinkle with pomegranate seeds, cilantro leaves, chives, and sea salt. Serve immediately.

Refrigerate leftovers.