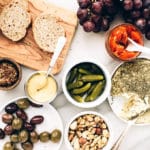 Print Recipe
Epic Vegan Cheese Platter
This vegan cheese platter proves that plant-based cheese can be every bit as luxurious and satisfying as the "real" thing. Multigrain baguette slices, herbed vegan cashew cheese, spicy tomato jam, juicy grapes, salty olives, heart-healthy nuts, tangy cornichons, and zesty dijon mustard create a plant-based cheese spread that will wow vegans and non-vegans alike.
Plate each ingredient and place on a large cheese board or serving tray.

Gather serving gear and utensils.

Serve immediately.