This vegan yellow split pea breakfast bowl was cooked up with chilly November weather in mind, but it seems that the weather (at least in Chicago) has taken a turn for warm and sunny side. No complaints here; I'll gladly take a few unexpected 70-degree, sunshiny days. Come on over, sunshine.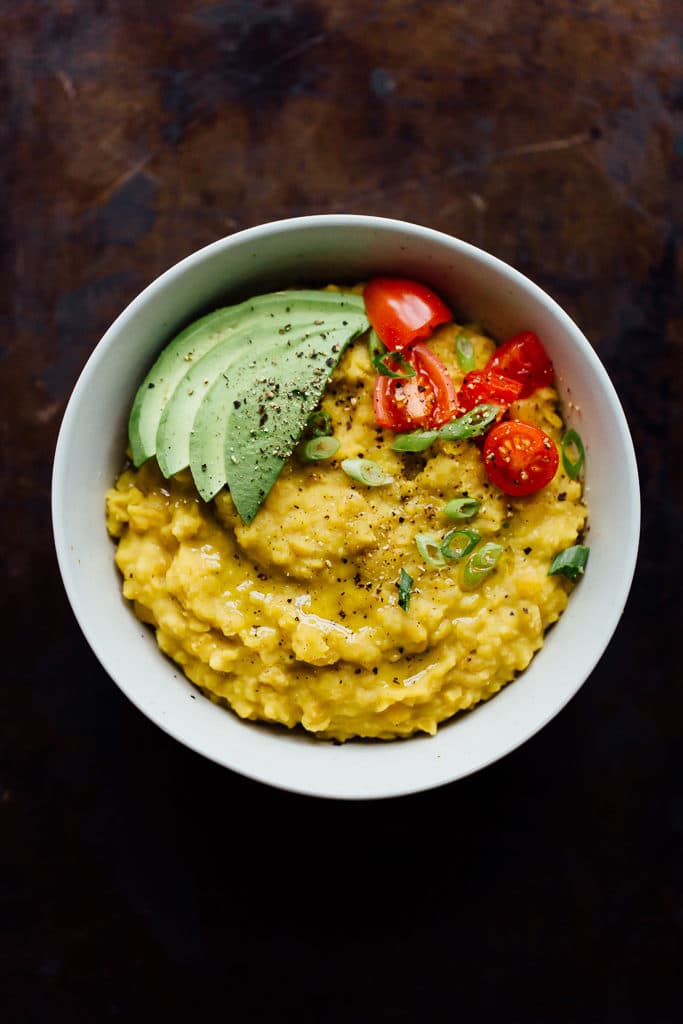 This breakfast bowl is...
Warm.
Savory.
Protein-packed -- 17 grams per serving, to be exact.
Filling.
Simple.
Cozy.
Although the warmth of this bowl might not be needed at this exact moment, it will certainly come in handy in a week or two when the permafrost tosses its icy 4- to 6-month blanket over the city. It's perfect for an easy-going weekend brunch and can also be prepared ahead of time and reheated for a grab-n-go breakfast.
The yellow split peas require 45-50 minutes of simmer time, so I'd avoid trying to whip it up before heading off to work unless you have buckets of extra time on your hands; however, other than the simmer time, it comes together with just 10 minutes of prep time.
To make it, you'll start by cooking sliced scallions and garlic in a bit of coconut oil. Once the scallions are garlic are tender, you'll stir in the yellow split peas and water//vegetable broth and simmer until the split peas are tender and mushy. Mushy in the best of ways, I promise.
Side note: I've noticed that different brands of yellow split peas vary quite drastically in cooking time, from 35 minutes (i.e., bulk yellow split peas at Whole Foods) to 50+ minutes, so be sure to keep an eye on yours rather than relying solely on a timer to determine doneness. The brand I had this particular time around was a bit on the slow side and ended up requiring closer to 55 minutes. Slow poke peas, for sure. But in the end, the deliciousness was all the same.
Once the split peas are extra tender, you'll stir in sea salt and black pepper, to taste, before dividing between two bowls. Then, top with avocado, grape tomatoes, scallions, etc. No need to strictly stick to these toppings either, I'm already dreaming up my next round of toppings -- sprouts, cashew sour cream, and more.
If you prepare it ahead of time and reheat during the week, you'll want to whisk in a splash of water, veggie broth, or plant-based milk to loosen the split peas. Other than that, just reheat, top, and go.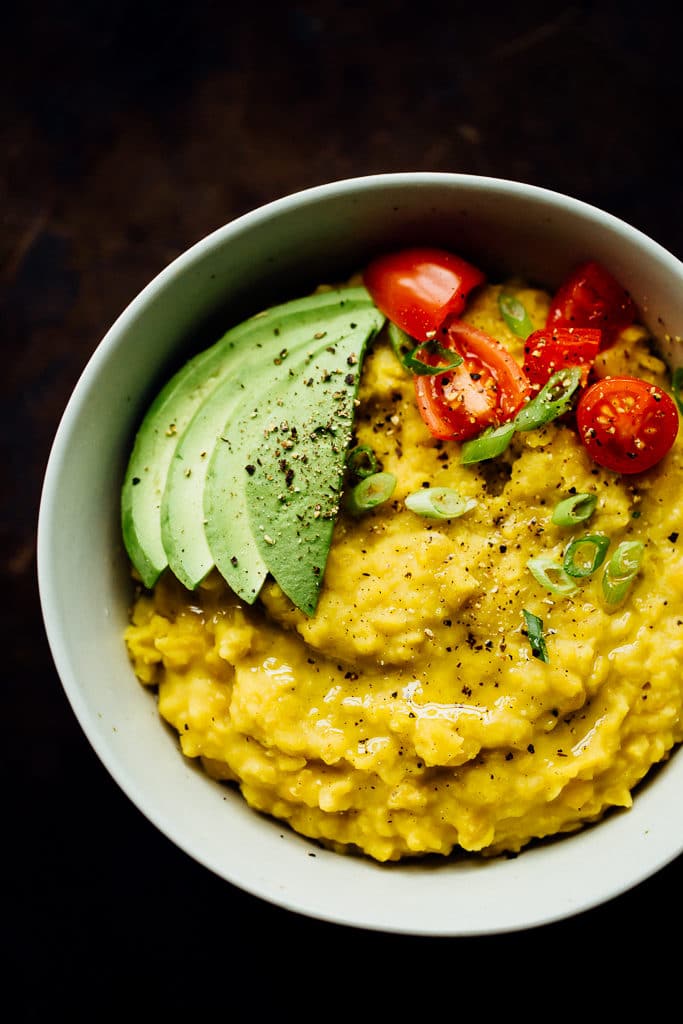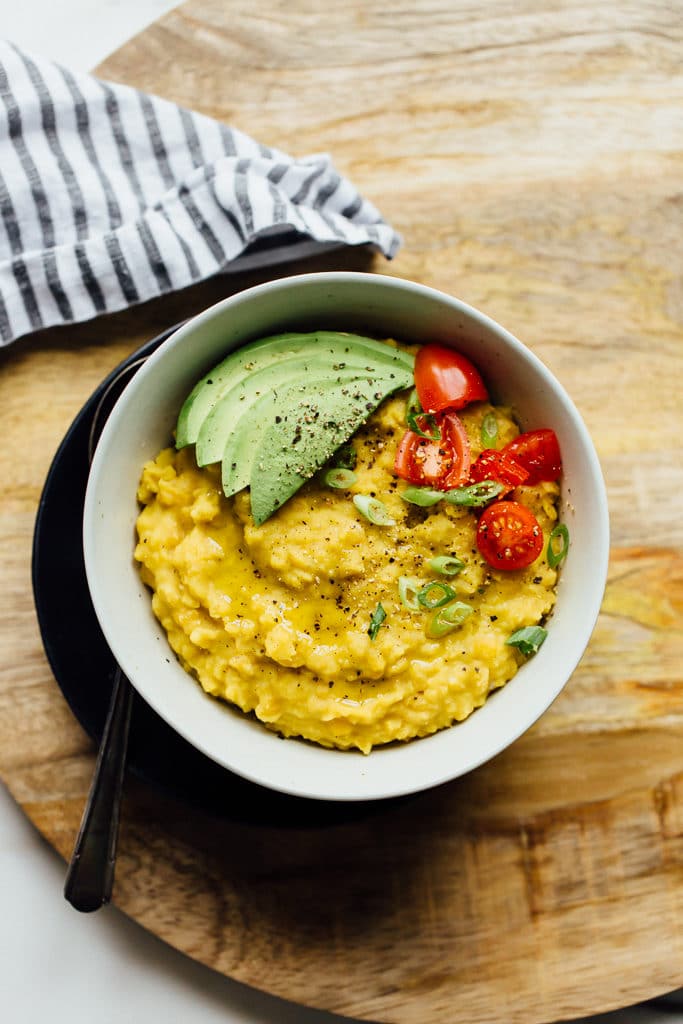 📖 Recipe
Yellow Split Pea Breakfast Bowl
This yellow split pea breakfast bowl is warm, savory, and nourishing. It packs a whopping 17 grams of plant-based protein per serving and is rich with dietary fiber and micronutrients. To make it, you'll simmer yellow split peas with a bit of garlic and some chopped scallions until tender and mushy. Then, top as you please and serve. I love topping mine with sliced avocado and juicy cherry tomatoes, but feel free to get creative. This breakfast bowl can be prepared ahead of time for a quick and nourishing grab-n-go weekday breakfast.
Ingredients
1

tablespoon

virgin coconut oil

4

scallions, trimmed and thinly sliced

2

garlic cloves, minced

¾

cup

yellow split peas, thoroughly rinsed

3

cups

filtered water or low-sodium vegetable broth

½

teaspoon

sea salt or to taste

Freshly ground black pepper, to taste
Toppings
1

small ripe avocado, pitted, peeled, and sliced

1

cup

grape tomatoes, quartered

3

scallions, trimmed and thinly sliced
Instructions
Heat the coconut oil in a dutch oven over medium heat. Add the scallions and garlic and saute for 2 minutes or until softened. Add the yellow split peas and vegetable broth, increase heat to medium-high, and bring to a rapid simmer. Reduce heat to medium-low, cover, and simmer for 50 minutes or until the split peas are very tender and mushy and most of the water has been absorbed, stirring occasionally. You may need to add in another ½ to 1 cup water if the peas absorb the water before becoming tender and mushy. The finished split peas should resemble a creamy porridge. If you're having trouble getting the peas to break down, remove the lid, add in another cup or so of water, increase the heat to medium, and stir the mixture constantly until the peas break down and the water is absorbed.

Remove from heat and stir in the sea salt and black pepper. Divide between two bowls and add toppings.