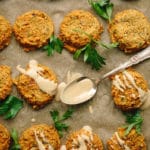 Print Recipe
Vegan GF Pumpkin Lentil Falafel
These vegan gf pumpkin lentil falafel are savory, spiced, and incredibly satisfying. Split red lentils and pumpkin purée serve as the base in these festive fall patties. They get pulsed with a flavorful mixture of fresh herbs, aromatic spices, oat flour, lemon juice, red onion, and garlic. Once the pumpkin falafel dough is prepped, you'll form it into patties and bake to crisp, golden-hued perfection. I recommend serving these beauties drizzled with tahini and alongside a generous dollop of pumpkin hummus.
Servings:
28
falafel patties
1

cup

dried split red lentils

2

cups

water

3/4

cup

raw sunflower seeds

1/2

cup

canned unsweetened pumpkin purée

3/4

cup

oat flour

1/2

cup

parsley leaves, stemmed

1/4

cup

cilantro leaves, stemmed

1/2

medium red onion, roughly diced (about 1 cup)

3

cloves

garlic, peeled and roughly chopped

1 1/2

tablespoons

fresh lemon juice

1 1/2

teaspoons

ground coriander

1 1/2

teaspoons

ground cumin

1 1/2

teaspoons

smoked paprika

1/2

teaspoon

ground cinnamon

1 1/2

teaspoon

sea salt or to taste
Preheat the oven to 350F and line two large baking pans with parchment paper.

In a medium saucepan, combine the lentils and water, and bring to a boil. Reduce the heat and simmer for 8 to 10 minutes, or until the lentils are tender but not yet mushy. Strain off excess water and set aside.

Add the sunflower seeds to a food processor and process for one minute, or until ground into a coarse flour.

Then, add the cooked lentils, pumpkin purée, and all remaining falafel ingredients to the food processor. Pulse 10 to 15 times to coarsely chop and mix. You want everything to be well-incorporated but be careful not to over process or you'll end up with hummus.

Use a cookie scoop to scoop out a heaping 1 1/2 tablespoons of the falafel dough (it will be quite damp and limp), drop on the pan, and gently press the top down to form into a small patty (about 3/4-inch thick), place on one of the lined baking trays, and repeat. (Note: If the dough is sticking to your hands, lightly grease them with oil before pressing.) You should have about 28 falafel patties.

Bake for 18 to 22 minutes, or until the exteriors are just beginning to appear crisp and golden. Do not overbake.

Let the patties cool on the pan slightly before moving or serving.

Leftovers can be refrigerated for up to 1 week or frozen for up to 1 month.