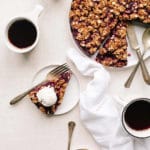 Print Recipe
No-Bake Vegan Berry Chia Crumble Pie
This no-bake vegan berry chia crumble pie is an updated, oil-free, berrylicious, and circular take on these cherry chia crumble bars. It's packed with dietary fiber, protein, potassium, manganese, copper, Vitamin E, and blood-sugar balancing biotin, so you can truly have your sweet summer cake pie and feel good, too! One quick note before I leave you to it: Don't be intimidated by the long-looking list of ingredients—many of them are repeats (or water/salt), and there are really only 11 main ingredients in this sweet summer dessert!
No-Bake Almond Butter + Oat Crust
1

tablespoon

ground flaxseed

3

tablespoons

filtered water

2

cups

old-fashioned rolled oats

1/2

cup

raw almonds

3/4

cup

pitted and packed Medjool dates (about 8 large dates or 10 medium dates)

1/2

cup

natural unsalted almond butter (thoroughly stirred before measuring)

1/4

cup

coconut sugar

1/2

teaspoon

fine grain sea salt
For the No-Bake Almond Butter + Oat Crust
Line the bottom of a 9x9-inch round springform with parchment paper.

In a small bowl, whisk together the ground flaxseed and water. Set aside for 5 minutes to thicken.

Add the rolled oats and almonds to a food processor and process for 15 seconds, or until a coarse meal forms. Then, add the flaxseed mixture, dates, almond butter, coconut sugar, and sea salt, and process for 2 to 3 minutes, or until the mixture begins to hold its form against the wall of the food processor. You want it to be crumbly yet sticky enough that it holds together when it's pressed between your fingers but is able to crumble back to its original form. If your crust mixture isn't sticking together when pressed, add in more pitted dates, 1 at a time, until it holds together.

Scoop the mixture into the lined pan and use your hands to press the mixture evenly into the bottom. Then, use the back of a large metal spoon or spatula to press and compact into a smooth, even surface.

Freeze for 30 minutes to set.
For the Berry Chia Filling
Meanwhile, make the make the berry chia filling.

In a medium saucepan over medium heat, stir together the frozen berries and maple syrup. Bring the mixture to a boil, reduce the heat to medium-low, and simmer, uncovered, for 10 minutes, or until the berries begin to break down into a sauce, stirring occasionally. If needed, reduce the heat to low during the last few minutes of cooking to prevent scorching.

Turn off the heat. Then, stir in the chia seeds and vanilla (if using), turn the heat on low, and cook for another 2 minutes, or until it begins to thicken, stirring constantly. Remove from the heat and transfer to the refrigerator for at least 15 minutes to cool and thicken.
For the Crumble Topping
While the berry chia filling is cooling, prepare the crumble topping. Add the almonds to a food processor and process for 1 minute, or ground into a fine meal.

Transfer to a medium mixing bowl and add the rolled oats, coconut sugar, almond butter, water, and sea salt. Use the back of a spoon to mash the almond butter into the other ingredients until thoroughly combined into medium-size crumbles.
To Assemble
Spoon the berry filling over the crust and use a spatula to gently smooth. Then, sprinkle the crumble topping evenly over the surface and use a spatula to gently press the topping down to compact it a bit. Freeze for 1 hour to thoroughly set.

Release the side of the springform pan and carefully lift out the pie. Place on a cutting board and slice.

Store in the refrigerator for up to 4 days or freeze for up to 2 weeks.