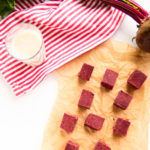 Print Recipe
Just Beet It 5-Ingredient Red Velvet Fudge
This vegan red velvet fudge garners its deep red hue from beet juice! Fresh beet juice is warmed and whisked with coconut butter, pure maple syrup, cacao powder, and vanilla until smooth and creamy. Then, it's poured into a mold, chilled, and sliced into rich, delectable, and chocolaty red velvet squares.
Quarter the beet and run it through a juicer. If you don't have a juicer, you can blend it, place the pulp in cheese cloth or a nut milk bag, and squeeze out the juice. You need 1/4 cup beet juice for the recipe.

Add the coconut butter, 1/4 cup beet juice, pure maple syrup, raw cacao powder, and vanilla extract to a small sauce pan over low heat.

Stir continuously for 4-5 minutes or until the coconut butter has melted and the mixture is smooth and glossy.

Pour the mixture into a 3x5 container that has been greased with coconut oil.

Refrigerate for 2-3 hours or until completely set.

Pop the fudge out of the pan and slice it into squares.

Store fudge in refrigerator.