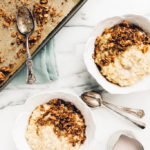 Print Recipe
Maple Millet Porridge with Candied Coconut-Walnut Topping
This Maple Millet Porridge with Candied Coconut-Maple Topping offers the best of everything: creamy, nourishing, sweet, crunchy, filling, and buttery with toffee-like notes and just the right amount of sea salt to make those flavors pop.
Servings:
3
to 4 servings
Candied Coconut-Walnut Topping
Millet Porridge
1

cup

millet

2

cups

filtered water

1

cup

unsweetened coconut milk (from a carton, not a can), plus more for topping

2 to 3

tablespoons

pure maple syrup, to taste, plus more for topping

1/2

teaspoon

pure vanilla extract

(optional)

1/8 to 1/4

teaspoon

fine sea salt, to taste

1

tablespoon

virgin coconut oil

(optional)
For the Candied Coconut-Walnut Topping
Preheat oven to 275F. Line a small baking sheet with parchment paper.

Combine the walnuts, coconut flakes, coconut sugar, coconut oil, cinnamon, and sea salt in a small bowl. Toss to coat. Spread the mixture out over the lined baking pan. Bake for 20 to 22 minutes or until golden and wafting a rich toasted scent. Remove from oven and let cool completely.
For the Millet Porridge
While the candied coconut-walnut topping is baking, add the millet to a large, dry saucepan and toast over medium heat for 3 to 5 minutes or until golden and wafting a soft toasted scent, stirring occasionally and being careful not to let it burn.

Add the water. The water may sputter, so be careful as you're pouring. Stir and increase heat to high. Once the liquid is boiling, reduce the heat to medium-low, cover, and simmer for 12 to 15 minutes or until most of the water is absorbed and the millet has puffed up a bit.

Stir in the coconut milk, maple syrup, vanilla (if using), and sea salt, and increase heat to medium. Simmer for another 4 to 6 minutes or until the porridge has reached desired texture and thickness, stirring frequently to prevent the porridge from sticking the bottom of the pan. For a thinner porridge, simmer for less time and for a thick and creamy porridge, simmer until most of the coconut milk has been absorbed. Remove from heat and stir in the coconut oil (if using).

Divide the porridge between 3 to 4 bowls and sprinkle with the coconut-walnut topping. Drizzle with more coconut milk and maple syrup, if desired. Serve warm.