Anyone who's taken the vegetarian or vegan route knows that one of the toughest meals to vegetarianize well is steak. One of my favorite meals pre-veg era was tenderloin béarnaise and saying goodbye to it is continually challenging. When Dan requested filet and potatoes for our Valentine's dinner, I knew I had to jazz up my usual portobello + mashed potato combo or I was going to have dinner envy. And green isn't the color I wanted to be wearing on Valentine's Day.
I decided not only to jazz up a vegetarian option but also to veganize an old favorite: béarnaise sauce. The creamy, tangy tarragon sauce is my absolute favorite but it is definitely an indulgent treat. Given all the other highly indulgent treats that were being worked into this love-laden meal, I figured it wouldn't hurt to lighten up the sauce. So I did and it turned out even better than the real thing. The perfect amount of tangy bite and savory creaminess. This béarnaise will nestle even the simplest of portobello steaks in its flavor and turn them into something to be craved. Pair the "steak" with a creamy cauliflower mash, and this is a meal with which to be reckoned.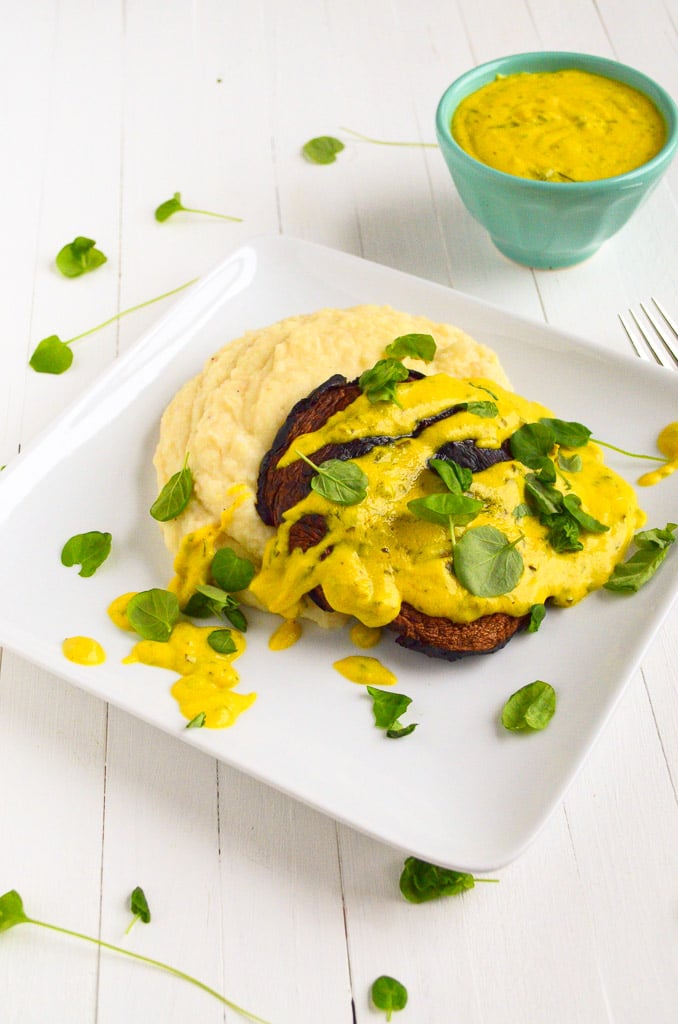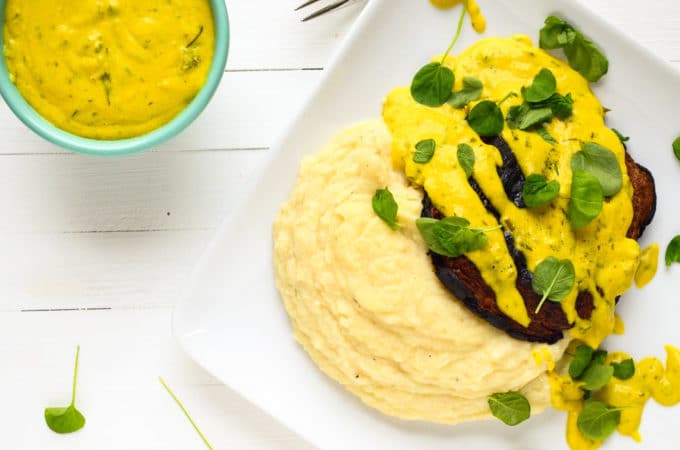 Vegan Portobello Tenderloin Béarnaise + Creamy Cauliflower Mash
Author:
Ashley Melillo | Blissful Basil
Ingredients
For the Portobello Steaks:
4 large portobellos, stems removed
¼ cup balsamic vinegar
sea salt
black pepper
For Vegan Béarnaise Sauce:
½ cup vegan butter
1 small shallot, minced
⅔ cup dry white wine
⅔ cup nutritional yeast
2 tablespoons white wine vinegar
8 ounces silken tofu, at room temperature
½ teaspoon tumeric
¼ cup fresh tarragon, chopped
sea salt, to taste
black pepper, to taste
For the Creamy Cauliflower Mash
1 large head cauliflower, chopped into medium-size florets
2 yellow potatoes, cut into medium-size cubes (leave skin on)
3 tablespoons vegan butter
Optional: ½ cup vegan parmesan cheese
sea salt, to taste
black pepper, to taste
Instructions
For the Portobello Steaks
Combine all ingredients in a large ziploc bag and marinate for at least 30 minutes.
Heat grill or grill pan over medium-high heat. When grill is hot, add portobellos, gill side down, and grill for 5-7 minutes on each side or until tender and juicy.
For the Vegan Béarnaise Sauce
Heat a sauce pan over medium-low heat and add the butter. Slowly melt and add in the shallot. Cook for 2-3 minutes or until shallot begins to become translucent. Add in the white wine and cook for 3-4 minutes. Add in the nutritional yeast and whisk until incorporated and smooth.
Place silken tofu in blender along with the white wine vinegar, and add the heated butter mixture to the blender. Blend for 1 minute or until smooth. Return mixture to sauce pan.
Add in the tumeric, tarragon, salt, and pepper. Reduce heat to low and allow sauce to reduce for 20-25 minutes, whisking every few minutes. Remove from heat and let the sauce cool a bit to thicken. Drizzle over the portobello tenderloins.
For the Creamy Cauliflower Mash
Fill a large pot ⅔ of the way full of water. Drop the cauliflower and potatoes into the pot, cover, turn heat on high and cook for 20-25 minutes or until the veggies become tender.
Strain all water and return the vegetables to the large pot. Add the butter and parmesan to the pot. Using an immersion blender, blend the cauliflower and potato mixture until smooth and creamy. Add in the salt and pepper, to taste. Serve beneath the portobello tenderloin bearnaise.