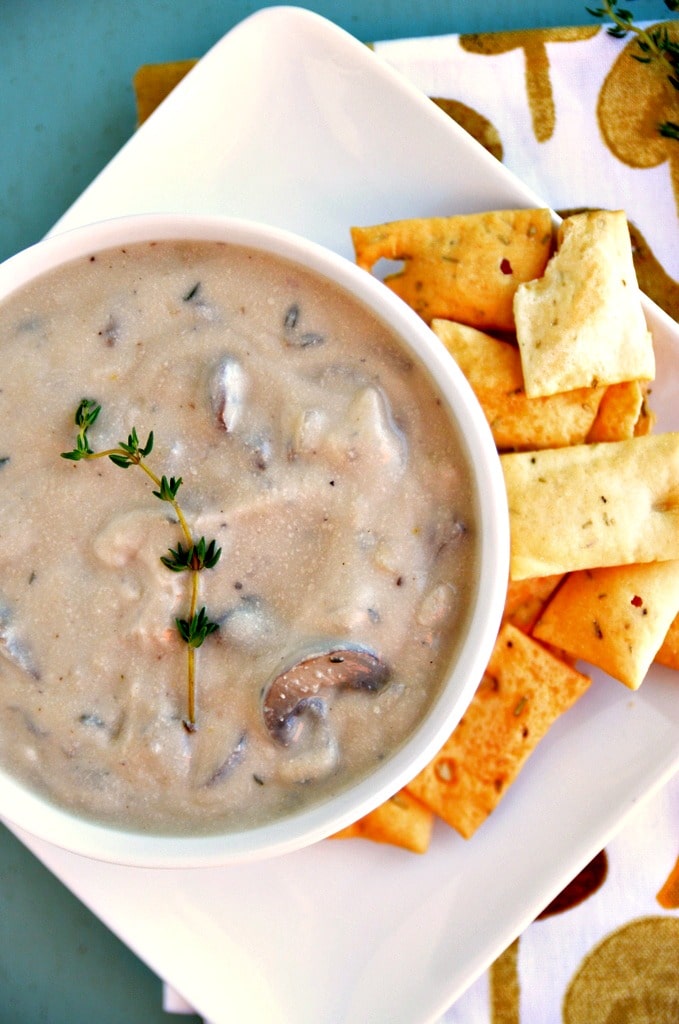 We're currently in the midst of Round #2 of Arctic temperatures and snow/cold days here in Chicago. Having grown up in the area, I'm used to the winters and their infamous cold-, wind-, and snow-infused glory. But my goodness, this is the winter that just won't quit. When Dan and I walked outside yesterday to temperatures in the twenties, we glanced at one another and exclaimed in unison: "It feels warm today!" This is not normal. Never, ever, ever should the weather be so consistently terrible that temperatures in the twenties induce excitement-filled declarations of warmth. However, this is the winter we were handed, so we're doing our best to deal with it...
...but not without plenty of soup. Soup is the new black of this winter: stylish, necessary, and practical.
Cream of mushroom soup is one of those amazing meals that exploits all of the most comforting elements of food. It's creamy, rich, hearty, savory, silky, and warm. This particular cream of mushroom soup is made vegan by substituting a miracle-producing combination of almond milk, cauliflower, and cashews in place of the usual cream/milk base. The result is almost too good to be true. This is one for the books, if I do say so myself. I would be willing to bet money... or cookies... that this is a soup recipe that will be enjoyed equally as much by non-vegans as it will be enjoyed by vegans. It's just that good.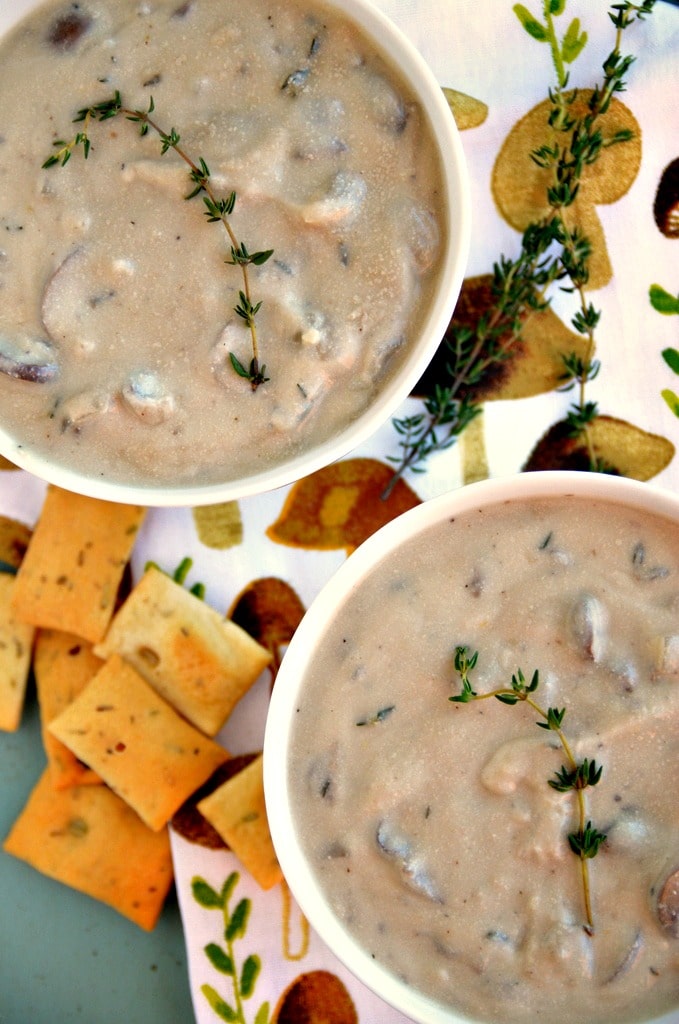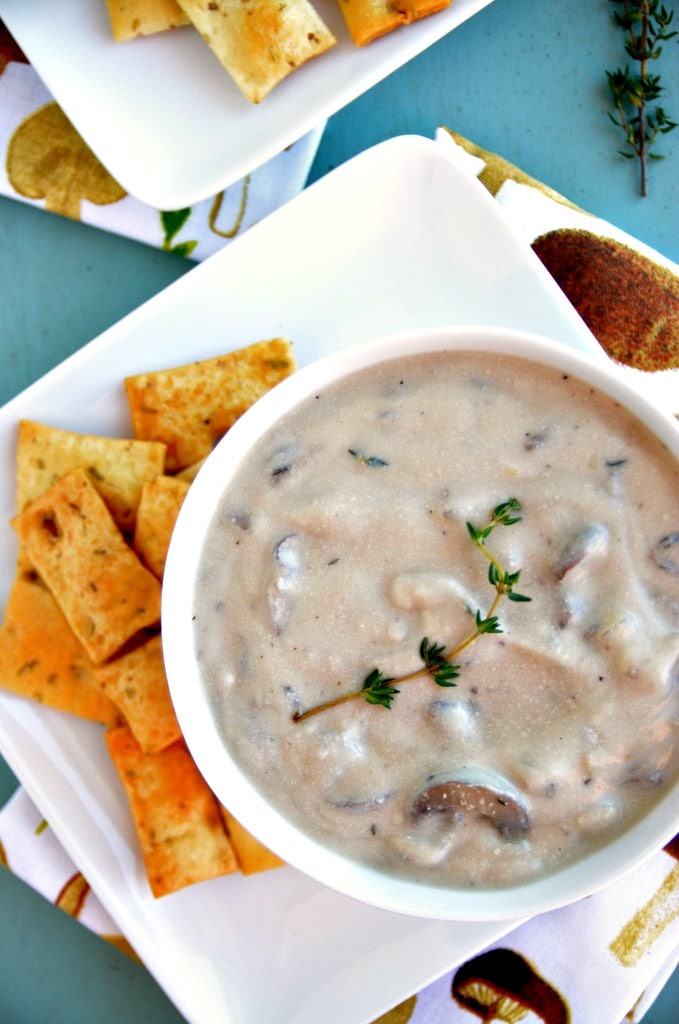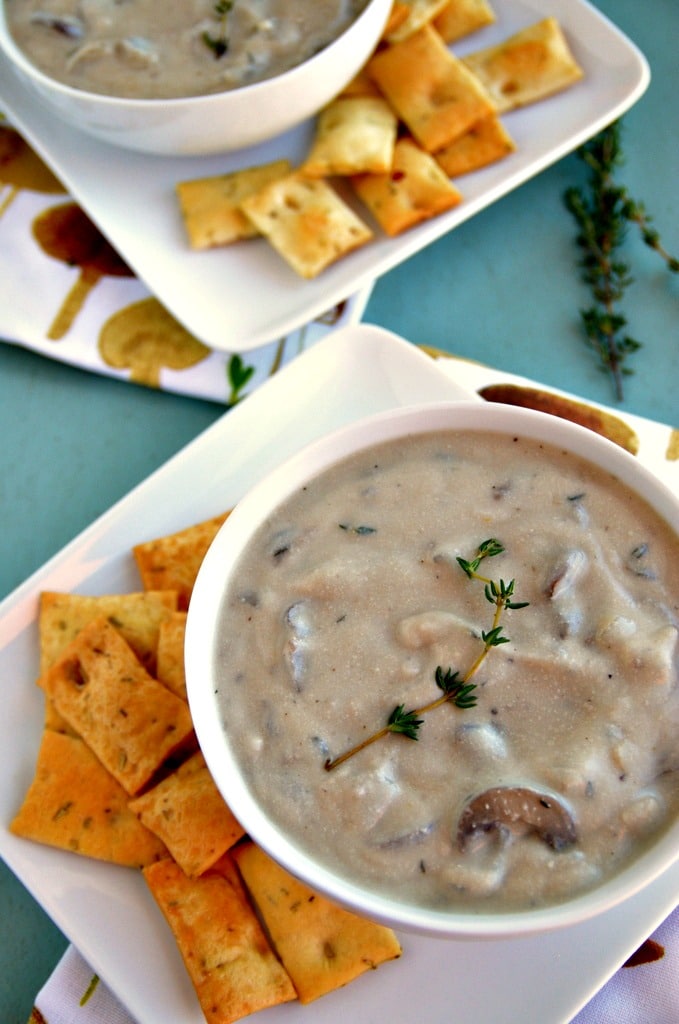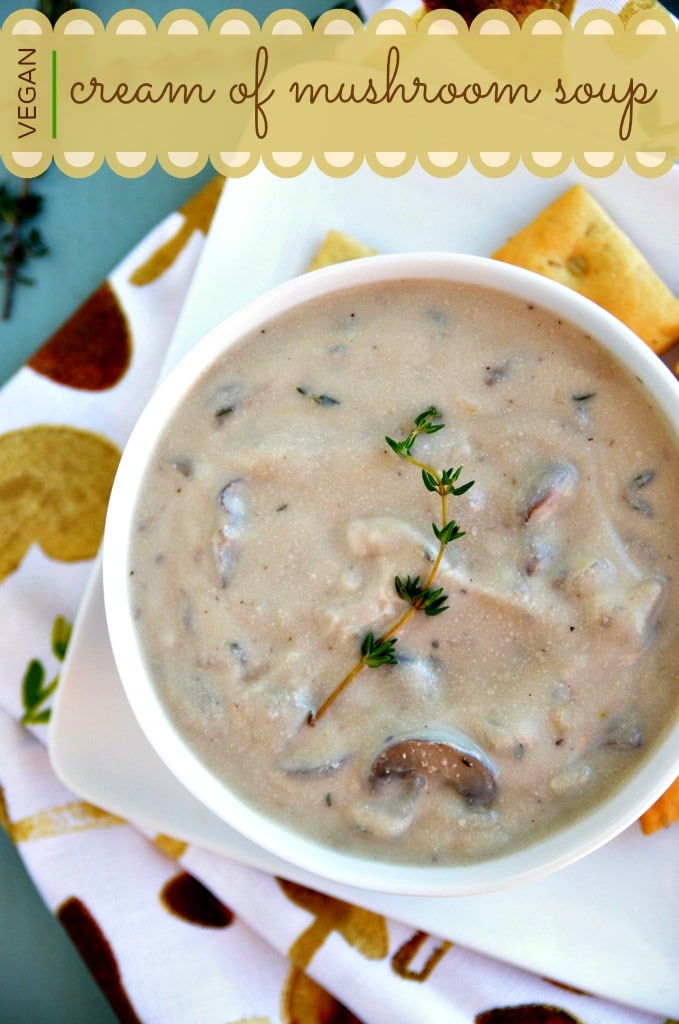 Vegan Cream of Mushroom Soup
The amazing combination of almond milk, cauliflower, and cashews takes the place of dairy in this delicious vegan rendition of Cream of Mushroom Soup.
Ingredients
4 cups plain, unsweetened almond milk
1 medium head of cauliflower, chopped
⅔ cup raw cashews
1 tablespoon olive oil
2 garlic cloves, minced
1 medium yellow onion, finely diced
20 ounces baby bella mushrooms, sliced
½ teaspoon garlic powder
1 tablespoon chopped fresh thyme
⅔ cup dry white wine
2 teaspoons sea salt (more or less, to taste)
½ teaspoon black pepper (more or less, to taste)
Instructions
In a large stock pot, heat almond milk, cauliflower, and cashews over medium-high heat. Cover and cook for 20 minutes, stirring every few minutes.
In another stock pot, cook garlic and onion in 1 tablespoon of olive oil over medium heat until tender.
Add in sliced mushrooms, garlic powder, thyme, and white wine. Cook until mushrooms are tender and alcohol has cooked off of wine (approximately 5 minutes).
Once the almond milk mixture has finished cooking, pour it into a blender (you may need to do this in batches depending on the size of your blender). Being careful to hold down the top of the blender firmly so hot liquid isn't released, turn the blender on high and blend for 1-2 minutes or until mixture is completely smooth.
Add the blended almond milk mixture to the stock pot with the mushrooms and whisk. Add in salt and pepper, to taste. Reduce heat to low and simmer for 15 minutes to allow flavors to meld.
Serve and refrigerate leftovers.