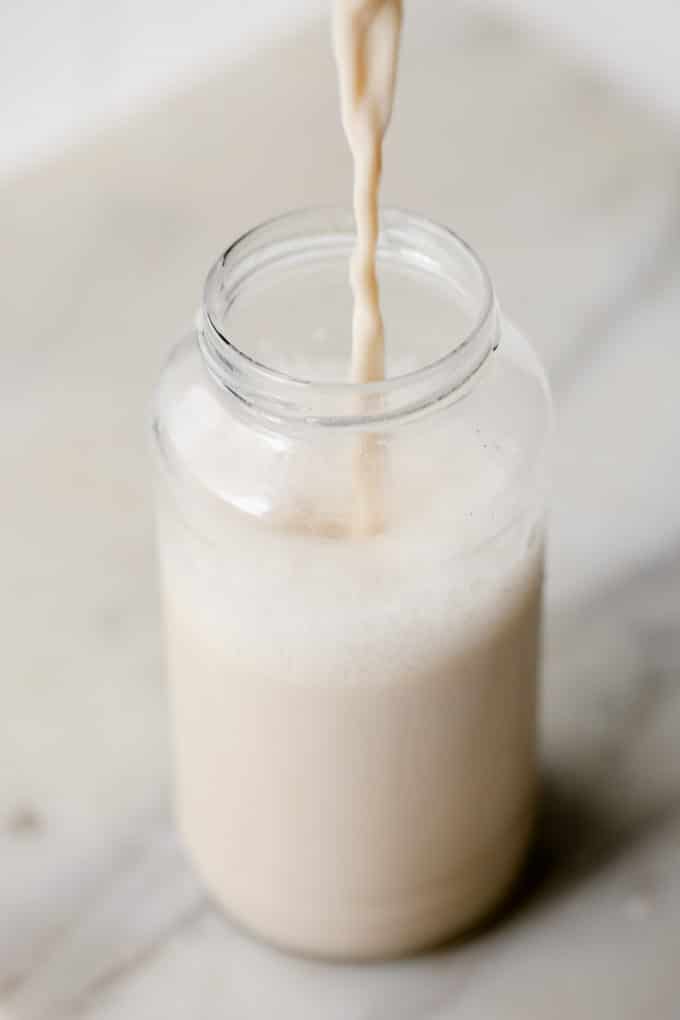 I hope you all had a wonderful 4th of July weekend. We spent ours at the beautiful, charming, and magical Dunton Hot Springs celebrating our friends' nuptials. The 3-day getaway was with a seriously awesome group of people, and it rounded out our 10-day Colorado vacation in the best of ways. Fresh air, stunning scenery, lots of laughs, and love in the air. Doesn't get much better.
Last week was the first time since December of 2013 that I posted just once in a week, so I apologize for being a bit MIA on the blog and quiet on social media. More than ever, I needed the time off to hit the reset button as I had been feeling exhausted and spread a bit thin.  Colorado turned out to be the perfect setting to rejuvenate and refresh, and I'm full of inspiration for recipes and photography. It's amazing what a little time off and some fresh air can do for creativity and the soul, isn't it?
I'm kicking off this week with a simple and plant-powerful recipe. This vanilla-cardamom buckwheat milk is luxuriously creamy and offers a subtle warmth and sweetness. To make it, you'll start by soaking raw buckwheat groats with water and a splash of apple cider vinegar (or fresh lemon juice) for at least 8 hours or overnight. Soaking the buckwheat with a splash of vinegar (i.e., acid) makes it easier to digest which affords our bodies more direct access to the vitamins and minerals within those heart-shaped little groats.
Once the buckwheat has been soaked, it's drained, rinsed, and added to a high-speed blender along with 3 cups of filtered water. If you like thinner plant milk, opt for 3 ½ cups. If you like richer, creamier plant milk, opt for 2 ½ cups. Once you have the buckwheat and water in the blender, give it a powerful whirl until it's super smooth and a bit frothy.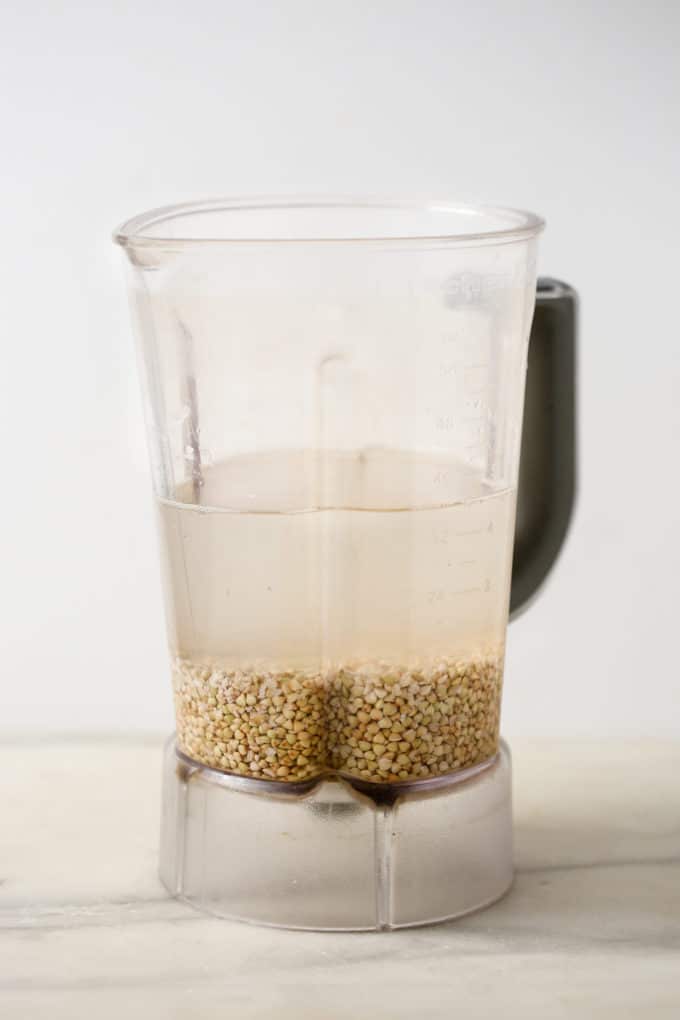 Then, drape a nut milk bag or piece of cheesecloth across a glass bowl and pour the liquid over top. Use your hands to squeeze the plant milk from the nut milk bag or cheesecloth, separating the creamy liquid from the dense buckwheat pulp. You can reserve the pulp to add to oats, smoothies, granola, etc.
Once you have the liquid reserved in a bowl, pour it back into the blender along with pure maple syrup (or soaked dates), ground cardamom, cinnamon, and a pinch of sea salt. Briefly blend again until incorporated, pour into an airtight jar or pitcher, and refrigerate. You'll notice that the solids will separate from the liquids (this is completely normal but looks a little funny), so just give it a good shake before serving. It lasts up for 4 days if stored in an airtight jar and is excellent all on its own or poured over cereal, oats, granola, etc.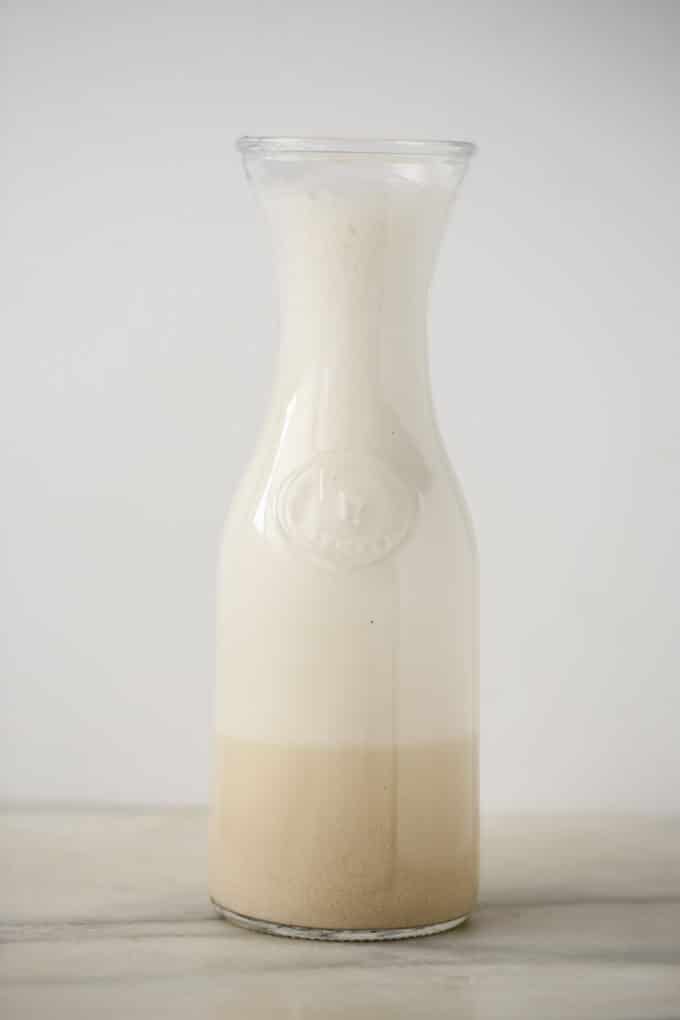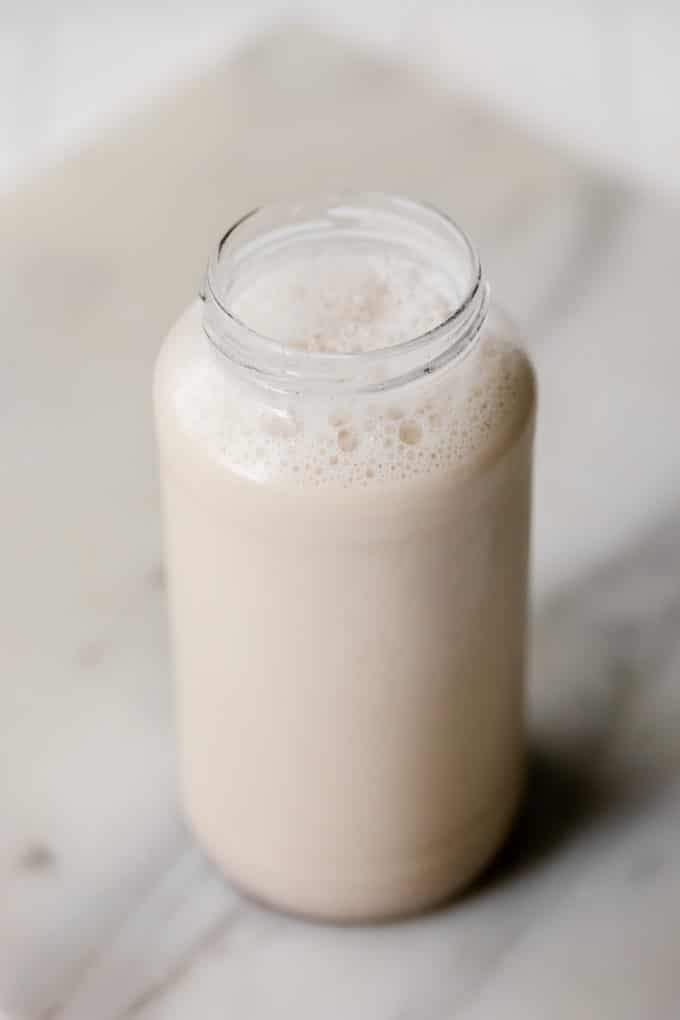 📖 Recipe
Vanilla-Cardamom Buckwheat Milk
Raw buckwheat groats are soaked overnight and then blended with pure maple syrup, vanilla, cardamom, cinnamon, and sea salt to create a creamy, spice-kissed plant-based milk. If you've never had buckwheat milk before, do keep in mind that it's quite a bit earthier than nut milk.
Ingredients
1

cup

raw buckwheat groats

1

tablespoon

apple cider vinegar

3

cups

filtered water

2

tablespoons

pure maple syrup

1

teaspoon

pure vanilla extract

¼

teaspoon

ground cardamom

¼

teaspoon

ground cinnamon

pinch sea salt
Instructions
In an airtight container, combine the buckwheat groats and apple cider vinegar. Cover with warm water and soak for 8 hours or overnight. Drain and thoroughly rinse with cool water.

In a high-speed blender, combine the buckwheat groats and the filtered water. Blend on high until completely smooth (3 to 4 minutes).

Place a nut milk bag over a large pitcher, and pour the blended buckwheat milk through the bag. Use your hands to squeeze excess milk from the bag. If desired, run it through a second time to remove any excess buckwheat pulp.

Pour the milk back in the the blender and add the maple syrup, vanilla, cardamom, and cinnamon. Blend on high for 15 seconds to incorporate spices. Pour into an airtight jar or jug and refrigerate for up to 4 days. The solids will separate out from the liquids, so it's important to shake before serving.