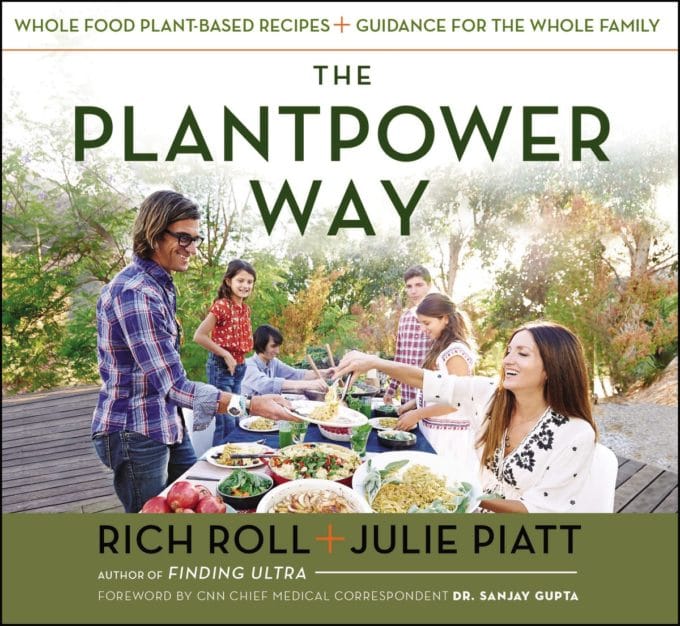 Between the dewy, sun-kissed glow and inviting, love-filled smiles captured within the cover snapshot, there's an irresistible quality to this book. Upon first glimpse, I cast aside the trusted adage that warns not to judge a book by its cover and reflexively assumed that The Plantpower Way would be just as warm and exuberant on the inside as it was on the outside.
And so it is. In a truly empowering and family-thoughtful way.
Rich Roll and Julie Piatt are the authors and plant-powerful couple behind this guide to vibrant living. They've carved out an enticing path to sustainable wellness through the pursuit of a plant-powered plate, and they, along with their four children, are examples of the undeniable connection between everyday choices and long-term vitality.
The Plantpower Way balances plant-based lifestyle tips with 120 mouthwatering recipes that offer both creativity (e.g., Roasted Tomato Cacao Sauce Over Penne) and practicality (e.g., Ultra Energy Bars). I had the chance to make the Ultra Energy Bars and have been happily devouring them before my workouts over the last few days. They're packed with almonds, cacao, goji berries, and seeds, and they're just as much a treat as they are effective workout fuel. Be sure to checkout the recipe below. It's a must-make.
This is an approachable and inspiring book for families and individuals looking to incorporate more plant-based meals into their days. The recipes are also fantastic for plant-based athletes. If you have the chance, be sure to checkout the book here, and scroll down to the bottom of this post for a chance to win a copy of The Plantpower Way.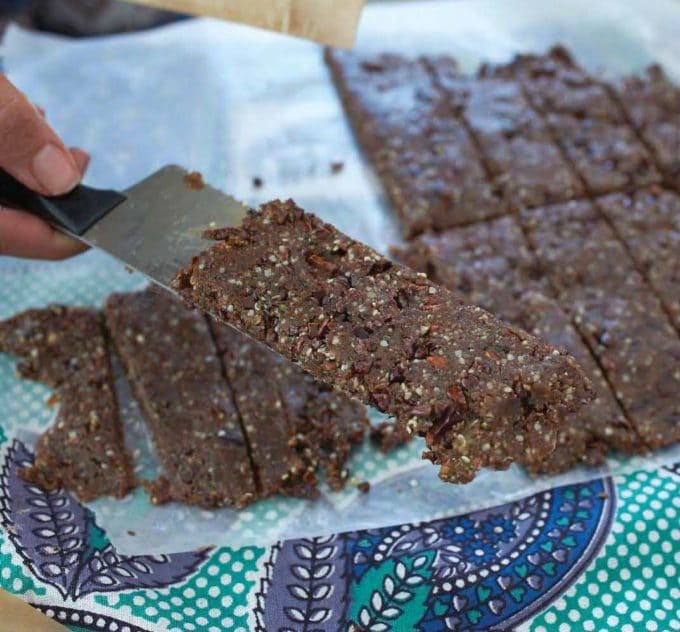 Photo Credit: The Plantpower Way by Rich Roll and Julie Piatt
📖 Recipe
Ultra Energy Bars from The Plantpower Way
"Rich isn't the only one who loves the supercharged vitality he experiences from eating these nutritious homemade bars – our kids devour them as a healthy alternative to processed store bought varieties. Power packed with healthy ingredients like nuts, seeds, coconut and dried berries that boast a plentitude of protein, healthy fats and fiber, these energy boosters will keep your engine revving all day long. Great for packing in your child's lunchbox! Eat one of these bars and then, as Rich says, get it done." -- The Plantpower Way
Ingredients
1

cup

raw almonds or walnuts, soaked overnight

¼

cup

cacao nibs

¼

cup

hemp seeds

¼

cup

dried goji berries

2

tablespoon

cacao powder

¼

cup

coconut, shredded

Pinch large coarse Celtic sea salt

7-8

dates, soaked and pitted
Instructions
In a food processor, pulse nuts until mealy in texture. Now add the cacao nibs, hemp seeds, goji berries, cacao powder, shredded coconut and sea salt to the processor. Pulse again until ingredients are well-incorporated.

With the motor running, add one date at a time. After seven dates, you will see the mixture ball-up on one side of the bowl. You may need to redistribute the mixture and process it again to make sure the dates are mixed in.

On a piece of parchment paper, press the cookies in an even layer about ¼" thick. With a knife, score out a grid of rectangular shaped pieces approximately 2" x 3". If desired, press additional hemp seeds or shredded coconut on the surface.

Wrap in parchment paper or parchment bags. Take them out on a trail run, hike or bike ride to sustain you throughout your training session!*
Notes
*I cut the bars and then popped them in the freezer for 4 hours to firm them up a bit. I also store them in the freezer.
Reprinted from The Plantpower Way by arrangement with Avery Books, a member of Penguin Group (USA) LLC, A Penguin Random House Company. Copyright © 2015, Rich Roll & Julie Piatt
The Plantpower Way Giveaway
One winner will receive a copy of The Plantpower Way. For a chance to win, simply enter the giveaway using the Rafflecopter widget below and comment on this post between May 6th and May 21st. Please note: this giveaway is only open to residents of the US.