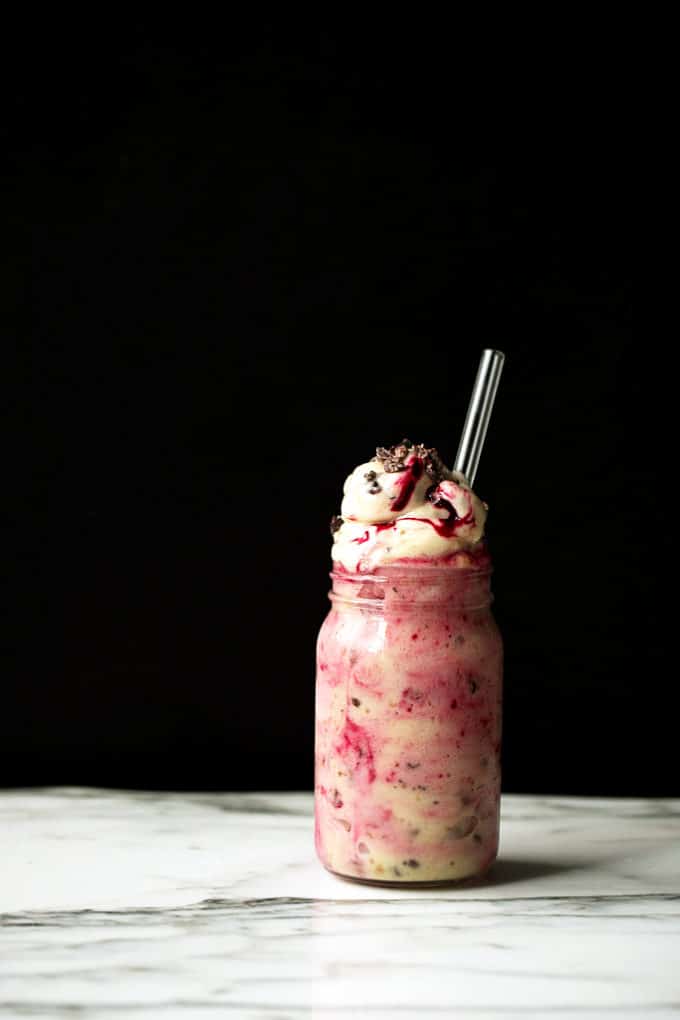 Thick.
Frosty.
Cooling.
Fresh.
Sweet.
Crunchy.
This Thick + Frosty Cacao Crunch Smoothie with Peppermint-Beet Swirl is a holiday force to be reckoned with.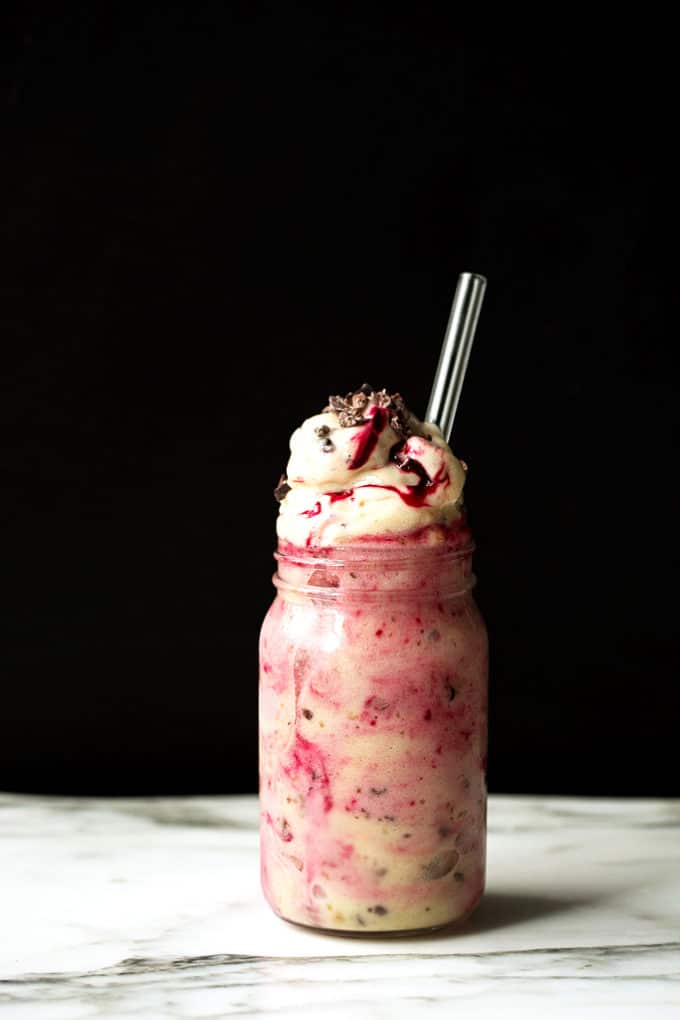 You'll want to arm yourself with a thick straw and a spoon for this one. It starts off thick and soft-serve like before melting into creamy, slurp-able oblivion.
To make it, you'll whip up a quick and easy peppermint-beet syrup by whisking together beet juice, filtered water, arrowroot powder (a thickening agent), and pure maple syrup. Once the liquid is thick and syrupy, you'll whisk in a couple drops of pure peppermint oil or extract and let it cool. If you're using peppermint oil, just make sure it's pure without any additives.
While the syrup is cooling, you'll toss a few frozen bananas into a food processor along with just the tiniest splash of plant-based milk. Using a food processor instead of a blender means you won't need to add much liquid to get it moving. Less liquid = thick and frosty texture.
Once the bananas have reached a thick and creamy consistency, you'll pulse in a spoonful of cacao nibs or dark chocolate chips until they're roughly chopped. Then, you'll dot the surface with a few tiny spoonfuls of the peppermint-beet syrup and pulse 2 to 3 times to create ribbon-like swirls throughout the smoothie like so...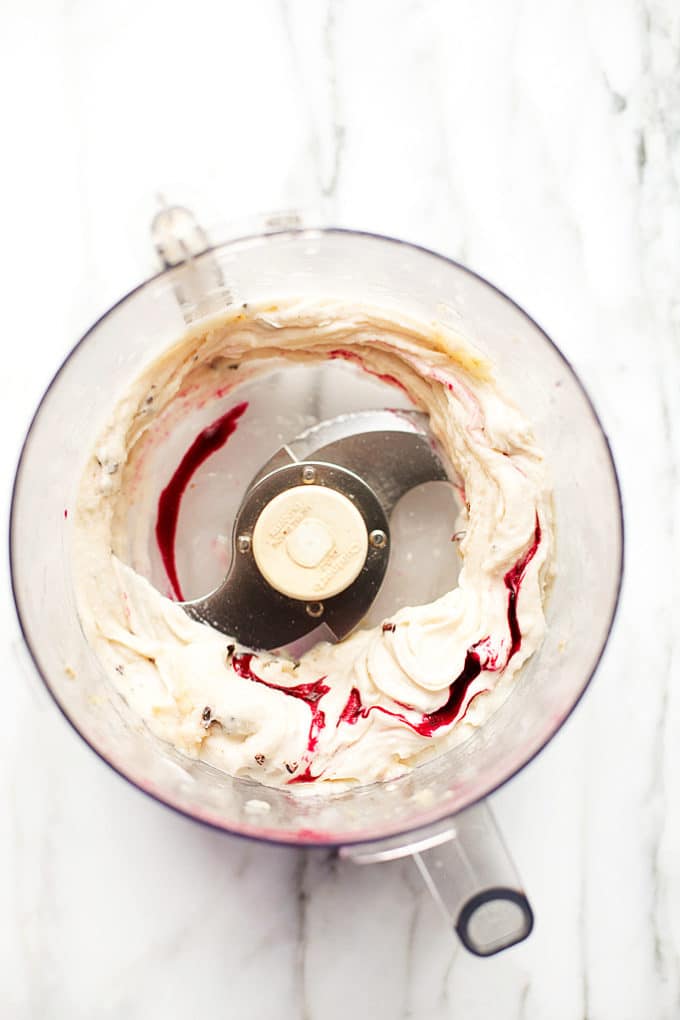 Then, scoop it into a glass or two, sprinkle with more cacao nibs or chocolate, and enjoy.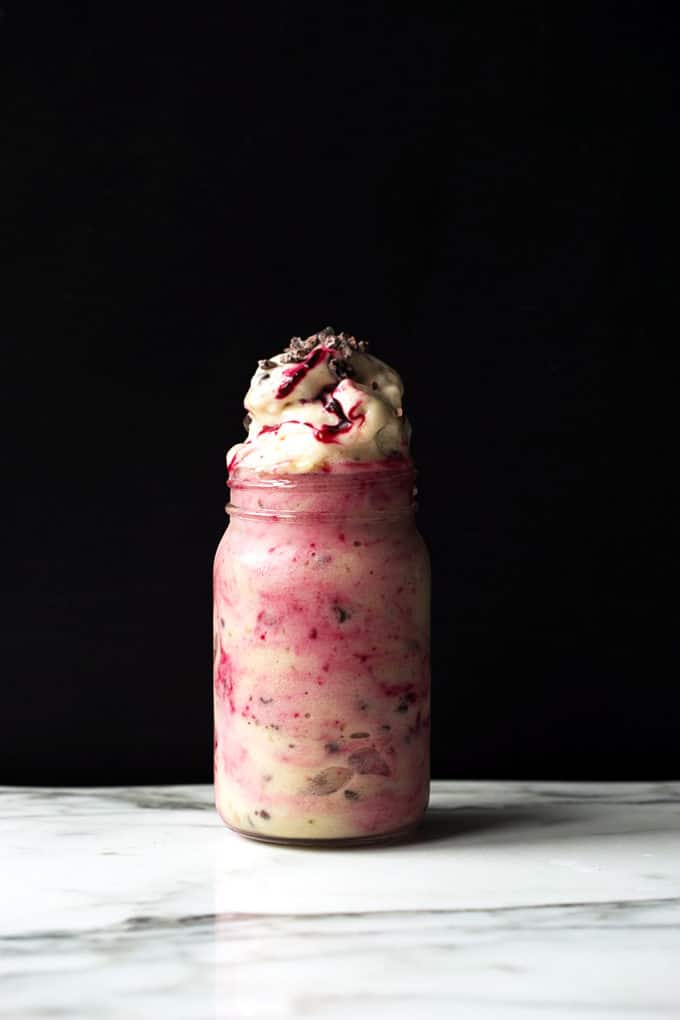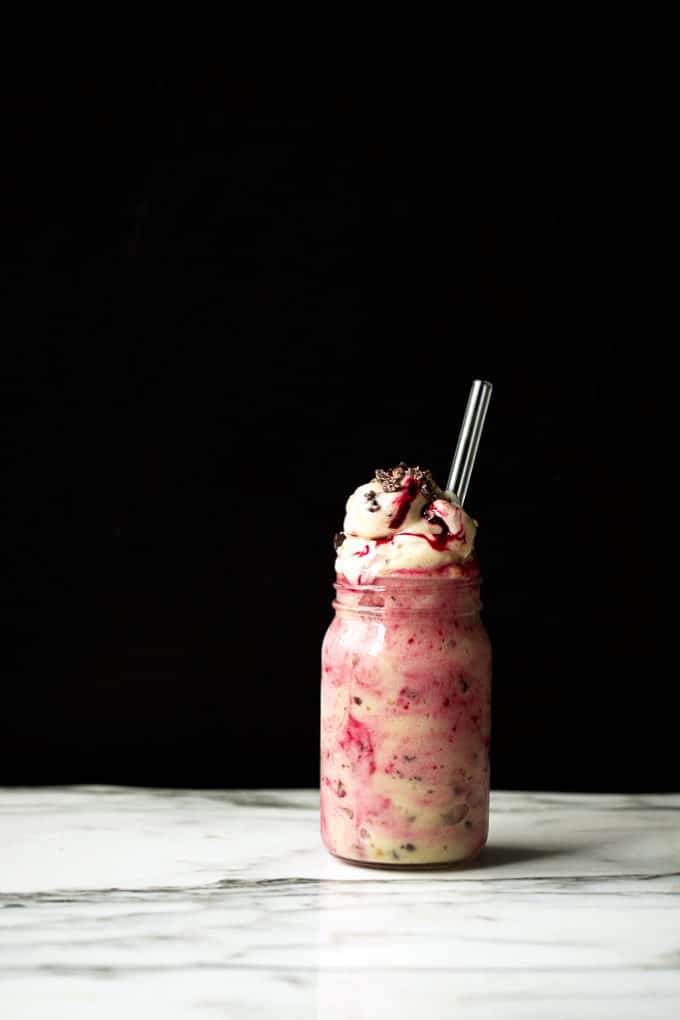 📖 Recipe
Thick + Frosty Cacao Crunch Smoothie with Peppermint-Beet Swirl
Frozen bananas are blended in a food processor with just the tiniest splash of milk, yielding a thick, frosty, and scoop-able smoothie. Cacao nibs are pulsed in for a superfood crunch. Then, a thick peppermint-beet syrup is spooned on top and pulsed to create a ribbon-like sweet and minty swirl throughout the smoothie. The peppermint-beet syrup makes extra, so you can easily and quickly enjoy this smoothie a few times over the holidays without having to fuss over making the syrup every time. Minty, refreshing, and sweet with an addictive crunch of cacao nibs!
Servings
2
(10-ounce) smoothies
Ingredients
Peppermint-Beet Syrup
¼

cup

beet juice (about 1 medium beet, juiced)

2

tablespoons

filtered water

1

teaspoon

arrowroot powder

1

teaspoon

pure maple syrup

2

drops peppermint oil or pure pepper extract, to taste
Thick + Frosty Cacao Crunch Smoothie
3 to 4

ripe and speckled bananas, peeled, sliced, and frozen

2

tablespoons

plant-based milk

1 to 2

tablespoons

cacao nibs or dark chocolate chips, plus more for topping
Instructions
Peppermint-Beet Syrup
In a small bowl, whisk together the beet juice, arrowroot, and maple syrup until smooth. Transfer to a small saucepan and heat over medium-low, whisking constantly, for 3 to 5 minutes or until thick and glossy. Do not overheat. Remove from heat and whisk in the peppermint oil. Chill in refrigerator to cool.

You'll only need a couple teaspoons of the swirl, so reserve the refrigerate the leftovers to make this smoothie throughout the week.
Thick + Frosty Cacao Crunch Smoothie
Make the smoothie while the peppermint-beet syrup is cooling. Add the frozen bananas and plant-based milk to a food processor. Process until you have a smooth and creamy mixture that resembles soft serve ice cream, stopping to scrape down the sides as needed.

Add the cacao nibs or chocolate chips and pulse several times to chop and incorporate. Use a ¼ teaspoon to dot the top of the smoothie with as much of the Peppermint-Beet Syrup as desired, and pulse 2 to 3 times to gently swirl it into the smoothie. You will have leftover syrup that you can refrigerate and use to make the smoothie throughout the week.

Use an ice cream scoop to spoon the smoothie into two glasses. Top with more cacao nibs, if desired. Serve immediately.