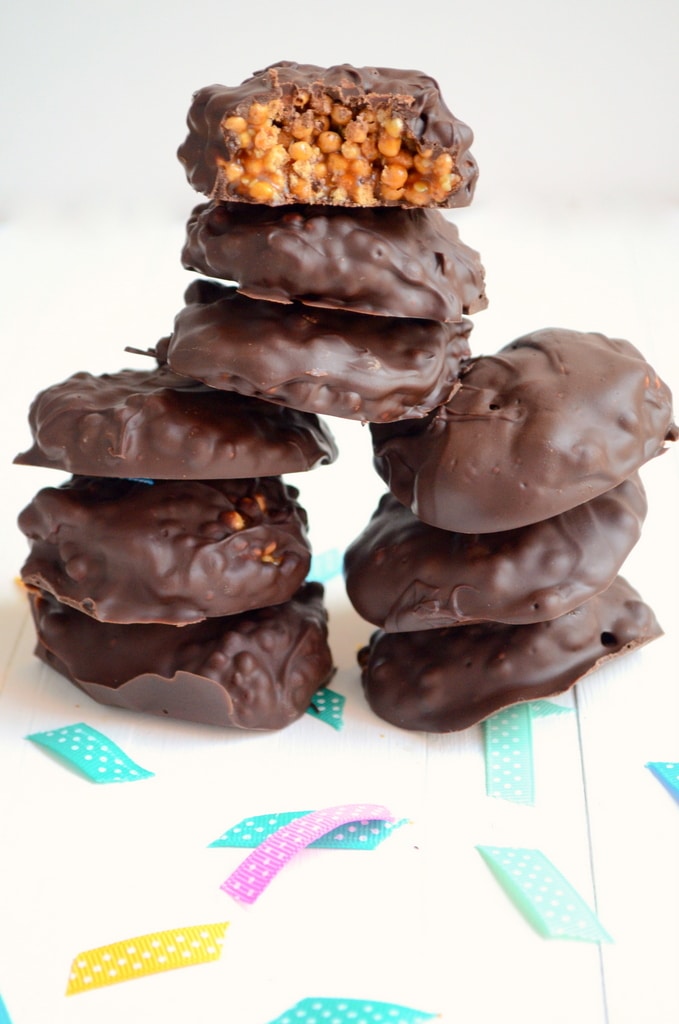 What is that saying? If at first you don't succeed, try, try again.
What is the proper saying if you don't succeed at your first or second go at it? If at first or second you don't succeed, it might be time to give up...?
I'm happy to say that I didn't give up on this recipe, but I was very close to throwing in the towel upon realizing that I had turned two rounds of perfectly good ingredients into varying levels of inedible.
I initially set out to make a high-protein knockoff star crunch bar by making homemade puffed quinoa. I went through an entire bag of quinoa, gobs of coconut oil, and two alerts from the smoke detector before coming to the conclusion that quinoa is probably not a grain that should be "puffed." It's too tiny and delicate to withstand the high heat needed to "puff" something.
For my second attempt, I decided on a high-protein puffed flax cereal combined with melted caramel candies. However, because the flax cereal is so crunchy and caramel candies are so chewy, the combination formed what I now lovingly refer to as "star rock bars" instead of "star crunch bars."
For my third and final go at it I used a caramel sauce that is thick and dense at room temperature and nearly solid when refrigerated, and something magical happened: it worked! I'm still thanking my lucky star crunch bars for this one.
The result is a bar that is super crunchy, bursting with caramel, wrapped in dark chocolate, and packed with protein (5 grams per small bar, which is 2 ½ times its original and much larger predecessor). All of the qualities I was hoping to find in rounds 1 and 2 finally unveiled themselves in round 3, and I couldn't be happier with these crunchy little wonders.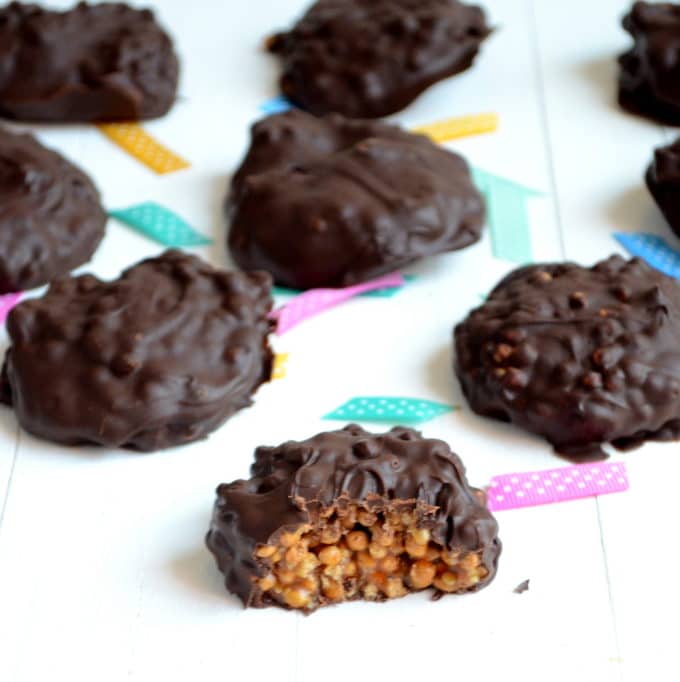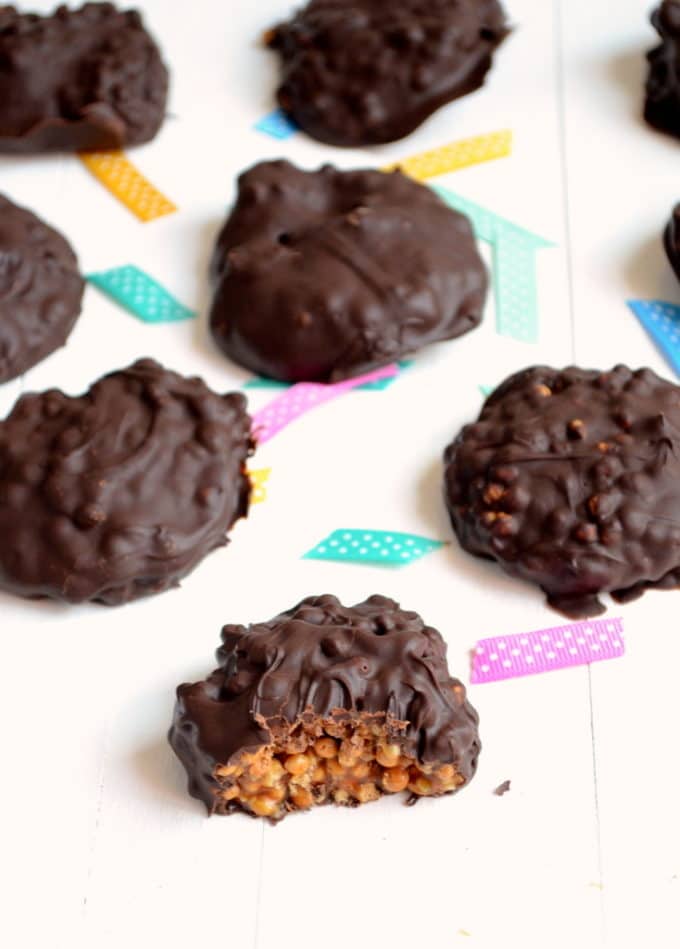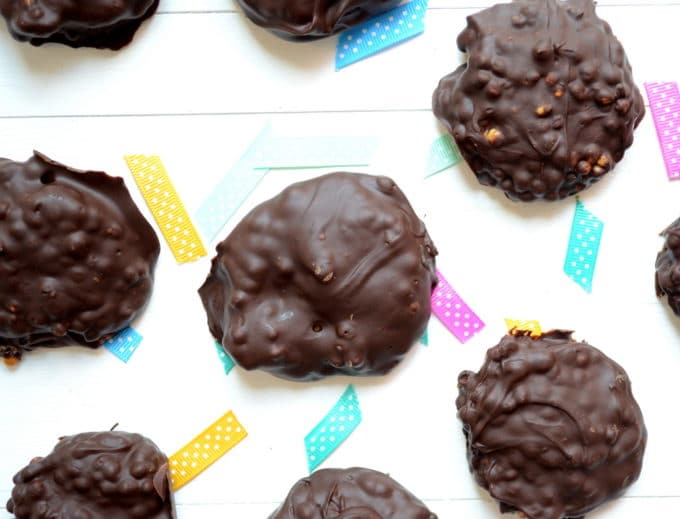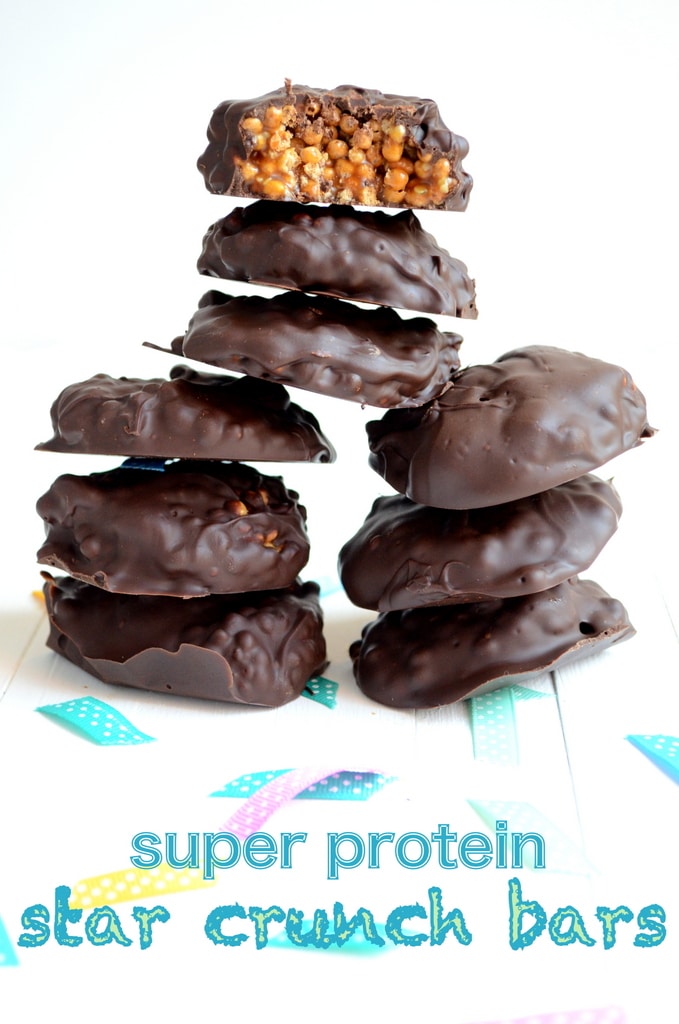 Super Protein Star Crunch Bars
High-protein flax cereal, hemp seeds, caramel and dark chocolate are combined to yield a super crunchy, protein-rich knockoff of the childhood favorite.
Ingredients
5 ounces thick caramel sauce (I recommend Trader Joe's Fleur de Sel Caramel Sauce and can't vouch for other brands)
1 ½ cups crunchy flax cereal (I used Enjoy Life's Crunchy Flax from Whole Foods)
1 tablespoon butter
4 tablespoons shelled hemp seeds
12 ounces melted dark chocolate
Instructions
Heat caramel sauce in a large pot over low heat until melted.
Add in the butter and hemp seeds and stir until incorporated.
Remove from heat and add in the flax cereal and stir until evenly coated with caramel mixture.
Drop spoonfuls of the mixture into a well-greased muffin tin and gently press down to form patties (makes 10 patties). Pop the muffin tin in the refrigerator for 30-45 minutes to set the patties.
Line a baking sheet with parchment paper. Dip the cool patties, one at a time, into the melted dark chocolate to coat. Turn out onto lined baking pan. Repeat with all caramel patties.
Refrigerate for 25-30 minutes to set chocolate.
Serve and enjoy.
Leftovers can be stored in the refrigerator.