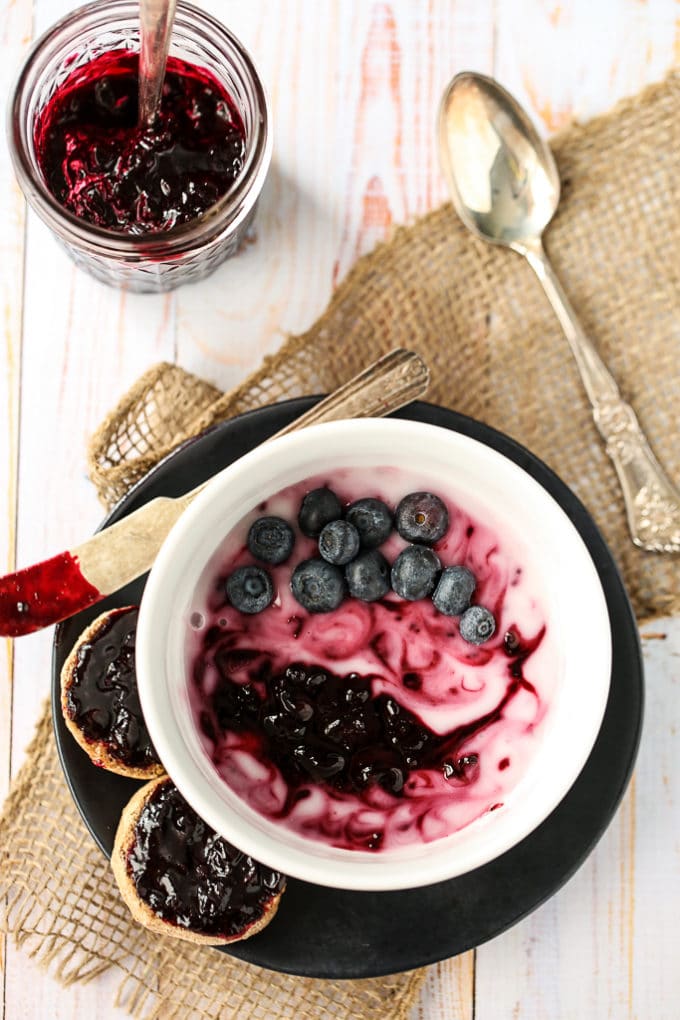 Fruit compotes are my go-to in many scenarios but especially for these two in particular: 1) overly ripe fruit and 2) super tart fruit.
I have this thing with currants, a sort of annual love affair.  I go to the farmers market in mid July, I see them sitting there in their eye-catching aqua cardboard pint dangling from their delicate little stems, and I develop a case of the gimmies. I'm all business with the other fruits and veggies; I purchase what's on my list and stick to it. But the currants. Oh, the currants. They get me every time. I think it's a food blogger thing. I see them and delusions of grandeur erode my memory and sensibilities. I immediately start picturing cakes and custards (<--avert your eyeballs for that first photo, it's an overexposed, nearly-neon doozy from two years back) artfully strewn with currants.
This would be all well and fine, except each and every time I succumb to their charm, this pattern of events shortly follows: I get them home, I eagerly rip them out of my bag, and politely pop a ladylike heaping handful into my mouth. And in an instant, a vivid case of mouth-puckering, face-contorting déjà vu washes over me.
If you've never tasted a handful of raw currants, give it whirl sometime. They are TART. In a loud and chaotic sort of way. And I like sour things. However, I realized last Tuesday (after my annual currant occurrence) that with a little taming, a splash of something sweet, and a bit of simmer time, their flavor can shine.
It was this Colorado breakfast that offered the inspiration to make a compote out of black currants. The resort we stayed at for our friends' seriously stunning/gorgeous/life-changing wedding had the most delicious lingonberry and huckleberry jams nestled into their whimsical breakfast spread every morning, and I fell in love with the both of them. The lingonberry jam was tart but balanced with just the right amount of sweetness, and I figured if lingonberries can find balance, so can currants.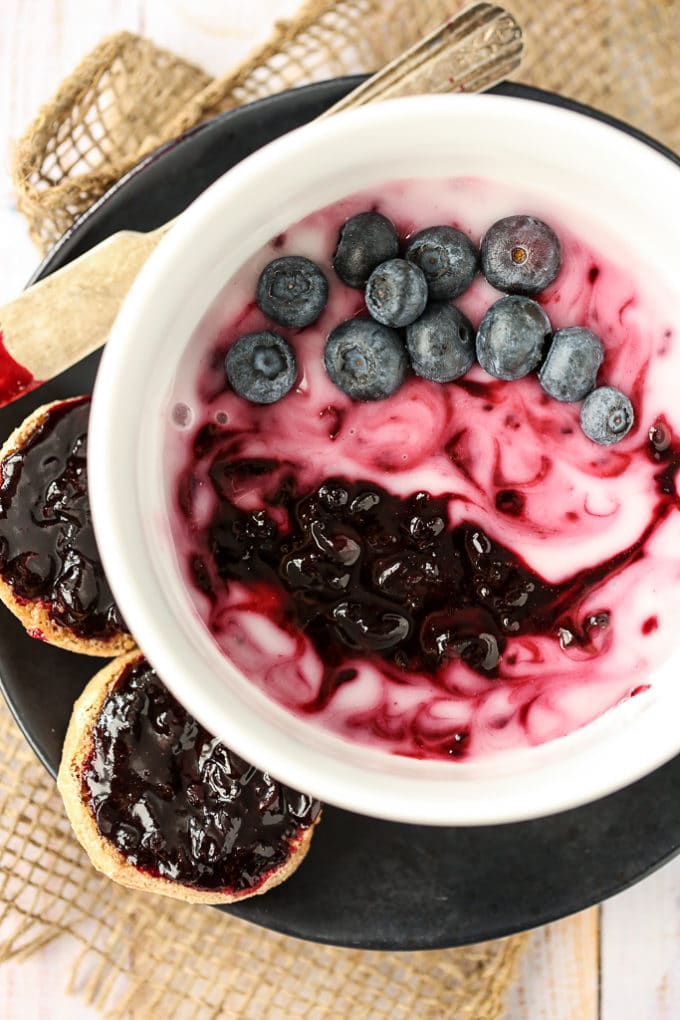 With a generous splash of maple syrup and 10 minutes of simmer time, my pint of black currants transformed into a tart but also perfectly sweetened compote. I didn't intend to share this recipe on the blog, but I was so happy with the simplicity and flavor that I couldn't help myself. In addition to currants, I also have a soft spot for shockingly simple dishes that taste extraordinary solely because they're made with ripe, seasonal ingredients. There's something a little magical about food like that, don't you think?
To make this more of a recipe, I swirled the compote into a bowl of coconut yogurt and topped it with fresh blueberries. I also slathered it on some tiny homemade spelt rolls with a little pat of coconut oil. After I snapped the photos, I added sliced white nectarines, sliced plums, and a sprinkling of granola, and I recommend that you add all of those things too. The best of July's sweet produce all in one place. <3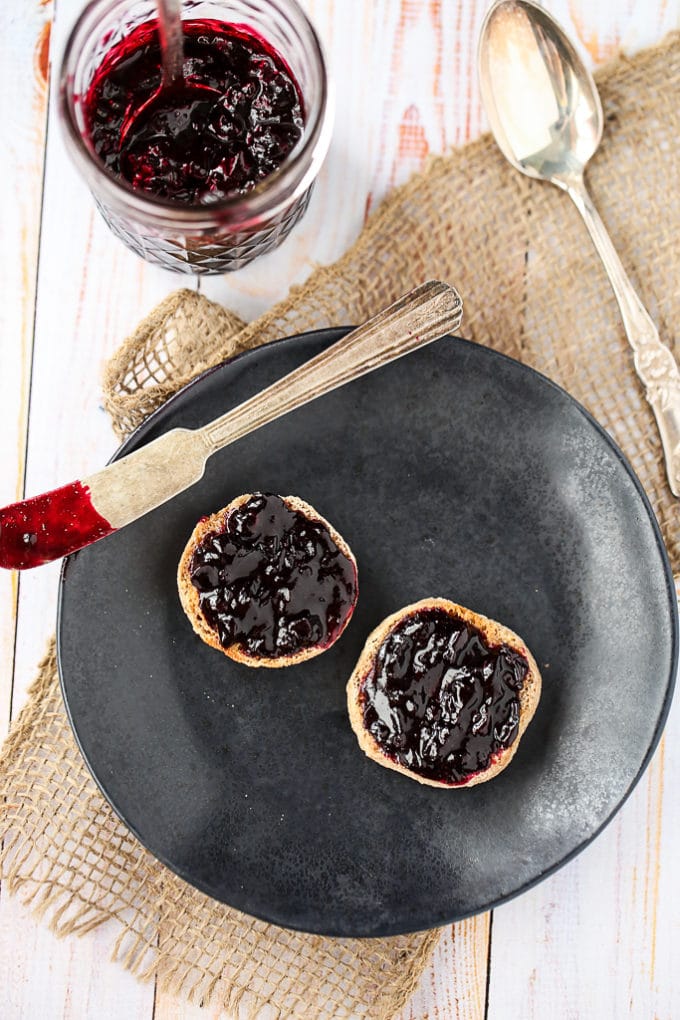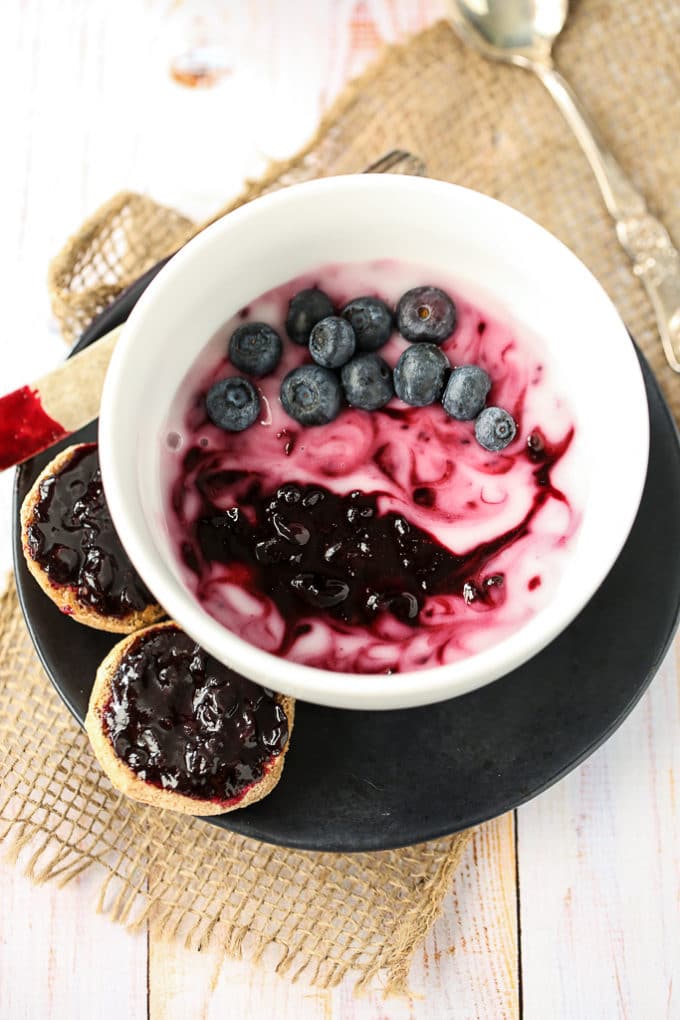 📖 Recipe
Black Currant Compote Breakfast Bowl
With a generous splash of maple syrup and 10 minutes of simmer time, my pint of black currants transformed into a tart but also perfectly sweetened compote.

Swirl the compote into a bowl of coconut yogurt and top it with fresh berries or slather it on toasted rolls with a pat of coconut oil.
Ingredients
Black Currant Compote
1

pint

black currants, washed and destemmed

⅓

cup

filtered water

3

tablespoons

pure maple syrup or to taste
Bowl
2

cups

unsweetened coconut yogurt

1

cup

fresh blueberries
Topping Ideas
2

ripe plums, pitted and sliced

1

ripe nectarine, pitted and sliced

sprinkling of granola
Instructions
Black Currant Compote
In a medium saucepan, combine black currants, filtered water, and maple syrup. Bring to a boil, reduce heat, and simmer, uncovered, for 10 minutes or until the currants have broken down into a sauce. Let cool.
To Assemble
In two small bowls, divide the coconut yogurt and top with the black currant compote. If desired, use the pointy end of a chopstick or a toothpick to swirl the compote into yogurt. Add additional toppings.