This vegan sticky spicy sweet tofu is easy, delicious, and versatile. Add it to salads, power bowls, wraps, etc. or enjoy it all on its own alongside warm, nutty brown rice.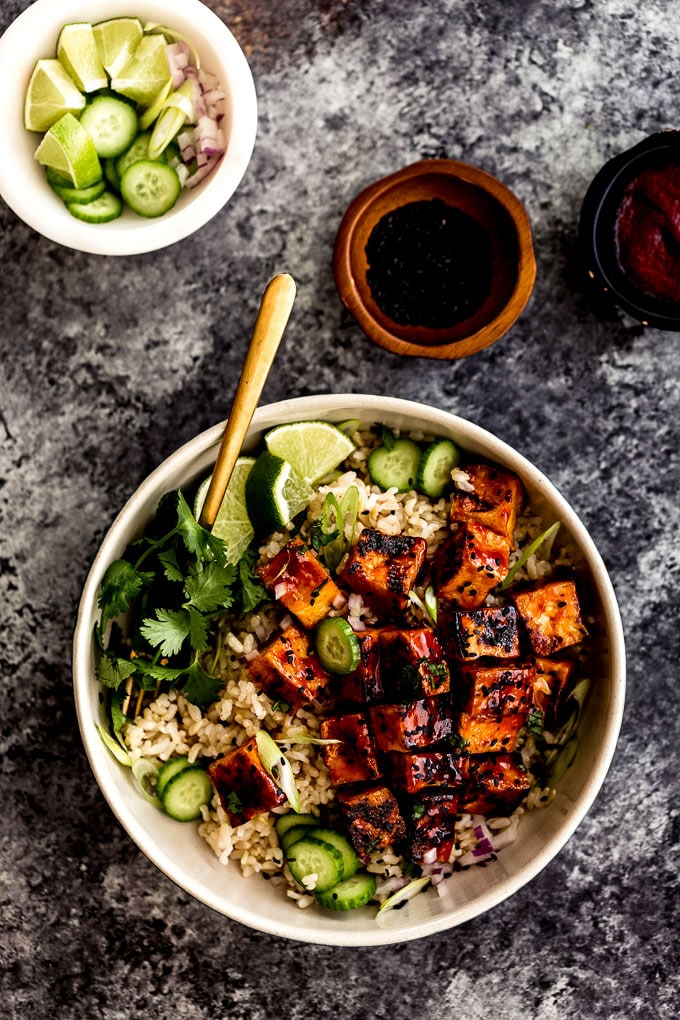 Hello, sweet friends!
I've been a bit inconsistent with posts these last two months, missing a week here or there, but going forward things are looking strong and steady.
Perhaps even better news to you will be the fact that I finally invested in an Instant Pot. Over the last two years, I've received a steady stream of requests to please, please, please start creating Instant Pot recipes for the site.
Given that we moved four times last year, I'd been reluctant to add another bulky kitchen gadget to the moving boxes. But now that we're settled into our new home and have extra cabinet space (that's a first), it was time.
A quick Q + A on Instagram Stories told me that you're craving vegan Instant Pot recipes that are:
Family friendly but with LOTS of flavor.
A little out of the box for an Instant Pot—e.g., pasta dishes, tacos, tofu scrambles.
Staples but veganized and simplified—chili, easy soups, Mac 'n' Cheese, lentil bolognese, curry recipes, etc.
For those of you who don't use Instagram or didn't have a chance to submit your requests, please feel free to comment on this post or email me through my 'contact' page.
I'd love to know what types of veganized Instant Pot recipes you want. Also, any Instant Pot tips?? Send 'em my way. To be totally honest, I'm a little intimidated by the whole pressurization aspect. But intimidation breeds creativity in the kitchen, so cheers to that. 🥂
With all this Instant Pot talk, you'd think this tofu recipe was made in one. It's not, but I'm now very curious how it would turn out. I'll have to give it a try and report back.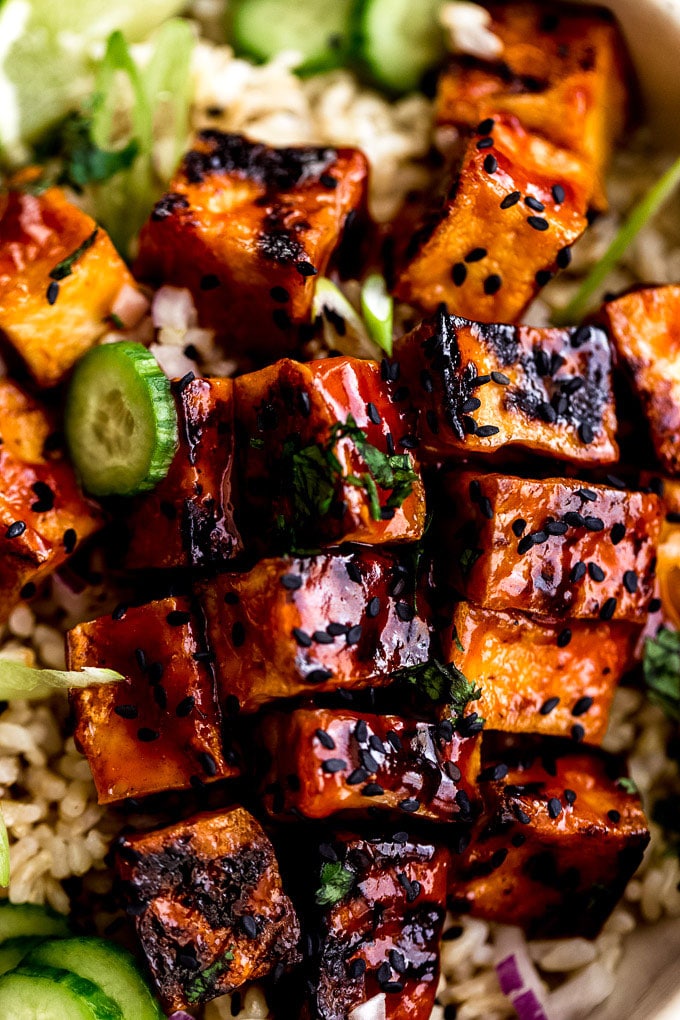 As you might recall from earlier posts, I didn't used to like tofu.
The jiggly, gelatinous, flavorless substance weirded me out and required all too much fussing around to make it taste decent.
It wasn't until I fell in love with tofu scrambles that my mind opened to the tasty possibilities of tofu. The more I leaned into the crumble-and-sauté method of cooking tofu, the more I realized what a great plant-protein option it is.
Yes, tofu on its own is exceptionally bland. But bland is a beautiful canvas for any type of seasoning.
From tofu scrambles to breakfast tacos to BBQ nacho "meat", summer rolls, ricotta, and even vegan halloumi, the options with tofu are seemingly endless.
But to be honest, my favorite tofu recipes tend to be the minimalistic but thoughtful ones. The ones that require just a handful of ingredients—less than 10—but bring a punch of flavor and can be served in many ways.
This sticky spicy sweet tofu checks all the boxes. Seven ingredients, punch of flavor (and great texture), and can be served on its own, over rice, tucked into wraps, etc.
How to Press Tofu
If you're new to tofu, one of the biggest tips I can offer is to take the time to press tofu before cooking it. Pressing tofu for 20 to 30 minutes squeezes the excess moisture from it and moves its texture from gelatinous to firm.
While a tofu press is a worthy investment if you plan to cook tofu frequently (I have a bamboo one that I love), you can improvise the contraption with a few items you're likely to already have in your house.
To create a homemade tofu press, you'll need:
Several sheets of paper towels.
Two rimmed shallow plates.
Something very heavy, like a cast iron skillet or a stack of heavy cookbooks.
To start, drain the tofu and pat it dry.
Then, wrap the paper towels around the block of tofu and place it on one of the plates. Place the other plate on top of the tofu.
Place the cast iron skillet or stack of heavy cookbooks on top and let gravity work its magic for 20 to 30 minutes.
As the tofu rests in your homemade press, the weight of the skillet or books will squeeze excess moisture from it, which the paper towels will help to draw out and absorb.
How to Make Spicy Sticky Sweet Tofu
While the tofu is being pressed, you'll whisk together maple syrup, sesame oil, Sriracha, Tamari, rice vinegar, and a small touch of arrowroot starch. This is the sauce, which you can set aside for now.
Once your tofu is pressed, cut it into 1-inch cubes, and heat a well-seasoned cast iron skillet or nonstick pan over medium-high heat.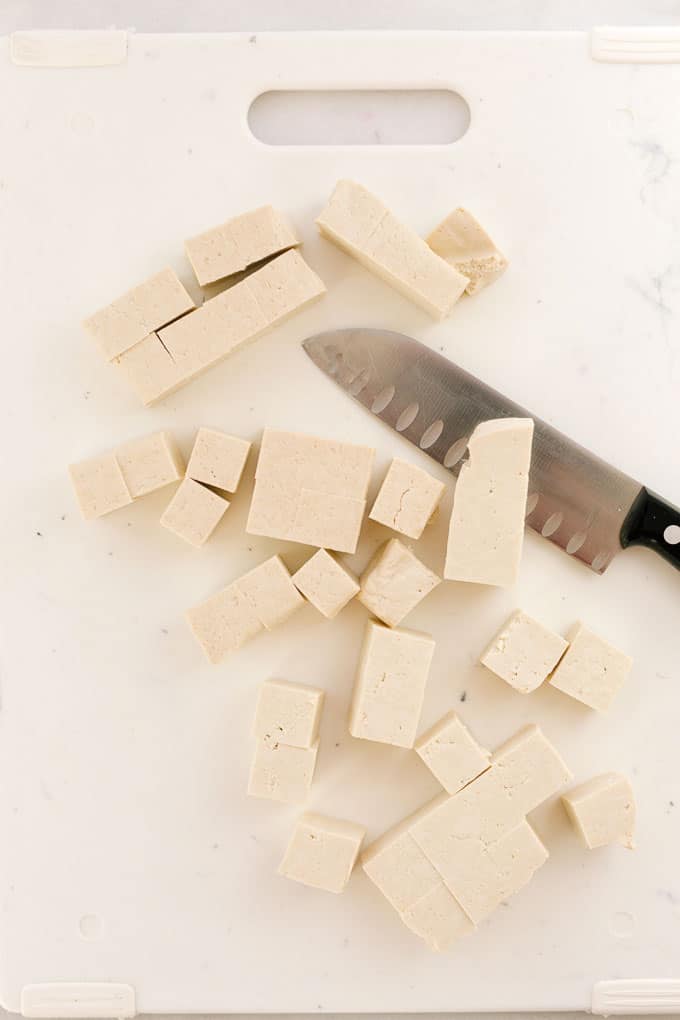 Once the pan is hot, add the tofu in a single layer. You may need to work in batches if your pan is on the smaller side. I find I can fit it all in one 12-inch pan with a small bit of room to spare.
Once you've added the tofu, use the back of a flexible metal spatula to press down on the tofu until it talks to you a bit. FYI, tofu speaks in hisses and sizzles. 😁
After about two minutes, flip each piece of tofu to a fresh side, and repeat.
Repeat until all sides are rich golden brown.
Then, reduce the heat to low and add the sauce. Cook for just a minute or two, or until the sauce warms, thickens, and clings to the tofu.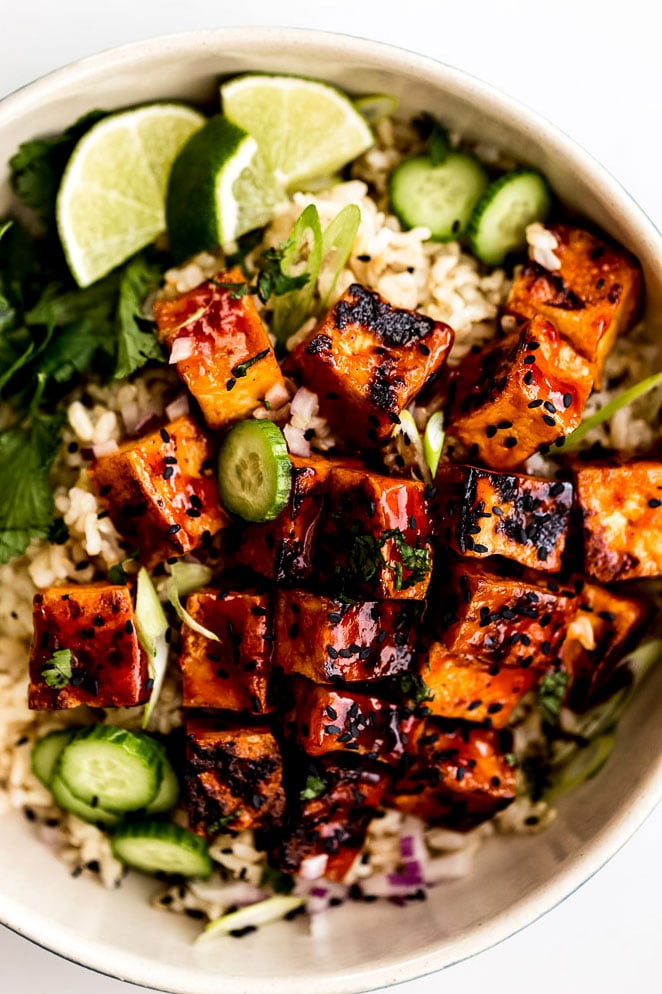 Serve the tofu as you wish.
Here I have it over warm brown rice alongside cucumbers, scallions, and chopped red onion and finished with a sprinkle of black sesame seeds and cilantro.
It would also be excellent tucked into warm wraps with fresh, crisp veggies and greens.
I hope you enjoy this sticky spicy sweet tofu. 💗 If you make it, let me know! Leave a comment, rate the recipe, and don't forget to tag a photo #blissfulbasil on Instagram.
📖 Recipe
Sticky Spicy Sweet Tofu
This vegan sticky spicy sweet tofu is easy, delicious, and versatile. Add it to salads, power bowls, wraps, etc. or enjoy it all on its own alongside warm, nutty brown rice.
Ingredients
1

(15-ounce)

block firm or very firm tofu, drained

2

tablespoons

pure maple syrup

1

tablespoon

toasted sesame oil

1

tablespoon

Sriracha or chili-garlic paste

1

tablespoon

tamari*

1

tablespoon

rice vinegar

⅛ to ¼

teaspoon

arrowroot starch**
Instructions
If you have a tofu press, use it to press the tofu for 20 to 30 minutes. Alternatively, wrap the tofu in several layers of paper towels, and place it on a dinner plate. Place another plate on top, and set a very heavy pot or pan (e.g., cast iron skillet) on top of the wrapped tofu and let stand for at least 20 minutes (preferably 30 minutes) to press the excess water from the tofu. Unwrap and discard the paper towel once pressed.

Meanwhile, in a medium spouted mixing bowl or glass measuring cup, combine the maple syrup, sesame oil, Sriracha, tamari, rice vinegar, and starch. Vigorously whisk together until combined and set within reach of the stove. Note: The recipe for the sauce is a jumping off point—feel free to add more of what you love. Like a tangier sauce? Add more vinegar. Extra spicy? More Sriracha. Generously salty? More tamari. A little sweeter? More maple syrup. Adjust to suit your preferences!

Slice the pressed tofu into 1-inch cubes.

Heat a well-seasoned cast iron skillet or nonstick pan over medium-high heat until hot. The heat will sear the surface of the tofu and prevent it from sticking, which is why it's important the pan is thoroughly heated.

Once the pan is hot, add the tofu in a single layer (you may need to do this in two batches depending on the size of your pan).

Use the back of a spatula to lightly press down on the tofu (you should hear it sizzle and hiss). Cook for 2 to 3 minutes, or until the pan-facing sides are golden-brown. Flip, and continue to cook for another 2 to 3 minutes, or until golden-brown. Repeat until all sides are golden-brown.

Reduce the heat to low, return all the tofu to the pan (if you cooked in batches), and add the sauce. Cook for 1 to 2 minutes, or until the sauce warms, thickens, and clings to the tofu, stirring constantly.

Transfer the tofu and sauce to a medium mixing bowl and allow it to rest until ready to serve. I recommend serving the tofu over warm brown rice that's been seasoned with rice vinegar and tamari. For a lovely pop of freshness, add sliced cucumbers, lime wedges for spritzing, scallions, and cilantro!

Refrigerate leftovers.
Notes
*I used regular Tamari. If you're using low-sodium, you'll want to use a bit more. Also, if you don't need to keep this recipe gluten-free, you can use soy sauce instead.
**If you don't care about creating a sticky, thick sauce, you can omit the starch. The flavor of the sauce will be just as wonderful, it will just be on the thin side and you'll need to simmer it a bit longer to thicken. If you use the starch, use ⅛ teaspoon for a thinner sauce and ¼ teaspoon for a thicker sauce. If your sauce thickens too much, add more vinegar, soy sauce, etc. to thin to desired texture.
**Readers have had luck with tapioca starch as well—keep this in mind if you don't have arrowroot or cornstarch on hand.