These springtime avocado and radish toasts make an energizing light lunch or hearty snack. Sunflower bread is toasted, slathered with lime-splashed mashed avocado, and topped with radishes and sprouts. The nuttiness of the bread is hugged by the brightness of the avocado + lime, and the radishes + sprouts add a welcome peppery bite.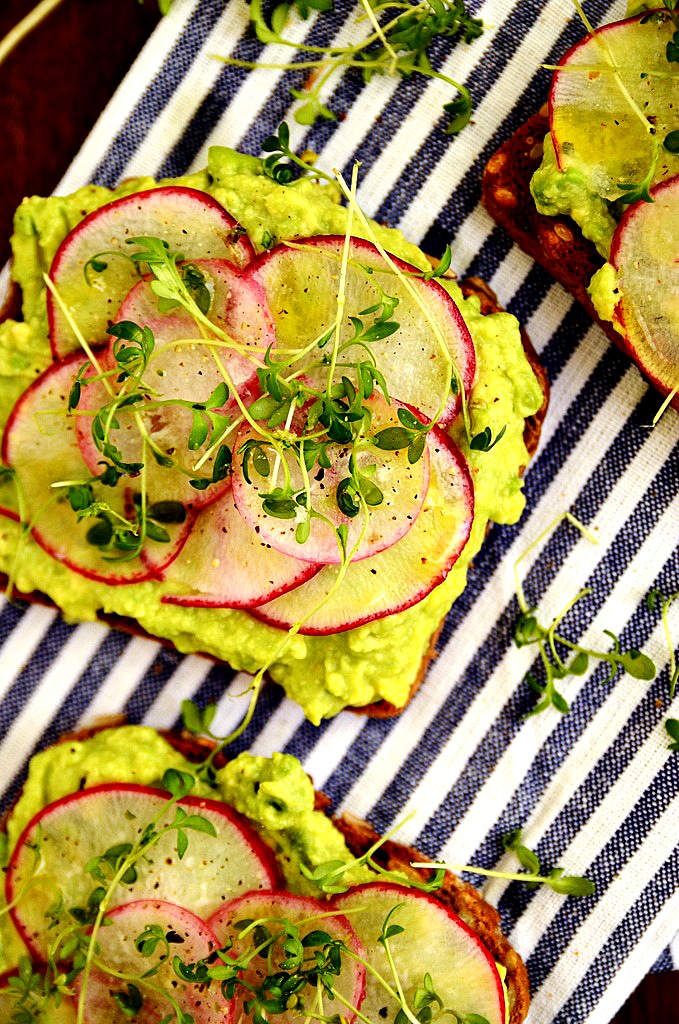 I hope that you all had a lovely weekend! I'm back from St. Lucia and feeling super revitalized + refreshed. It's amazing what a little sunshine, adventure, and beach-reading can do for the soul. I'll be sharing all the awesomely sweaty and sandy details from our trip in a post later this week, but I couldn't wait to share this simple springtime toast recipe with you all.
As vegetarians and vegans, it can be a cumbersome process of trial-and-error to find a variety lunches that are 1) simple to throw together, 2) hold up well if they're brought into work or elsewhere, and 3) are satisfying and hit "the spot". When I first made the switch to vegetarianism, I made plenty of rookie mistakes in the sandwich making department. Layering lots of tomatoes and hummus on wheat bread will guarantee one thing: by noon, you'll be enjoying a mushy, soggy mess of a sandwich. And although I love pb+j's, the novelty wears a bit thin after 10 consecutive days of sticky-sweet indulgence.
In an effort to spur some creative lunch making skills within myself and provide you all with a tasty array of lunch options, I've been working on several sandwich and power bowl recipes that are simple, durable, and super satisfying. You'll see the recipes pop up here and there over the next several weeks, and I'll make sure to do a swanky recipe round-up of them all at the end so that they can be easily accessed in one post.
This open-faced toasted sandwich is the perfect introduction to this miniseries because it screams spring through its colors and flavors. Sunflower bread is toasted to golden perfection, slathered with creamy lime-splashed avocado, and topped with radishes and sprouts. It's all incredibly simple to throw together and the combination is out-of-this-world amazing. The nuttiness of the bread is hugged by the creamy brightness of the avocado + lime, and the radishes + sprouts add a kick of peppery sassiness that will rock your vegan world.
|Quick Tip| I like to keep all the ingredients prepared but separate until I'm ready to eat lunch. When I'm getting everything ready in the morning, I'll start by toasting the bread and wrapping it in foil. Then, I smash the avocado, lime juice, and salt together in a small transportable bowl. Next, I'll slice the radishes and pop them into a bag along with the radish sprouts. That way, when I'm ready to eat lunch I just slather, layer, sprinkle + ENJOY.
I hope you love this recipe as much as I do! Also, I want to thank you all for your continued reading, support, super sweet comments, and general awesomeness. I wish I could meet each and every one of you and thank you in person, as typing these words across the computer screen just doesn't feel like enough. Maybe someday that will happen! Yes?! No?! Until that moment in time, delicious toasted sandwich recipes and positive gratitude vibes will be dished out in abundance.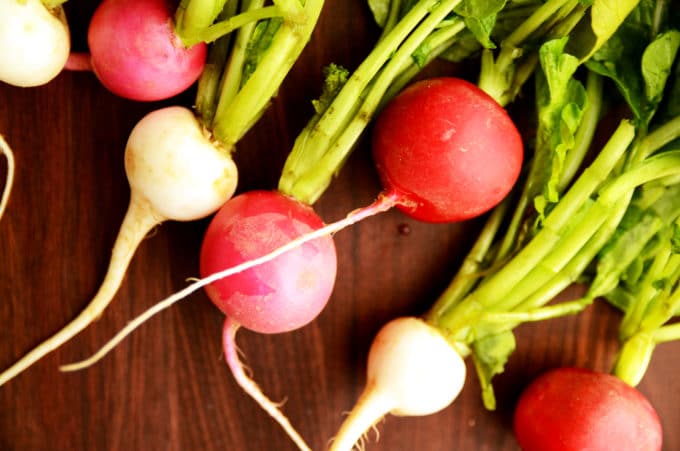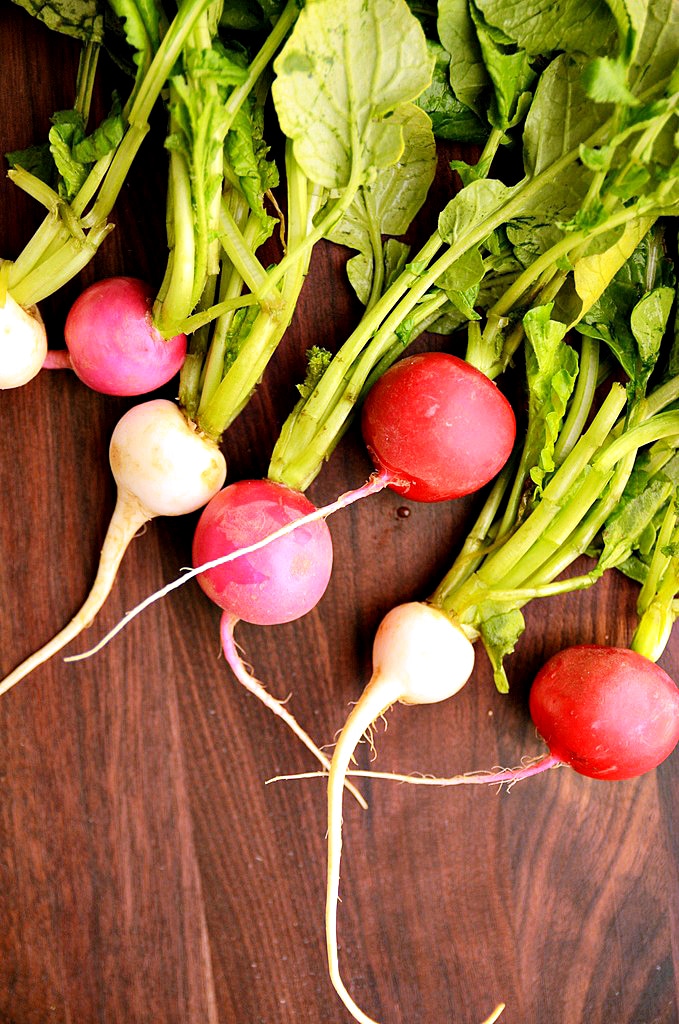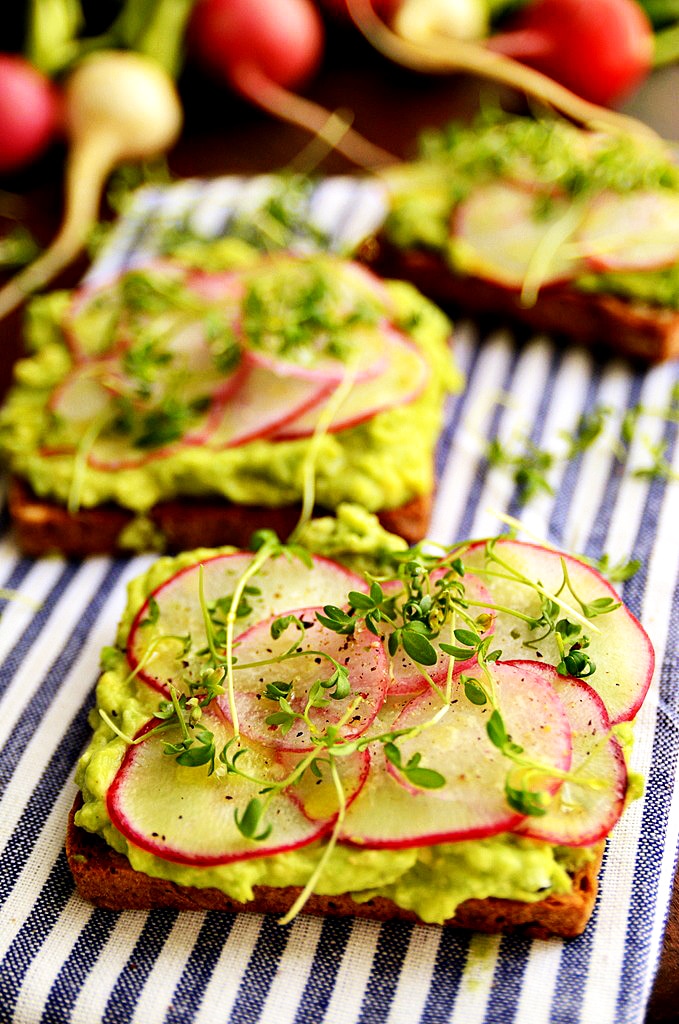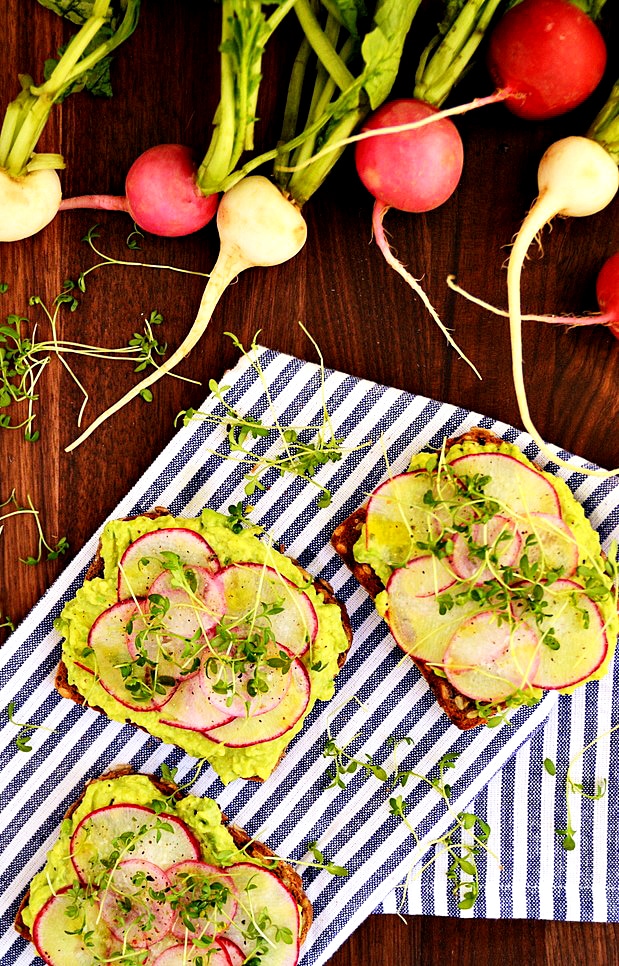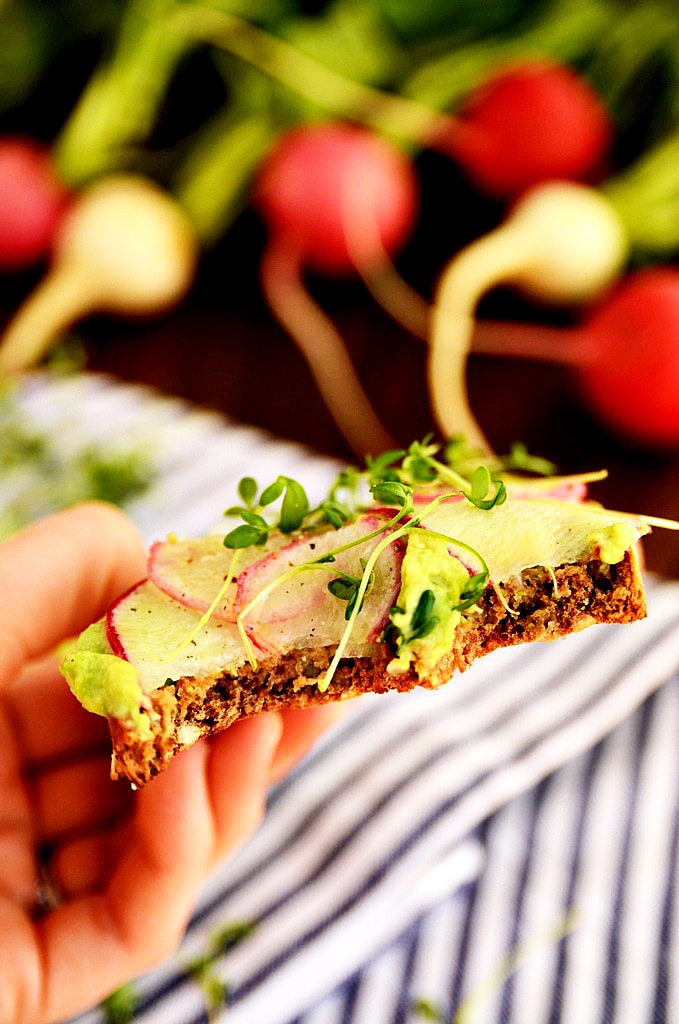 📖 Recipe
Springtime Avocado and Radish Toasts
Seeded bread is toasted to perfection and slathered with creamy lime-splashed avocado. The toasts are topped off with sliced radishes and sprouts to add a peppery and balancing bite. This open-faced sandwich is simple, easy to pack for lunch, and incredibly satisfying.
Ingredients
2

pieces

of sunflower bread or other sprouted/seeded bread

1

ripe avocado, pitted and peeled

1

lime

sea salt

2-3

radishes

Handful

microgreens (I used watercress sprouts)

Optional toppings: olive oil, maldon salt + black pepper
Instructions
Toast the bread.

Halve the avocado and scoop the flesh into a small bowl. Halve the lime and squeeze the juice over the avocado. Add in a pinch of sea salt, to taste. Using a fork, smash the avocado until a creamy mixture forms.

Using a mandolin or sharp knife, thinly slice the radishes.

Slather each piece of toast with the smashed avocado, layer the radish slices, and sprinkle the sprouts on top. If desired, drizzle with olive oil and sprinkle with salt and pepper.

Serve and enjoy!