These rainbow veggie rice noodle bowls make a fresh, fun weeknight meal. Delicate rice noodles are tossed with nutty sesame dressing and heaps of fresh, crunchy, rainbow-hued veggies to create a dish that looks as good as it tastes!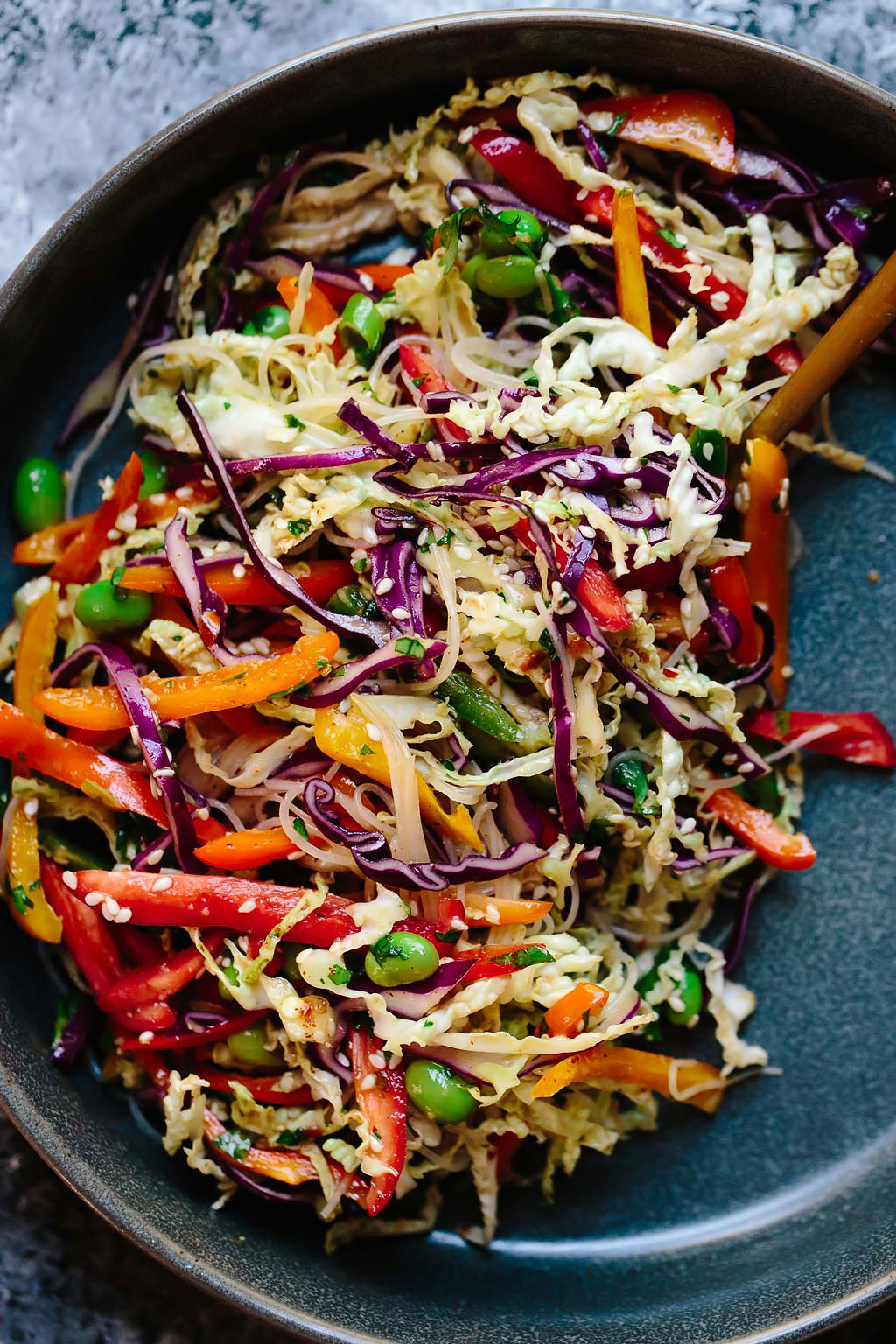 It's been a while since I've offered a life update, so I'll take a moment to do that before diving into this colorful recipe! As always, feel free to scroll on by if you're here solely for the tasty stuff—no judgment here, only love. 💗
This is a bit of a long story. But I'm sharing it because it's taken up so much time and energy over recent months, and I have a feeling other parents out there can relate.
I can't recall how much I've shared about our childcare situation with you, but to quickly summarize, we've had part-time nanny coverage since Sloane was about four months old.
My sister, Morgan, was our first nanny and watched Sloane for just two days a week as I eased back into work. She even stuck with us when we temporarily moved to Milwaukee last summer, making the 60-mile commute from Illinois to Wisconsin twice a week. Yes, she's pretty much a saint.
Morgan was fresh out of college at the time, so it was the perfect situation for both of us.
She could spend time with her niece while also making some money and still have the flexibility to interview for full-time jobs in her field. I—still heavily riddled with postpartum anxiety at the time—had someone I completely trusted to care for Sloane and also a confidante to share ups and downs with as I navigated those delicate, hormone-fueled times.
Fast forward to November of last year, and Morgan received a full-time job offer she couldn't refuse. We (luckily) were able to find a wonderful nanny who lived locally in Milwaukee to take over for her.
We absolutely adored this person. But our time in Milwaukee was coming to an end, and so we parted ways with her when we moved back to Chicago in January. Believe it or not, she actually considered making the trek to Chicago because she adored Sloane so much. Another saint!
When we got back to Chicago, we immediately started interviewing nannies in hopes of finding someone who could watch Sloane four days a week so that I could lean back into work (nearly) full-time.
We interviewed several phenomenal candidates and hired our top choice in February with the idea that she would be our "forever nanny". And my goodness, she did not disappoint! In no time at all, Sloane adored her, we adored her, and I felt like I had a close friend in the house as I chipped away on work each day.
Fast forward to May...
I'm not comfortable giving away too many details here, because it's not my story to share, but to very generally summarize: Our nanny ran into significant health issues that required her to stop working for the time being so that she could focus on healing.
After working through the emotional hurdles of this news—she's truly like a member of our family now—we figured, ok, no big deal, we'll hire a temporary nanny to fill in for her this summer. And so we did.
We found someone who was home in between college and graduate school who filled in for June, July, and part of August.
Fast forward again, this time to August, and we started a care.com search (our 4th search in nine months) to find another nanny who could fill in until at least January when we're hoping our forever nanny might be able to return to work.
If you've used care.com to find a sitter or nanny, you know that finding and hiring someone through that platform is a time-consuming task at best. Wading through mounds of applications, scheduling the interviews, interviewing, and then making a decision is a part-time job itself.
Each time we've gone through the process, we've had unexpected hiccups like no-show interviews, last-minute cancellations, etc.
But after five interviews this time around, we offered the position to our top candidate.
At this point, it was a few days after the summer nanny's last day and just a day before we left for a week-long trip. Point being: We were really cutting it down to the wire!
But we left for vacation feeling great about the decision. The candidate we hired was enthusiastic to come work for us and just an all-around solid person. She'd been working for another family in the area but was up against some fairly toxic work conditions, which is why she was interviewing for other positions.
We'd hoped to have her start at the end of August, but she wasn't able to start until September 16th.
And so we made do with piecemeal sitter coverage and family help for the three-week lapse.
As CEO of his company, Dan doesn't have the flexibility to take off work like I do, so I turned down projects and scaled back on work during this time so that I could be with Sloane when we couldn't secure sitter coverage.
Fast forward again (told you this was a long story) to two Sundays ago. I texted the new nanny to let her know how excited we were for her to start and to check-in to see if she had any questions.
I didn't hear anything back, but didn't think too much of it because she'd just returned from being on vacation, and I'm always a little frazzled myself when first returning from a trip.
But come Monday, 9/16 (her chosen start date), I had a looming pit in my stomach. I told Dan how I'd texted her and didn't hear anything back. "I shouldn't be worried, right? She'll show, right?"
Dan, being a boss-man realist who's hired (and fired) many, many people in his days, replied, "Ash, that's odd. I'd say there's an 80 percent chance she doesn't show."
What? No. I figured he was just being a skeptic. This girl seemed so level-headed, so on top of things, and was also a mom herself. She wouldn't ditch out on a family who was relying on her and who had stopped their search completely and waited for THREE weeks for her. Would she?
Oh, she would.
As 9:00am came and went, tears streamed down my face. An F-bomb may have also slipped through my lips.
I tried calling her. Her phone was off. I tried texting her. I tried messaging her on care.com (which showed that she'd been active on the platform just the day before). I even gave her an easy out in my text, simply asking for her to confirm she wasn't planning to nanny for us by texting, "No." Nothing.
Surely, this was just some kind of mixup.
But when I called Dan to tell him, he assured me it was probably not a mixup and that this person had just flaked. He figured when she went to give her notice with the family she was working for, they offered her a pay bump and she decided to stay.
I would have completely understood the scenario Dan had imagined, as any reasonable human would.
What broke my heart was the lack of integrity. How can you let a family sit around for three weeks thinking they've hired you and not have the decency to let them know that you decided to go another direction?
I felt foolish. I consider myself an excellent judge of character and yet I was so blindsided by this.
After a rant to Dan on my loss of faith in millennials (for the record, I'm a millennial 🤣... but just barely) and a frantic call to a super sweet sitter to see if/when she could fill-in while we sorted out this situation (I had multiple deadlines for clients that week), I plopped down and had myself a good cry.
And yes, before anyone jumps on a soapbox, I recognize how privileged I am to be able to shed tears over this situation—far too many parents have to raise kids alone while working multiple jobs and without much, if any, support. My mom was one of those parents for a handful of years, and I saw how hard it was on her.
But it had been a long while since I'd cried, and this happened to be the situation that rammed open the floodgates.
As I sobbed, Sloane offered comforting hugs and her astute toddler observations. "Momma sad. Momma has tears. Momma want hug?"
Yes, yes. All of those things, sweet baby girl.
After several tearful minutes, I picked myself up, grabbed my computer, and went back to the nanny drawing board.
And so here we are. Still figuring things out and doing our best to look on the bright side.
To all the parents out there, can you relate to any of this?
Especially those of you who are, for lack of a better term, "default parent" and the weight of situations like this one falls almost exclusively on you? Not for a lack of support from your partner but simply due to circumstances.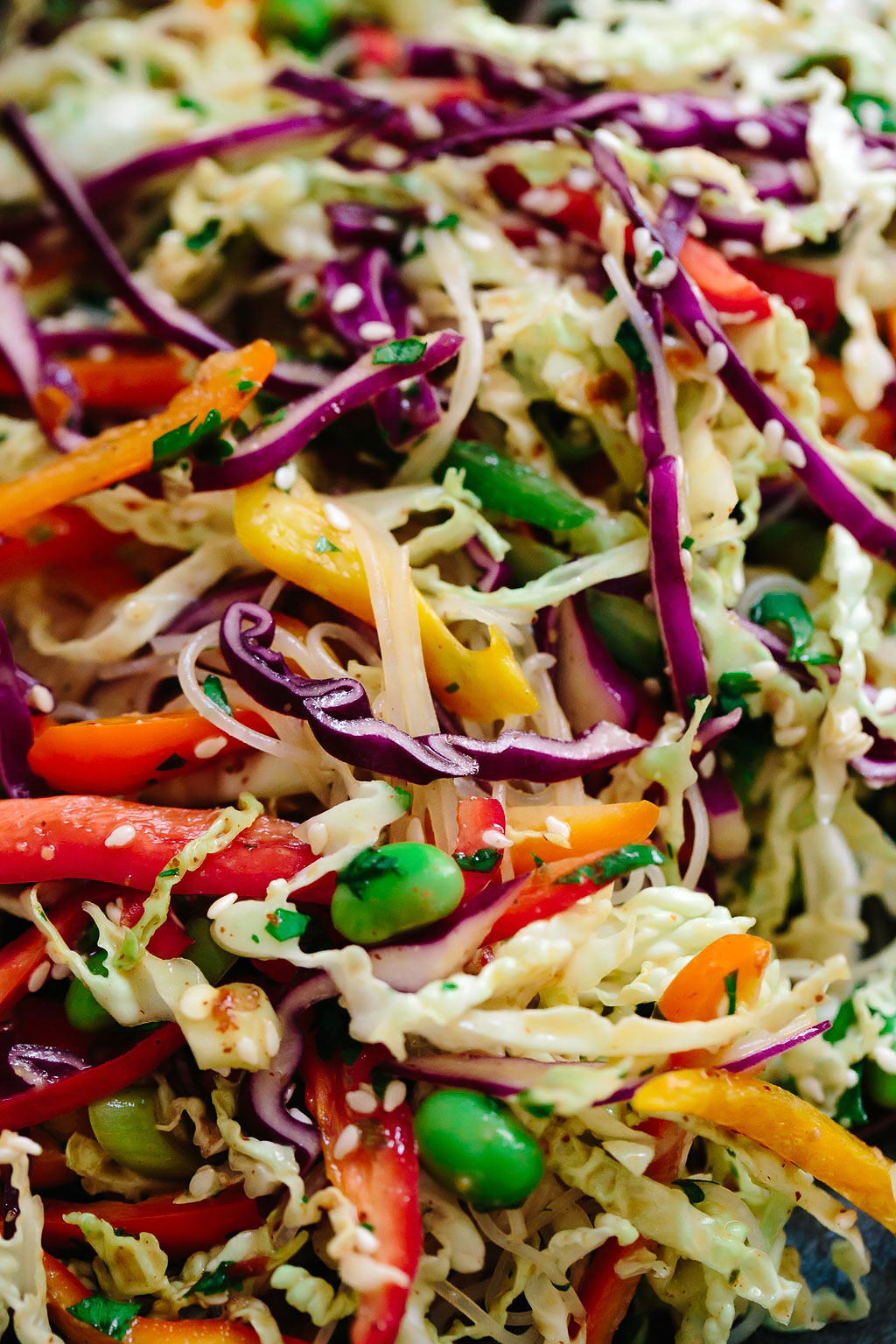 I swear, there's a tie-in between this story and these rainbow veggie rice noodle bowls!
Fueled by a bit of disgruntled frustration, I spent the rest of that "no-show nanny" day organizing Sloane's playroom and our kitchen.
After clearing a bunch of soon-to-turn veggies out of the refrigerator, I made a noodle dish similar to this one for lunch.
It was so tasty, so soul-soothing and restorative, that I decided to remake it and share it here with you.
Point being: There's a bright side to everything and these noodle bowls turned out to be the sunny spot of the no-show nanny situation.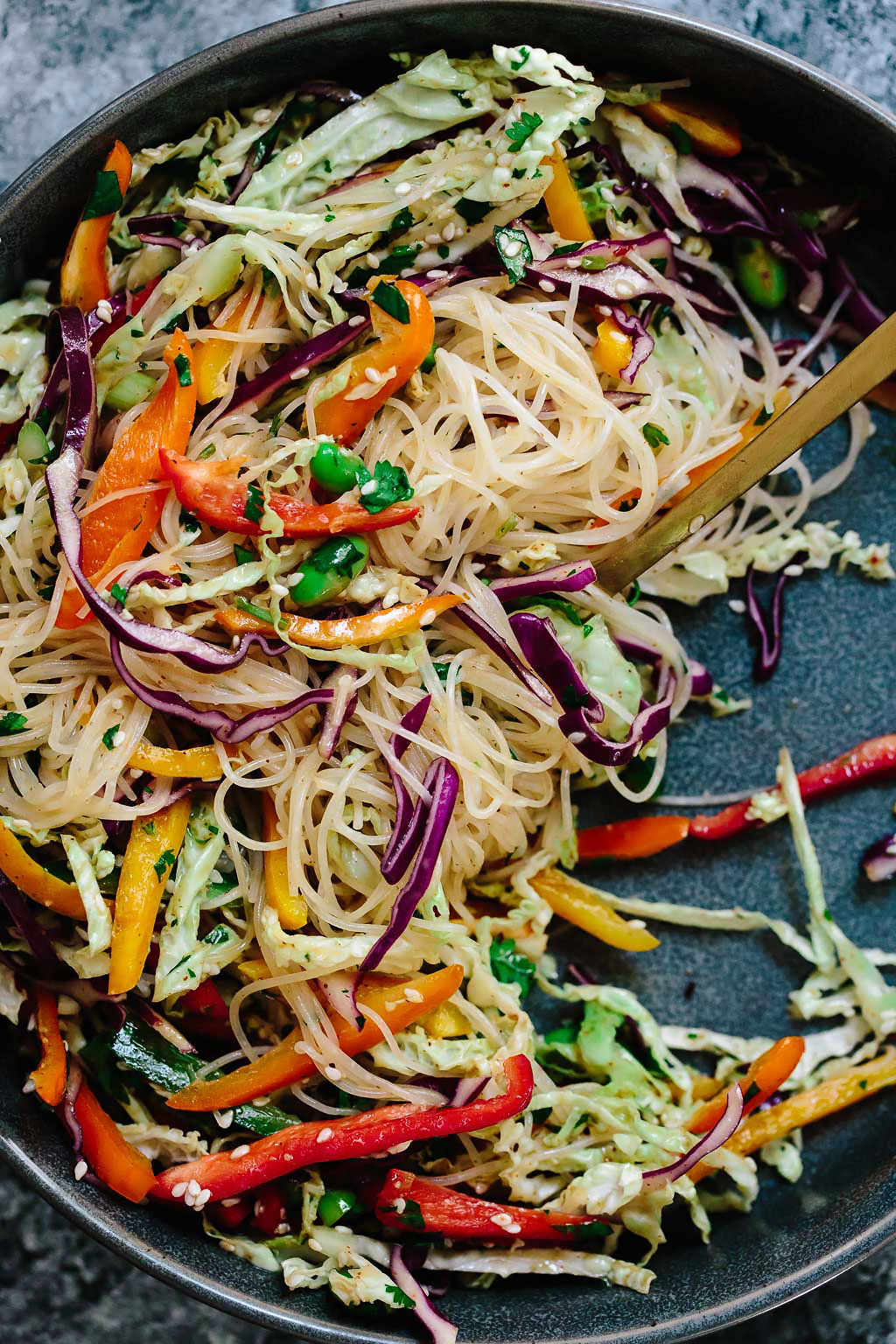 This dish comes together in a speedy 30 minutes and requires little more than chopping, soaking (the noodles), and whisking.
It makes an excellent weeknight meal and also holds up well for lunch leftovers. Make it once, enjoy it twice (or more).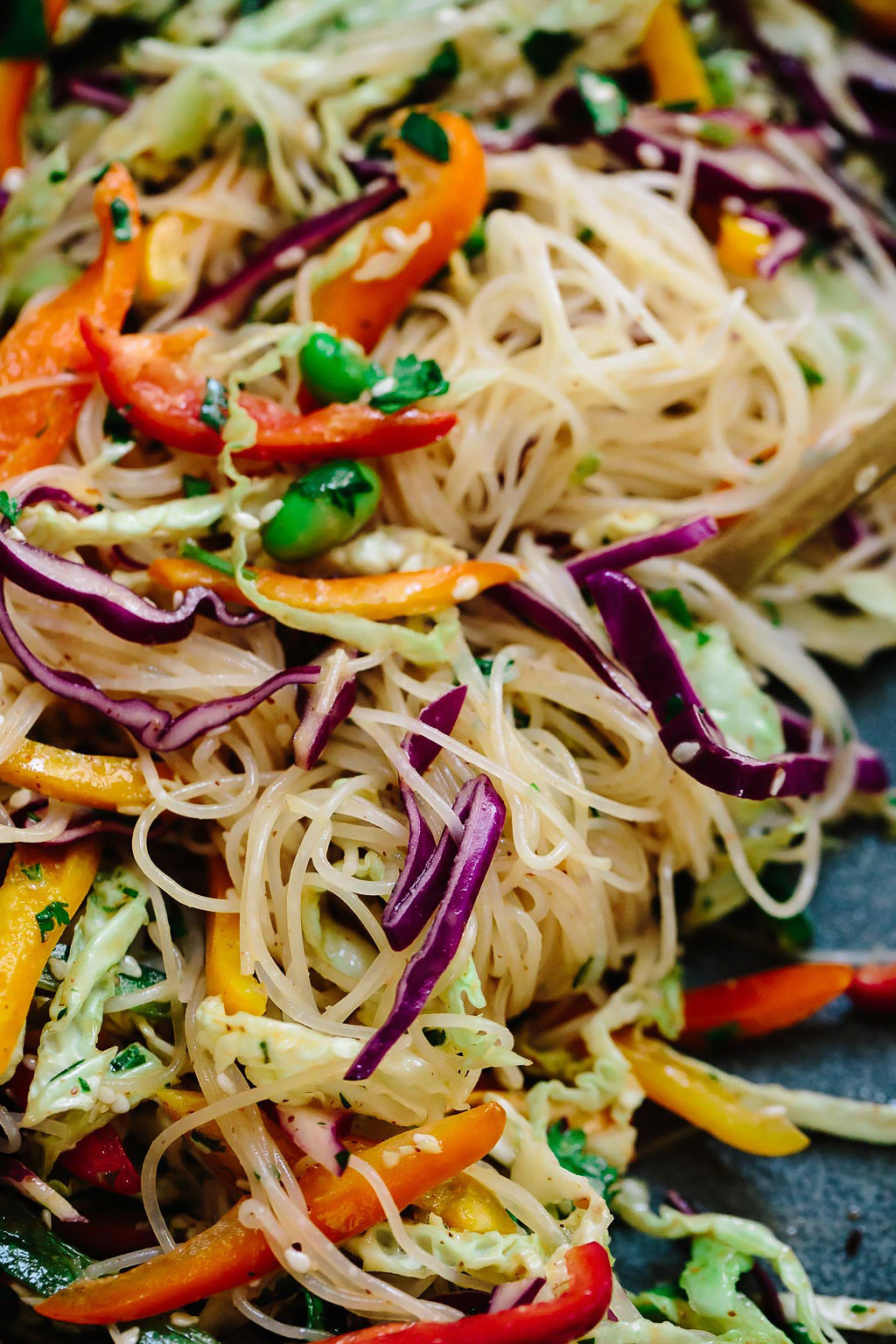 📖 Recipe
Rainbow Veggie Rice Noodle Bowls
These rainbow veggie rice noodle bowls make a fresh, fun weeknight meal (and  hold up well for lunch leftovers, too). Delicate rice noodles are tossed with nutty sesame dressing and heaps of fresh, crunchy, rainbow-hued veggies to create a dish that looks as good as it tastes!
Ingredients
Veggies + Noodles
1 ½

cups

frozen shelled edamame, thawed

8

ounces

red, yellow, and orange mini bell peppers or regular bell peppers, cored and julienned

2

jalapeño peppers, cored, seeded, and julienned (optional)

3

cups

shredded red or green cabbage or a mix of both

3

scallions, ends trimmed and thinly sliced

½

cup

packed cilantro leaves, finely chopped (Time-saving tip: Chop an extra ½ cup for the dressing while you're at it!)

6

ounces

uncooked thin rice noodles
Nutty Sweet 'n' Spicy Sesame Dressing
¼

cup

rice vinegar

¼

cup

natural almond butter or tahini

3

tablespoons

tamari or soy sauce

2

tablespoons

toasted sesame oil

½

cup

packed cilantro leaves, finely chopped

2

tablespoons

pure maple syrup

1 to 2

tablespoons

Sambal Oelek (ground chili paste), or to taste
Instructions
For the Veggies + Noodles
Prepare the edamame, bell peppers, jalapeños (if using), cabbage, scallions, and cilantro. Transfer to a large serving bowl.

Place the rice noodles in a large heat-safe bowl or dish. Pour boiling water over top until they're completely submerged. Let the noodles soak until they're tender, but not mushy (check package instructions for recommendations for your specific noodles). Strain and rinse with cold water. Transfer to the bowl with the veggies.
For the Dressing
Whisk together the vinegar, almond butter, tamari, sesame oil, cilantro, maple syrup, and Sambal Oelek in a jar or bowl.
To Assemble
Pour the dressing over the noodles and veggies and toss to coat.