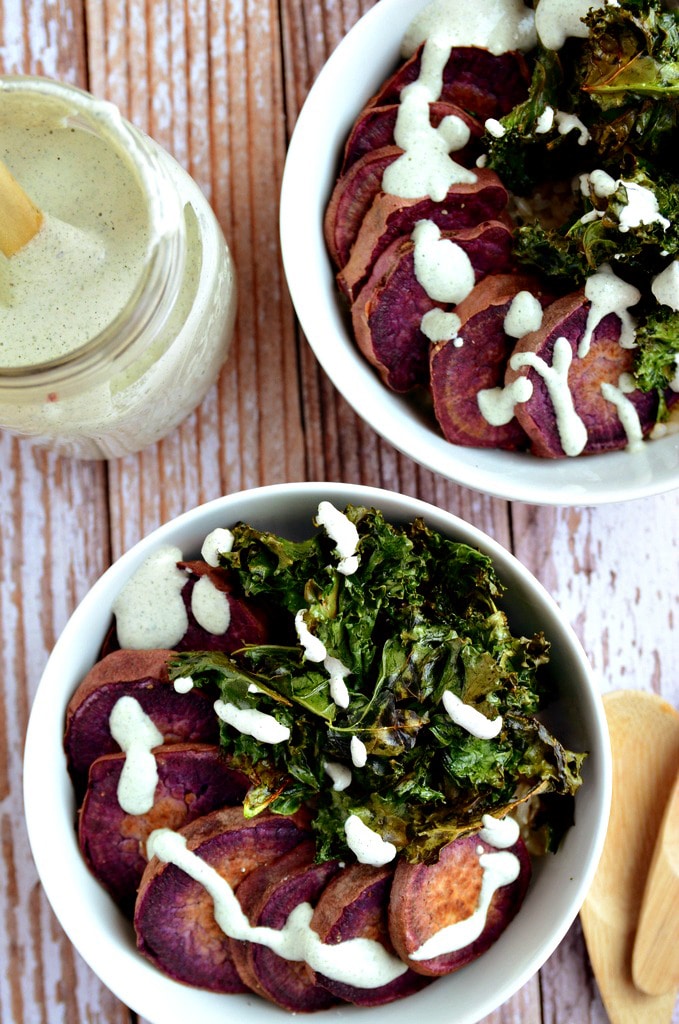 Do you ever wander aimlessly around your grocery store looking for pretty and/or cute food items to purchase? I realized last weekend that I do this quite often, and I'm not ashamed to admit it because some of my favorite recipes have stemmed from bouts of aimless wandering. See Exhibit A above. A dirty, like literally covered in dirt, bunch of purple sweet potatoes sat in a barrel pushed off to the side in Whole Foods last Saturday and something about them caught my eye. Maybe it was their dirt glistening unabashedly under the organic fluorescence of Whole Foods' lighting.  Maybe it was their purple promise of nutrient-rich interiors. Maybe it was an act of Saturday boredom. Some purple sweet potato mysteries are best left unsolved, but the bottom line is that I figured if I got the little spuds home and dusted them off, they'd roast up quite nicely.
And that they did.
Purple sweet potatoes are packed with antioxidants and fiber. Their rich purple color comes from the presence of the phytochemical anthocyanin, which has been shown to have a number of positive effects on health including reduced risk of cardiovascular disease, improved visual functions, memory enhancing effects, and the ability to scavenge for free radicals that contribute to chronic disease formation. These potatoes don't just look snazzy, they also do snazzy things.
This purple sweet potato power bowl garners its additional powers from brown rice, kale, and a nutrient-packed dressing that will blow. your. mind. The inspiration for this dressing came from Oh She Glows' Ultra Creamy Hemp Seed Dressing (which is amazing, by the way) but this complete revision includes pepitas, almond milk, and white wine vinegar to take the richness up another notch. The result is irresistible. I went back for second and third and fourth drizzles while eating this power bowl because it's just that good. Think of it as ranch dressing's nuttier, healthier, protein-rich, green-juice-drinking hipster sister from another mister. It's so good it'll make you rhyme on a dime. Can't stop, won't stop.
This power bowl is vegan and absolutely mighty. It's filling, packed with nutrition, and easy on the eyes. You can easily make everything the night before, store each veggie/dressing/grain separately, and toss it all together the following morning to take to work for a tasty lunch. The bowl that will always fill you up and never let you down.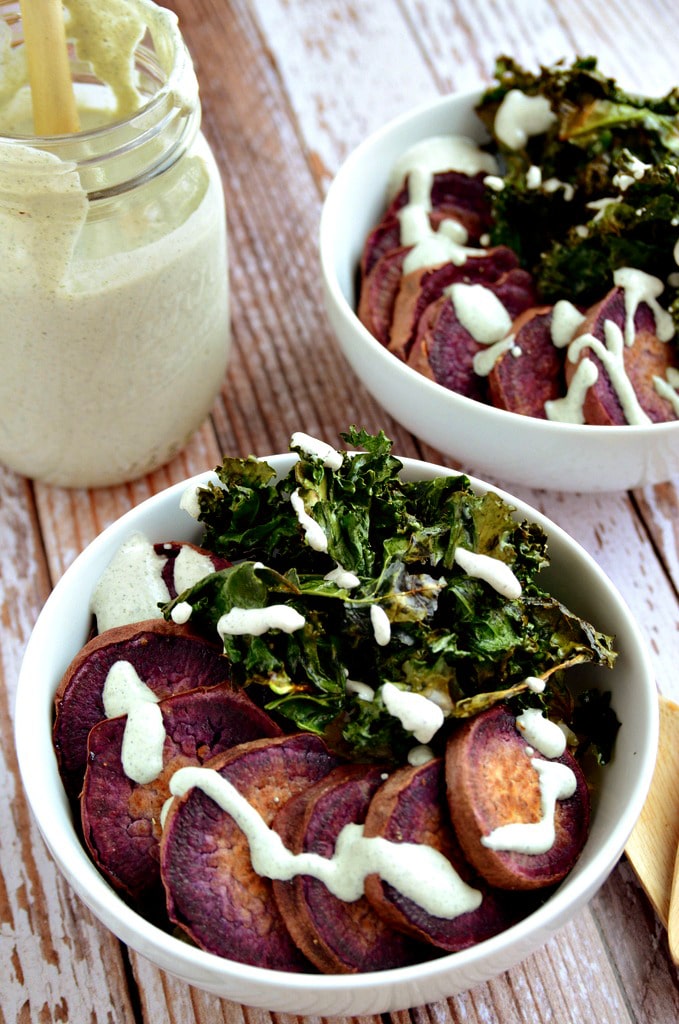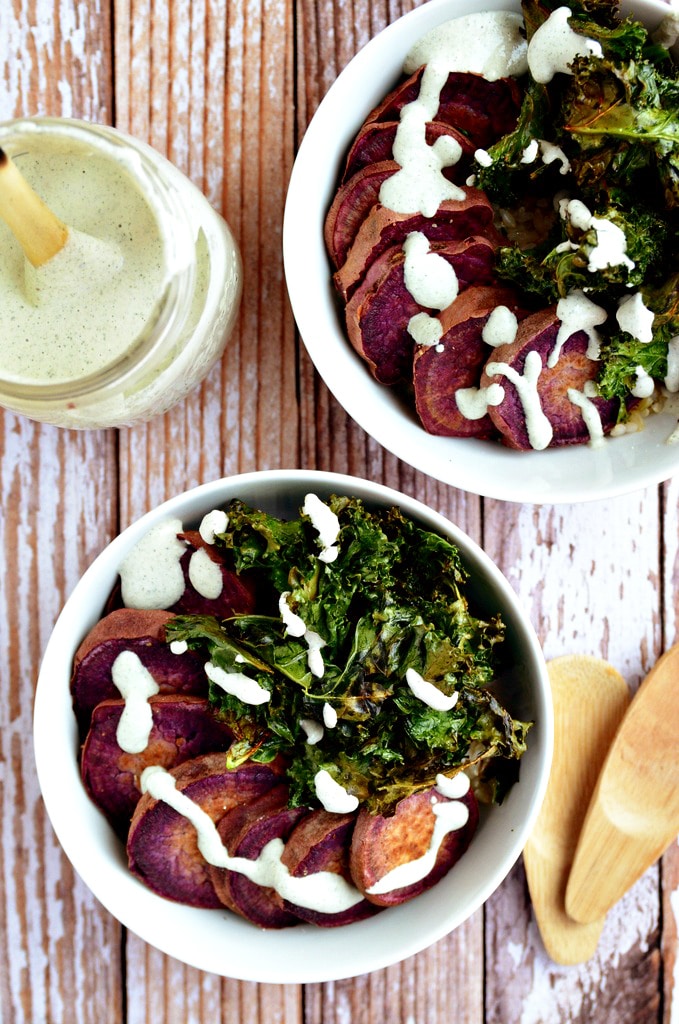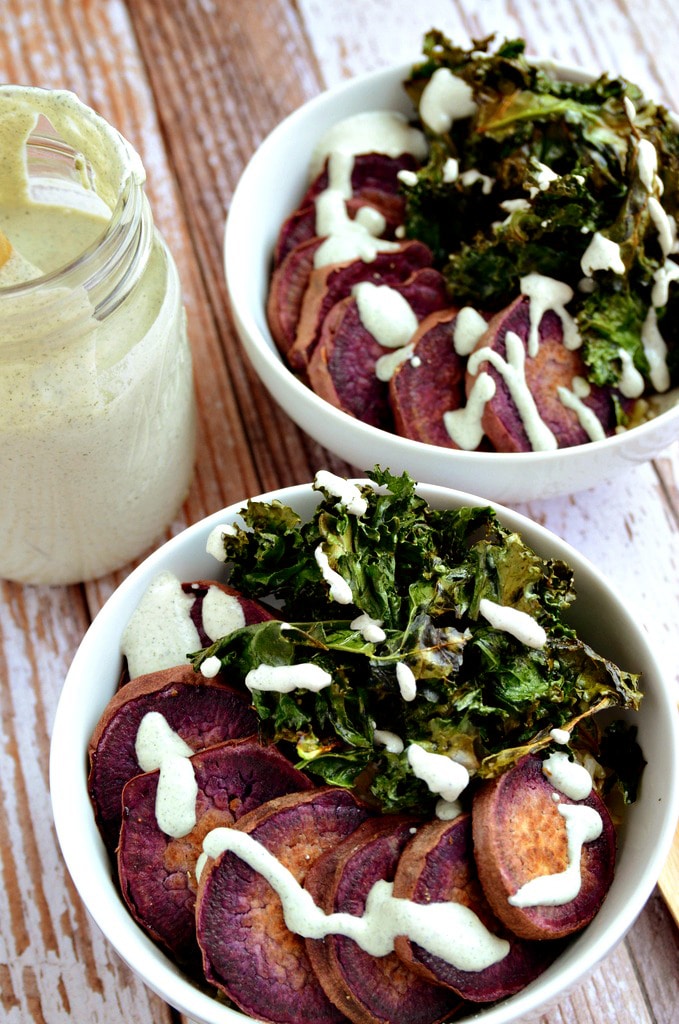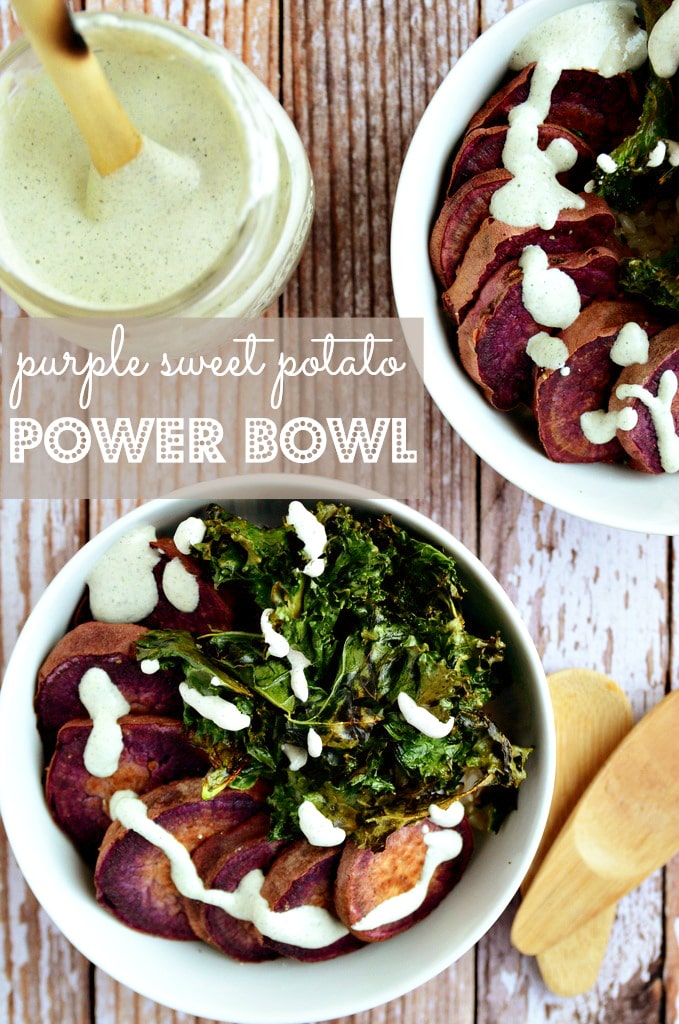 Purple Sweet Potato Power Bowl
Nutty brown rice is topped with roasted purple sweet potatoes, kale, and a thick drizzle of a deliciously creamy hemp seed and pepita dressing.
Ingredients
2 purple potatoes, washed and cut into ¼-inch-thick slices
1 bunch kale, washed and stems removed
1 tablespoon olive oil
sea salt
freshly ground black pepper
2 cups cooked brown rice or quinoa
¼ cup raw pepitas
¼ cup hemp seeds
½ cup plain almond milk
1 garlic clove, minced
2 teaspoons champagne or white wine vinegar
½ teaspoon sea salt
black pepper
Instructions
Preheat oven to 400 degrees Fahrenheit.
Line two baking pans with parchment paper. Spread the kale across one pan and the sliced sweet potatoes across the other. Drizzle the kale with a ½ tablespoon of olive oil and massage into the kale. Sprinkle with salt and pepper. Drizzle sweet potatoes with a ½ tablespoon of olive oil and sprinkle with salt and pepper.
Pop both the kale and sweet potatoes in the oven. Roast the kale for 12 minutes until crispy but not brown. Roast the sweet potatoes in the oven for 25 to 30 minutes until tender.
While the veggies are roasting, make the dressing by adding the pepitas, hemp seeds, almond milk, garlic, vinegar, ½ teaspoon sea salt, and freshly ground black pepper to a blender. Blend on high for 1-2 minutes and pour into a small container.
Divide the brown rice or quinoa amongst two medium bowls. Layer the sweet potatoes along one side and the roasted kale on the other. Drizzle both bowls with the pepita and hemp seed dressing and serve immediately.