These vegan gluten-free peanut butter & jelly oat pancakes are a pb & j lover's breakfast dream. A fluffy, peanut buttery stack of oat pancakes is topped with a sweet strawberry compote and a drizzle of pure maple syrup.
Once in a while, something comes into our lives that makes it all a bit sweeter.
Sometimes it's a person, other times an opportunity, and on rare occasion it's a ridiculously tasty stack of pancakes.
If you've been following along for a while, you might have noticed that there's a serious shortage of pancake recipes on this blog. I outlined the reason for that in this post when I created a giant blueberry skillet pancake to avoid the pour, flip, wait, flip, repeat, repeat, repeat...
REPEAT <-- That? That right there is pure, unbridled frustration, as I'm typically over it by the time the fourth pancake makes an appearance in my skillet.
Another pancake to stare at for four minutes on one side and four minutes on the other? Ugh.
I have patience for just about everything except pancakes and traffic. Of the latter, Dan's always noted that my usual sweetness is overrun by some sort of road-rage monster demon -- seriously, it's something above the playful horror of a monster -- when I'm caught in traffic. I'm not sure what happens but it's unpleasant, and I waste a whole lot of energy being flustered about something I can't control. BUT I'm working on it. Meditation and yoga help, Chicago traffic does not.
As for the pancakes, I'm not sure what came over me the other day but I decided to release my aversion to flipping and repeating and get down with a peanut-buttery, jelly-covered stack of goodness. And you know what? It was completely, totally, 100% worth the effort. If my frustrations for pancakes can be released, I think there's a bright glimmer of hope for that nasty case of road rage. Fingers crossed.
These pancakes are downright delicious and worth every minute of 'cake-flippin' time. The pancakes are home to the peanut butter side of the PB + J equation, with a healthy dose of creamy pb mixed into the batter. The result is a stack of golden, tender, and richly-peanut-buttery pancakes.
The jelly part of the equation is satiated by a sweet strawberry compote. To make it, you'll cook fresh strawberries, pure maple syrup, and a bit of vanilla (optional) until the combination thickens and breaks down into a jelly-like compote. Then, you'll scoop the strawberry compote onto the pancakes and drizzle the entire stack with a bit of maple syrup to pull it all together. The result is nothing short of crave-worthy, and it makes every last flip worthwhile.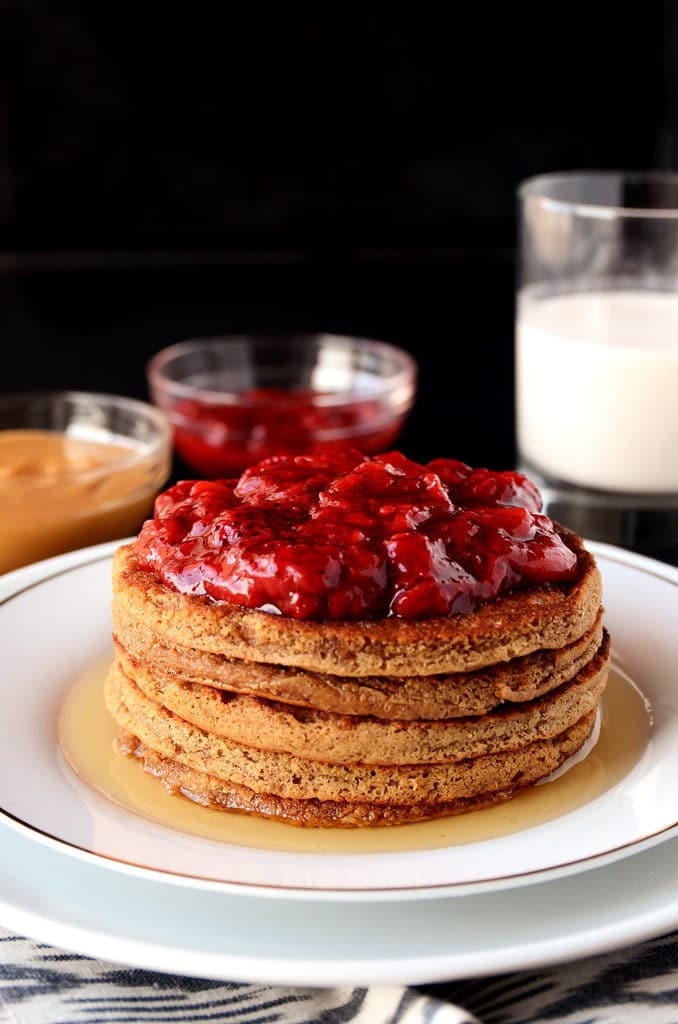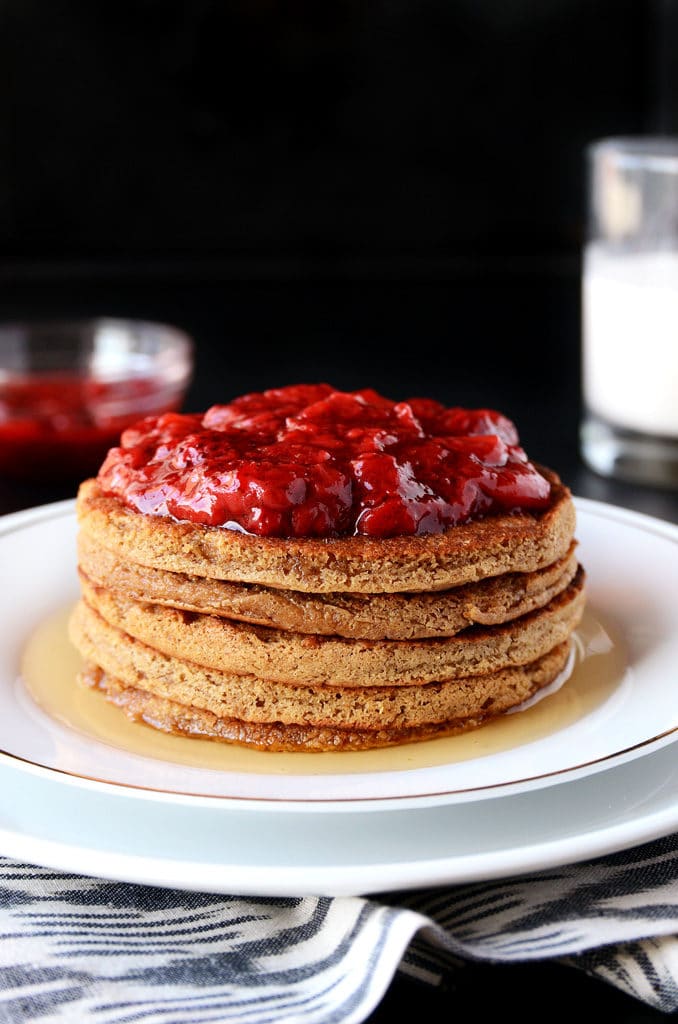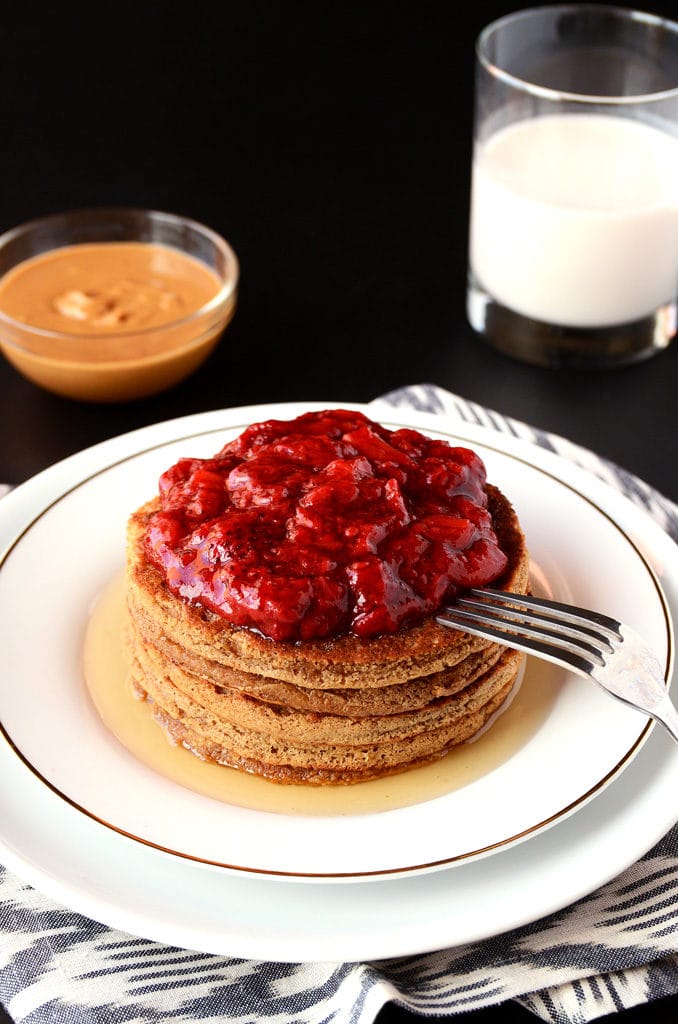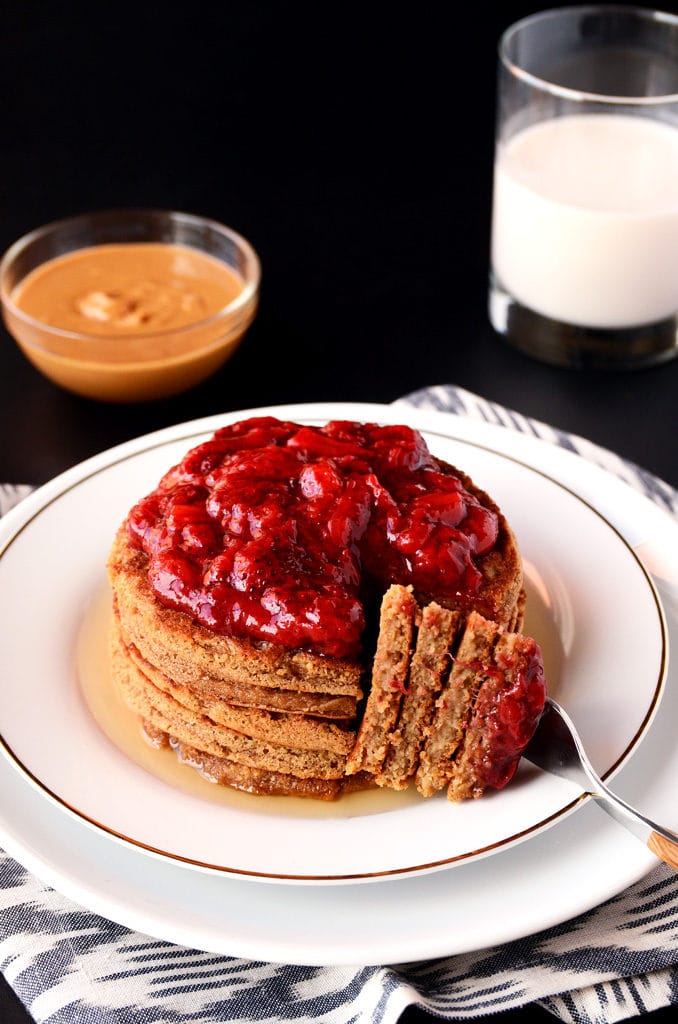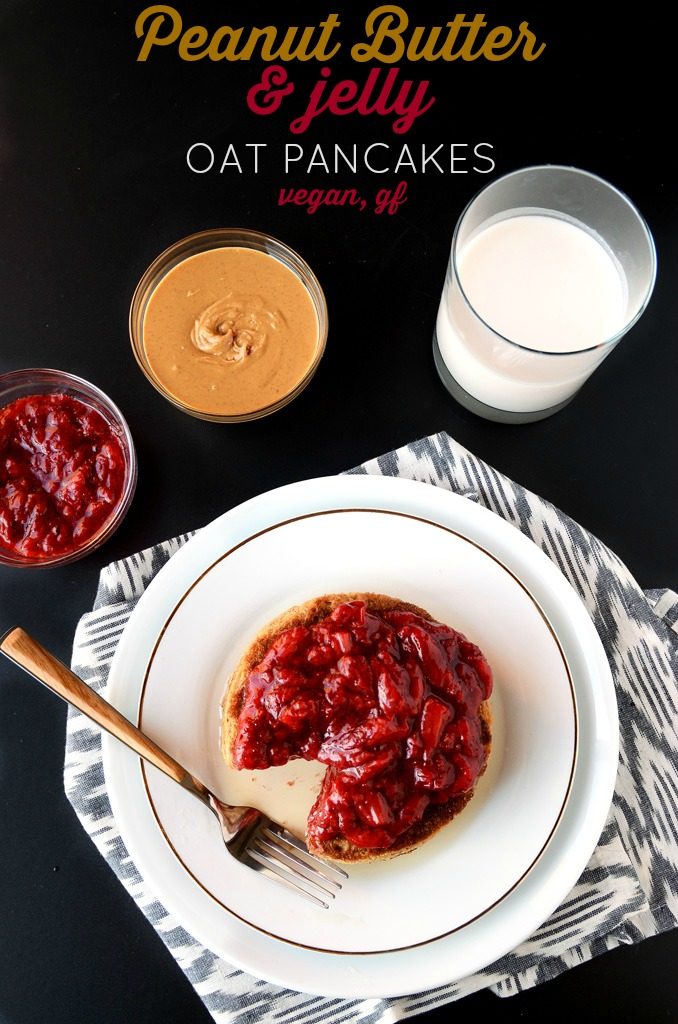 📖 Recipe
Peanut Butter & Jelly Oat Pancakes (vegan, gluten-free)
Rich, fluffy peanut butter + oat pancakes are topped with a generous dollop of homemade sweet strawberry compote. The perfect breakfast to initiate the start of an awesome weekend morning.
Ingredients
For the Peanut Butter Oat Pancakes
1

tablespoon

ground flax

3

tablespoons

water

1

cup

homemade oat flour (see notes)

2 ½

tablespoons

coconut sugar

1

tablespoon

baking powder

⅛

teaspoon

fine grain sea salt

1

cup

almond milk

¼

cup

creamy peanut butter

1

tablespoon

pure maple syrup

2

teaspoons

pure vanilla extract

1

teaspoon

apple cider vinegar
For the Strawberry Compote
2

cups

quartered fresh strawberries

3

tablespoons

pure maple syrup

optional: seeds of 1 vanilla bean

optional: 1 teaspoon arrowroot powder
Instructions
To Make the Peanut Butter Oat Pancakes
Make a flax egg by adding the flax and water to a bowl, whisk together with a fork, and let the mixture stand at room temperature for 10 minutes.

Add the oat flour, coconut sugar, baking powder, and sea salt to a large mixing bowl and mix together.

In another bowl, whisk together the flax egg, almond milk, peanut butter, maple syrup, vanilla extract, and apple cider vinegar.

Pour the wet ingredients into the dry and gently mix together, being careful not to over mix.

Let the batter rest for 10 to 20 minutes. (The baking powder will begin to active during this rest period, yielding a super fluffy pancake batter).

While the batter is resting, heat a small (approximately 5-inches in diameter) well-seasoned cast iron skillet or nonstick pan over medium-low heat for approximately 10 minutes.

When ready to make the pancakes, spray the skillet with coconut oil or cooking spray and pour ⅓ cup batter into the pan. Cook for 4-5 minutes, carefully flip, and cook another 3-4 minutes. Remove the pancake from the pan and repeat until all batter is used.
To Make the Strawberry Compote
While cooking the pancakes, add the strawberries, maple syrup, and vanilla to a medium sauce pan over medium heat. Bring the mixture to a boil, reduce heat, and simmer for 15 minutes or until the strawberries are tender and beginning to break down. If you want to thicken the mixture, scoop out about ¼ cup into a bowl, add in 1 teaspoon arrowroot powder, whisk together, return the mixture to the pan, and cook an additional 2-3 minutes to thicken.

Remove from heat and use a fork to mash the strawberries, being careful as the mixture will still be hot.
To Serve
Stack the pancakes, top with strawberry compote, and drizzle with pure maple syrup.

Serve immediately.

Refrigerate leftovers.
Notes
*Make your own oat flour by adding about 1 ½ cups gluten-free rolled oats to a food processor, process for 4-5 minutes or until you have a fine flour. Homemade oat flour tends to be coarser and less absorbent than store-bought oat flour, so I recommend making your own in order to avoid having to adjust the recipe.