Have you ever noticed how most cookie dough ice creams don't have nearly enough chunks of cookie dough for all that plain vanilla ice cream? Well, this no-churn vegan pb cookie dough ice cream is about to blow the lid right off that rule. Heaps and heaps of vegan peanut butter chocolate chip cookie dough chunks are folded into a rich and creamy vanilla cashew ice cream base. Best part? Thanks to both cashew butter and Medjool dates, there's no need for a fancy ice cream maker. Look at us, breaking ice cream rules left and right.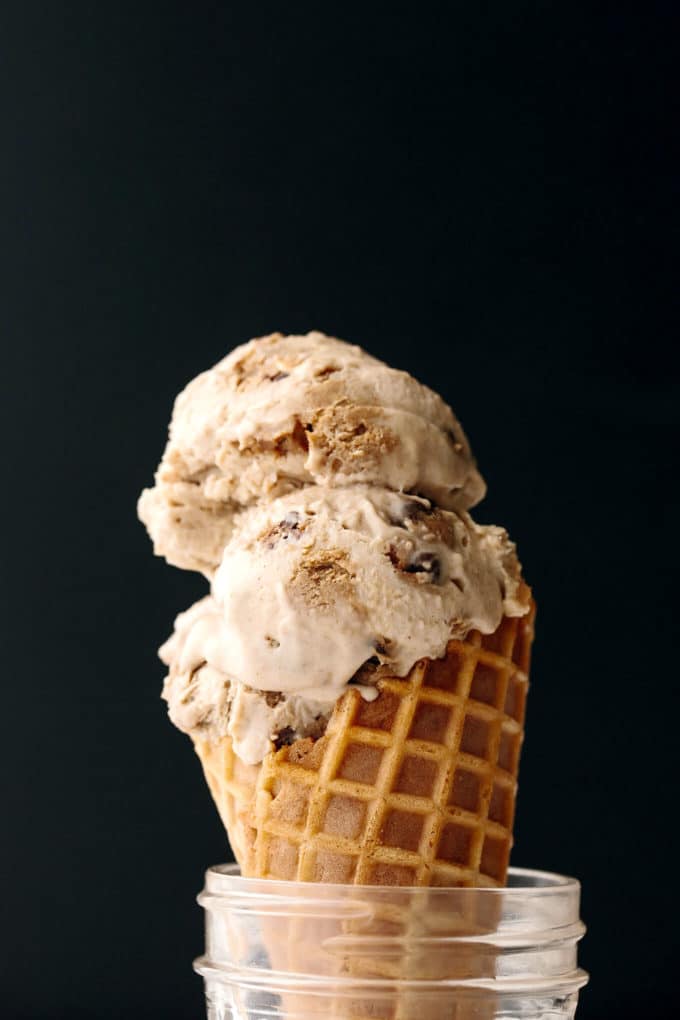 At 24 weeks pregnant, this vegan pb cookie dough ice cream is speaking my language with unrivaled fluency and clarity.
It's no secret that I've always had a sweet tooth, but pregnancy seems to have sweetened even my sweetest of teeth. Thankfully, their love for sweet things isn't very picky, so fresh fruit hits the spot just as precisely as a cookie. It's all about balance—the fruit ying to the cookie yang.
Having said that, this particular ice cream is scratching an itch I didn't even know I had. My goodness is it tasty.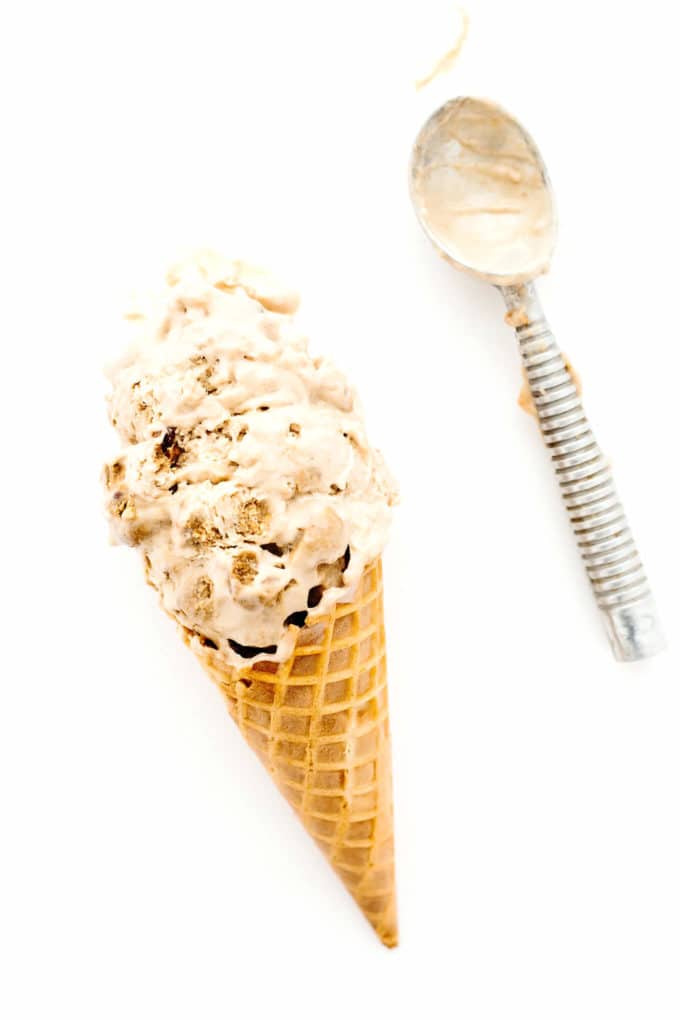 Growing up, chocolate chip cookie dough ice cream was always my favorite (once I got past the bubblegum ice cream phase, that is), but the consistently meager ratio of cookie dough chunks to plain vanilla ice cream drove me crazy.
What is cookie dough ice cream without oodles of cookie dough chunks? I dare to argue that it's not ice cream at all.
I've long dreamt of the day when I'd create my own cookie dough ice cream recipe and break all those rigid ratio rules. I'm not sure what took me so long, but that dream-worthy day has finally come.
And I'm here to share the cookie dough wealth...
I'm telling you, the photos don't even do this ice cream justice. There is so much vegan cookie dough tucked away in this ice cream that you'll be questioning my sanity as you're making the recipe.
Where is all of this cookie dough going to go?! Is she insane??
Yes. The answer is yes. I am flat-out, 100 percent crazy for cookie dough.
Cheers to that.
To make this no-churn vegan pb cookie dough ice cream, you'll start by gathering your ingredients.
You'll need...
» 1 batch 5-minute vegan peanut butter chocolate chip cookie dough
» Unsweetened almond milk (or other plant-based milk)
» Medjool dates
» Cashew butter (I use homemade—see recipe notes)
» Vanilla extract
» Sea salt
That's it.
Once you've corralled (and prepared) your ingredients, you'll add the almond milk, dates, cashew butter, vanilla, and sea salt to a blender. Blend on high until the mixture is super, super smooth and creamy.
Pour about half of the vanilla ice cream base into a lined loaf pan. Then, top with about half of the cookie dough balls and very gently mix them into the ice cream base.
Repeat.
Carefully transfer the pan to the freezer and freeze for at least 8 hours to set the ice cream.
Remove the ice cream from the freezer about 20 minutes prior to serving to soften to a creamy, scoop-able texture.
Then, scoop, scoop, scoop to your heart's content. Look at that field of cookie dough...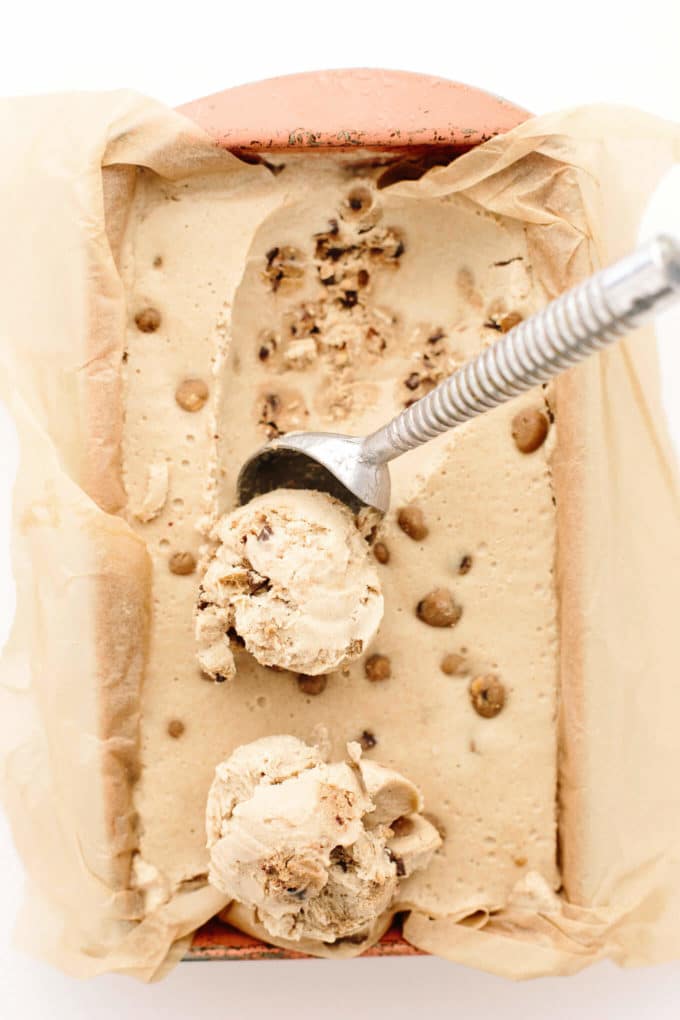 I've mentioned this before, but I'm typically the bowl-and-spoon type, however, I've been loving this ice cream tucked into crisp waffle cones. Brings out the inner child.
I hope you fall in love with this vegan cookie dough ice cream as much as I have!
No-Churn Vegan PB Cookie Dough Ice Cream
Ingredients
2 ½

cups

unsweetened almond milk or cashew milk

1 ¼

cups

pitted and packed Medjool dates (about large 14 dates)

1 ¼

cups

raw cashew butter*

2 ½

teaspoons

pure vanilla extract

¾

teaspoon

fine-grain sea salt
Instructions
Line a 5"x10" loaf pan with parchment paper.

Begin by preparing the cookie dough. Once it's prepared, scoop out scant ½ teaspoon mounds and roll into mini cookie dough balls (no more than ¼- to ⅓-inch diameter). Alternatively, for a fuss-free version, simply press and compact the cookie dough into an even, ⅓-inch-thick layer, and slice into ⅓-inch cubes. Chill the dough balls (or cubes) in the freezer until ready to use.

In a high-speed blender, combine the cashew milk, dates, cashew butter, vanilla, and sea salt. Blend on high for 3 to 4 minutes or until completely smooth.

Pour about half of the ice cream base into the lined pan and top with about half of the cookie dough balls. Use the pointy end of a chopstick or a toothpick to gently mix into the ice cream base. Top with the remaining ice cream base and the remaining cookie dough balls. Again, use a toothpick or chopstick to very lightly mix into the ice cream base, allowing some of the cookie dough balls to remain floating at the surface.

Loosely cover with plastic wrap and freeze for at least 8 hours, or until the ice cream has set.

Let the ice cream stand at room temperature for at least 20 minutes before scooping or serving. Dip an ice cream scoop in hot water and use it to scoop the ice cream.

Store in the freezer, loosely covered, for up to one week.
Notes
*Use mini chocolate chips for the cookie dough and use as little almond milk as possible to ensure it's easy to roll. Also, feel free to omit the rolled oats if you want to simplify/cut back on ingredients, and if you're not a PB fan, use almond butter or even cashew butter to create a more classic chocolate chip cookie dough instead.
**Make your own cashew butter by blending 3 cups raw cashews in a food processor for 6 minutes or until smooth (it should be very thick), stopping to scrape down the sides as needed. If the cashew butter is chunky and clumping as it moves around the food processor, add 1 to 3 tablespoons of filtered water to encourage blending and to yield a smooth, creamy cashew butter. Measure off the amount needed for the recipe and store the extra cashew butter the refrigerator in an airtight jar or container.
***This recipe was inspired by the Unconventional Baker's nutty, no-churn ice cream magic!