This naturally colored vegan royal icing is full of surprises. Aquafaba is used in place of egg whites to create the classic royal icing texture and richly pigmented fruits (think: pitaya, wild blueberry juice, powdered freeze-dried strawberries) eliminate the need for dye-based food colorings. I recommend using this simple royal icing when making my vegan sugar cookie hearts.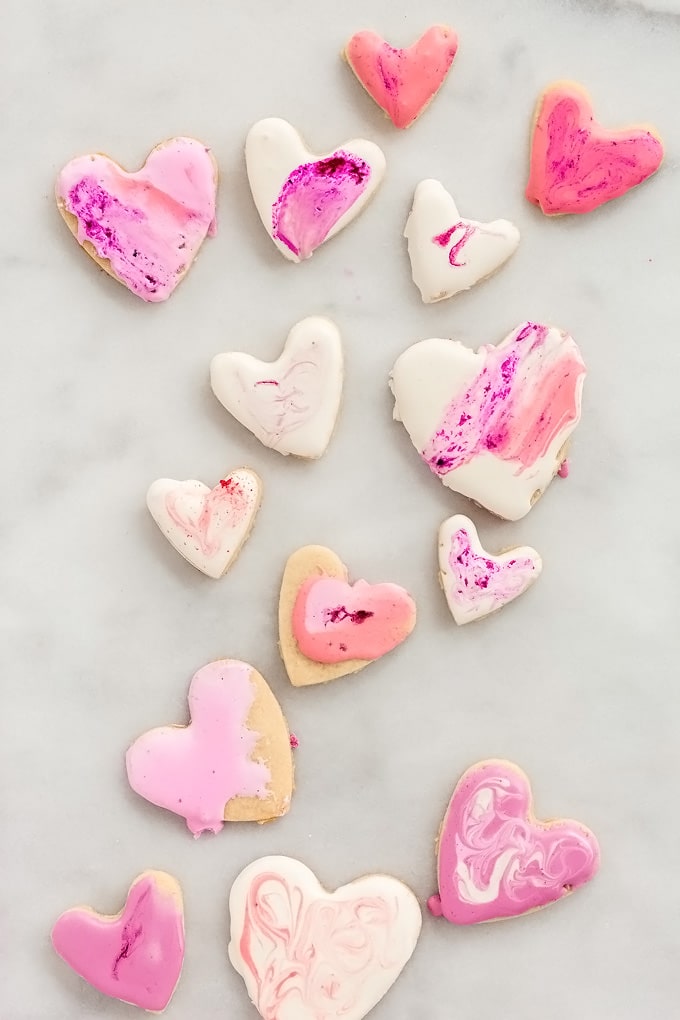 Naturally Colored Vegan Royal Icing
Ingredients
½

cup

aquafaba*

¼

teaspoon

cream of tartar**

16

ounces

confectioner's (powdered sugar), more or less as needed

1

teaspoon

pure vanilla extract

Natural food coloring (e.g., juice from thawed frozen wild blueberries, fresh beet juice, pitaya juice/purée, powdered freeze-dried strawberries, etc.)
Instructions
Add the aquafaba and cream of tartar to a large mixing bowl. Using a hand mixer fitted with the whisk attachments or a stand mixer fitted with the whisk attachment, beat the mixture on high for 3 minutes, or until stiff peaks form.

With the mixer on low, slowly add the powdered sugar and continue beating until the consistency is reminiscent of thick Elmer's glue (you may not need to add all of the sugar).

Once the desired consistency is reached, mix in the vanilla extract.

If you're planning to use just one color of icing, add whatever natural food coloring you'd like to the mixing bowl and gently whisk again to incorporate. If you're planning to make several colors or shades of icing, divide the white icing into various bowls and individually color and mix.

Ice your cooled cookies and refrigerate any leftover royal icing. It will keep for up to two days in the refrigerator but will need to be re-whisked before using as it tends to separate when chilled.
Notes
*Aquafaba is the water/liquid found in a can of chickpeas. To procure it, drain a can of chickpeas, being sure to capture the drained liquid in a bowl. Measure out the amount of aquafaba needed for the recipe and save or discard the remainder. You can make hummus or this un-tuna salad with the chickpeas!
**If you don't have cream of tartar, use 1 teaspoon of fresh lemon juice instead.