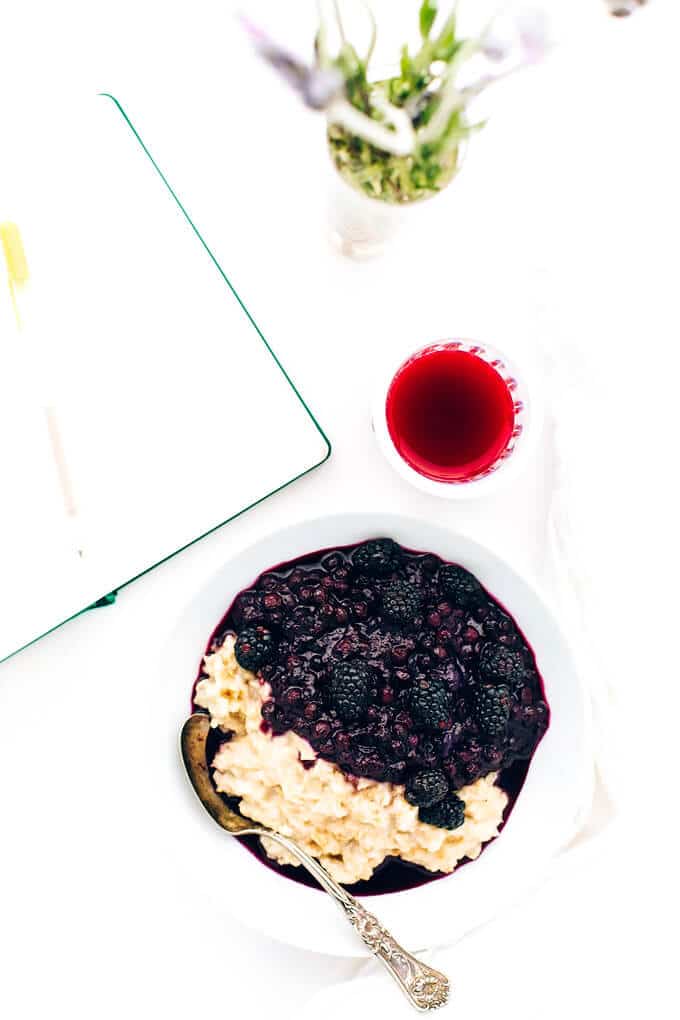 This post is sponsored by Naked Juice. All thoughts and opinions are my own.
What began last August as an effort to incorporate 20 minutes of daily meditation into the start of each day has evolved into something of a miracle morning routine in more recent months.
I've hinted at the structure of my mornings in interviews and features but figured it was about time I share the ins, the outs, and the nitty-gritty details right here.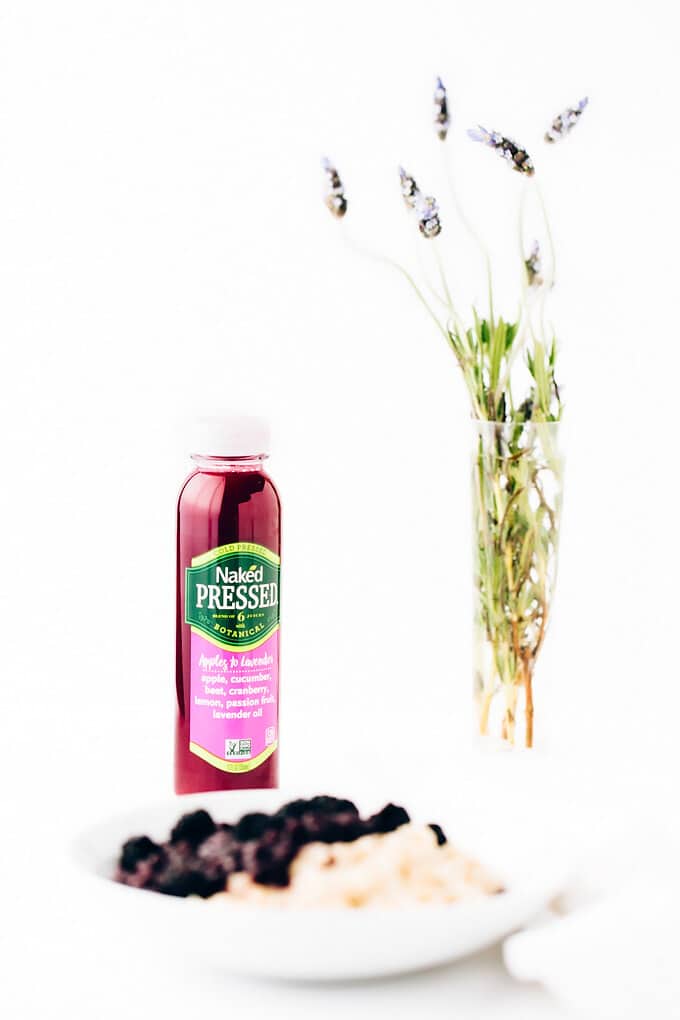 Years ago, if you told me I'd grow up to call myself a 'morning person', I would have said you were crazy.
In high school, I was the girl who would rise groggily at 6 a.m. only after I'd snoozed my alarm about 11 times and my mom was enthusiastically singing her morning person song—"I feel wonderful, I feel marvelous, I feel stupendous"—right outside my door.
Why so sleepy? Most weeknights I had dance class until 9:30 p.m. and would do homework afterwards, which meant I typically didn't fall asleep until around midnight. In the mornings, I'd stumble down the stairs, toss my jeans in the dryer (I liked having "crispy", dryer-fresh jeans in high school), and hop in the shower.
Without fail, at some point between showering and heading out the door, I'd make my way back to bed and "rest my eyes" for a few more minutes before being jolted awake by my anxieties about being late for school. I'm one of those if-I'm-early-I'm-on-time, if-I'm-on-time-I'm-late people.
In college, I had spurts of being a morning person, but it was either because 1) I had to be (e.g., one semester I signed up for all 8 a.m. classes) or 2) black coffee...lots of it.
But old habits die hard.
Fresh out of college, I worked at an investment firm downtown and made a habit out of napping on the train ride from the suburbs to the city. While everyone else was energetically reading the paper and whistling show tunes, my idea of a productive morning involved a drool-free train nap and a wrinkleless pencil skirt.
I was battling major anxiety at that particular point in my life (cookbook intro has full story, if you're curious), so even though I was getting a solid eight hours of sleep every night, I could barely keep my eyes open come morning.
In graduate school, it was much of the same.
However, shortly after going vegetarian, I began to enjoy the morning hours more and more.
Strange.
Whether this shift was due to a bolt of maturity at the ripe age of 26, learning to overcome anxiety, the foods I was (and wasn't) eating, or a combination of all three, we'll never know.
I'll tell you one thing though: since going vegan three years ago, I've become the morning person of all morning people. So much so, that I occasionally annoy my not-so-morning-person husband with my sunshiny pre-dawn energy. Honest to goodness, there are days when I annoy myself.
How did I, the once a.m.-averse, turn into someone who not only enjoys the morning hours but thrives in them?
Great question. Before we dig into that, let me first say that there's one small catch to this newfound discovery of a.m. energy...
Without a thoughtful approach to the day, my energy runs high early on but majorly dwindles by mid-afternoon. This is precisely where that miracle morning routine comes in...
I've learned how to harness that morning rush of energy so that I'm better able to strike while the iron is hot once I sit down to work.
The key? I slow down before I speed up.
In fact, in recent months I've done my best to forget about speeding up, grinding, and hustling altogether and have been choosing to flow deliberately instead.
Sounds counterintuitive, doesn't it? I thought so too, but I've never felt happier, more productive, and more well-rooted in my life, and I swear it's because of this leisurely "miracle morning" routine.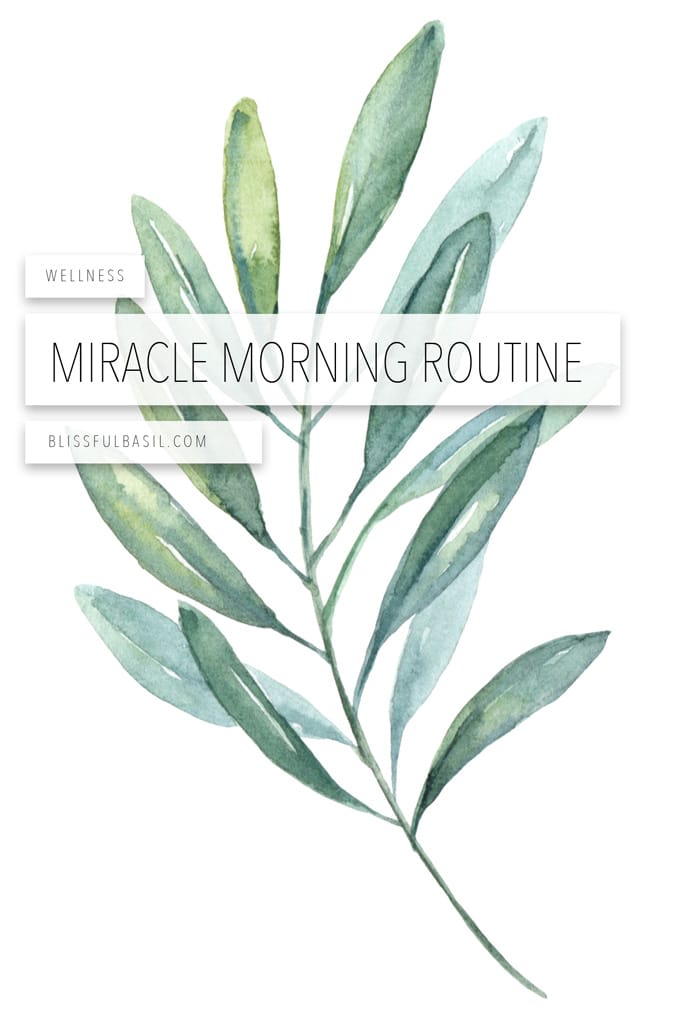 Quick disclaimer: In this particular season of my life, I'd love nothing more than to implement the following routine every morning, but life happens and sometimes when life happens routines lose their meaning. There are certainly days when this routine doesn't serve me. In those instances, I flow with the circumstances, embrace the pieces of the routine that fit, and allow the others to fall away without judging the release of them.
Bottom line: No routine, no biggie. Self-compassion, life happens.
Now that we've cleared that up, onward and upward (or downward, in this instance) to this seven-step miracle morning routine...
1. Rise + Shower (And Shine, too)
I'm more motivated, balanced, and optimistic with an early and self-reflective start, so I typically wake sometime between 5:30am and 6:30 a.m. but will absolutely sleep in if my body needs it. For instance, last Thursday I was feeling a little sleepy and slept in until 7:30 a.m. There have been points in my life when I felt a tremendous sense of guilt for "sleeping in" past 7 a.m., but I've learned what a silly waste of energy it is to take that perspective. Each of us has an internal guidance system, right? Right. Well, sometimes what that guidance system says more loudly and clearly than anything is, "Rest, my darling," and we best follow suit.
So, instead of forcing our way through life by resisting the waves and insisting that the water must be smooth, measured, predictable; why not learn to ride the waves and flow with them?
Rise and grind? Forget it.
Hustle? Honey, no.
You do you. If it feels like you're grinding against your own gears, ease up. If it feels effortless and flowy, keep at it.
Relax more than you rush. Rise, flow, and let go of the need to control. Whenever I lose sight of this relaxed way of being and need a reminder, I read this.
2. Get Ready + Listen
I'm a podcast junkie, and there's nothing I love more than throwing on an inspiring podcast while doing my makeup, hair, etc. My go-to's are: Tim Ferriss, Jess Lively, and Jonathan Fields' Good Life Project, but I subscribe to more than I can keep up with and often bop around to others as well (e.g., Alan Watts Podcast, On Being with Krista Tippett, Minute Physics, etc.).
Through years of listening, the two things I've been reminded of more than anything are: 1) It's usually the people I'm not familiar with (read: the people I have zero expectations for) that deliver the most profound wisdom—or perhaps it's just that I can hear it better when I'm not looking for the message I'm expecting. 2) The vast majority of happy, joyful, and "successful" people meditate.
Which leads me to the next part of this routine...
3. Matcha + Meditate
Once I'm ready for the day, I head straight to the kitchen and make myself a matcha latté. Once an avid coffee drinker turned chai-tea sipper, I hopped on the matcha train a few months back and there's been no turning back. Unlike the buzzy, wound-up, frenetic sensation that coffee elicits, matcha's kick is steady, stable, focused, consistent, and composed.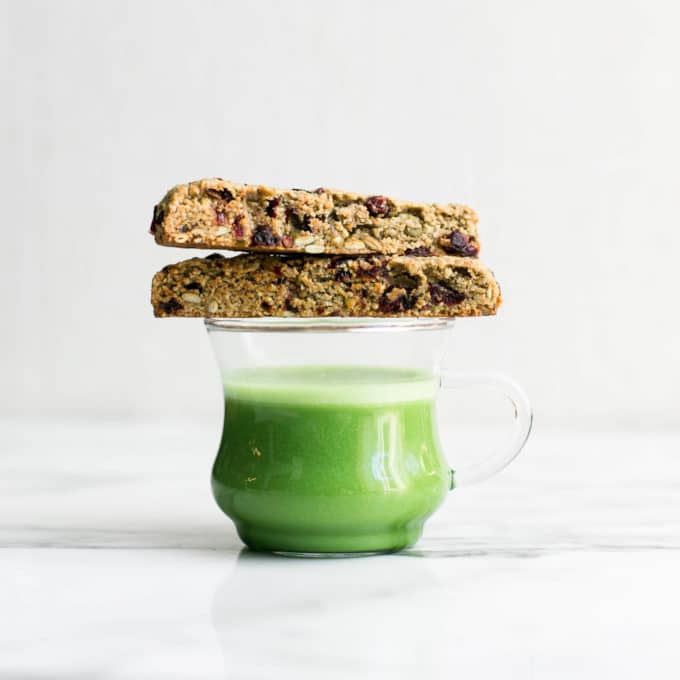 Side note: the crunchy treats floating atop the glass are the Power Biscotti from my cookbook.
Once I've sipped down some matcha, I plop myself down and meditate.
I've mentioned this before, but for years I had a highly inconsistent meditation practice. Then, one morning last August, I glanced at my favorite meditation spot and that inner guidance system I mentioned above said loudly and clearly, "Just sit your butt down. Not tomorrow, not next week, NOW." So I did. Ever since, I've made meditation a priority in my daily routine.
Whether it's fifteen minutes or five, any amount of time spent quieting that internal chatter is time well spent.
4. Eat Breakfast, Drink Juice
After meditating, I eat breakfast. Fueling and hydrating early on is essential to creating a consistent energy flow throughout the day. For breakfast, I usually have a smoothie, avocado toast, or oats with berry compote along with a glass of pressed juice. I typically reach for veggie-based juices with a bit of green apple or other mildly sweet fruits.
Some weeks, I make a big batch of homemade juice on Sunday to sip on throughout the week; other weeks, I stock up on bottles of store-bought pressed juice. Whether you're juicing at home or purchasing bottles, the cost can add up. However, I've found that a small 6-ounce glass of juice is plenty, so four 12-ounce bottles gets me through an entire week. Instead of looking at it as an added expense, I look at it as an investment in myself.
As far as which type of juice, lately, I've been loving Naked Pressed Botanical Juices. An extension of Naked Pressed (Naked Juice's cold-pressed juices), Naked Pressed Botanical Juices are a blend of vegetables, fruits, and pure botanical oils (e.g., lavender, lemongrass). They're cold-pressed and shipped immediately to ensure the highest quality, freshest juice. Plus, they're free from added sugar and preservatives, and verified by the Non-GMO Project, which is always a plus.
I'm usually not much of a beet juice lover, but their Botanical Apples to Lavender—a blend of apple, cucumber, beet, cranberry, lemon, passionfruit, and lavender oil—is my go-to at the moment. The earthiness of the beets is tamed by the subtle sweetness of the fruits, and the soft lavender notes linger and soothe. Drinking it feels peaceful.
The Botanical Citrus Lemongrass—a blend of orange, apple, cucumber, pineapple, spinach, lemon, passionfruit, and lemongrass oil—is also amazing. Bright, citrusy, and packed with vitamin K.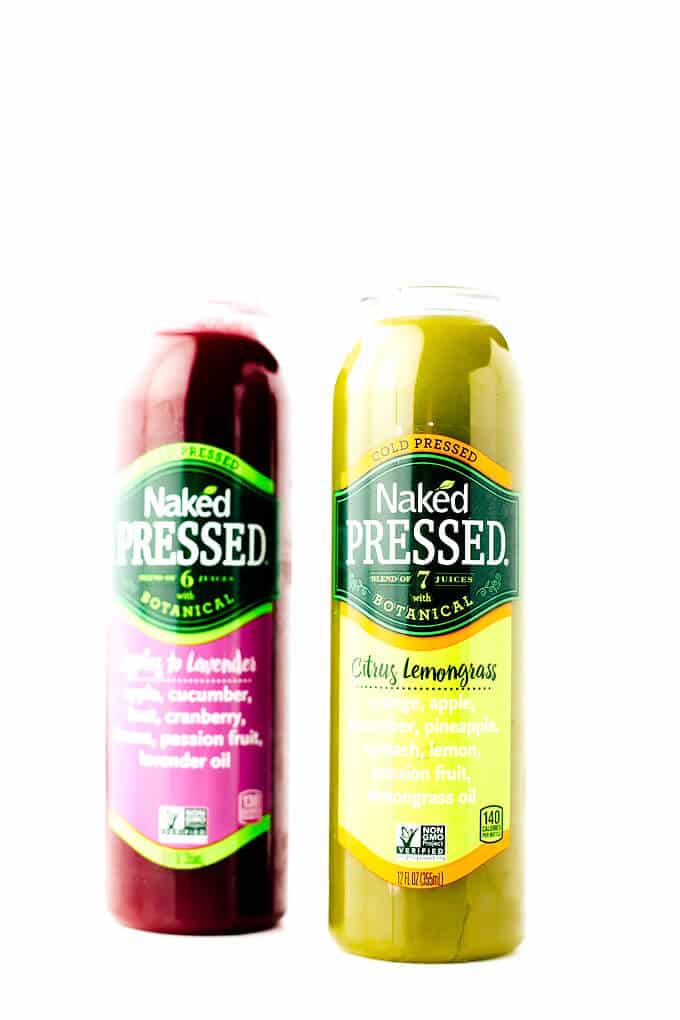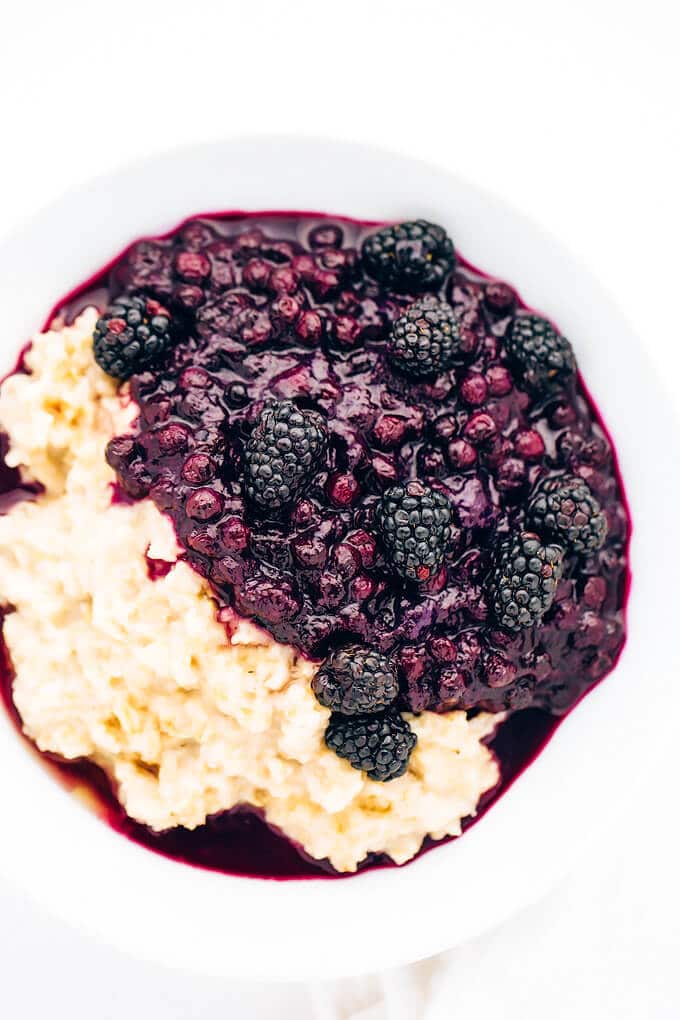 5. Read or Watch for Inspiration
While enjoying breakfast, I read up on a topic of curiosity or watch a few inspiring videos. Right now, I'm alternating between the books Daring Greatly by Brené Brown and This Is It by Alan Watts. I'm also loving this Youtube channel and the always fascinating Brain Pickings.
The only goal within this portion of the morning is to get into alignment (as the lovely Jess Lively would say), and the best way to do this is to simply engage with something that brings you joy.
Just eight months ago, I would have thought this was a huge time waster. Whaddabout the hustle? But I've been doing this for a little over two months now, and it's been a game changer. I've found that once I'm in alignment, the tasks I usually dread (e.g., morning email check) flow effortlessly and joyfully, too. Honest to goodness, cross my heart.
6. Write to Intuition
This hasn't yet taken hold as a daily practice for me, but it's become an ever increasingly important part of my life. This is a big topic to tackle within the confines of a paragraph or two, and I'd love to write a separate post on this at some point in the future. The long and the short of it is that I write down a question to my intuition in a journal I keep and allow the answer to flow through me.
If you're knew to this idea, there's no doubt that it sounds crazy and woo woo to you. It did to me too. My first go at writing to my intuition was a few years ago, and the experience weirded me out majorly, but I've grown to trust in and lean on the process regularly to unearth answers to the trickier questions.
I'm passing the mic to Jess Lively left and right today but seriously, girl has a strong handle on this process and is an excellent resource for anyone looking to tap into their inner wisdom.
7. Work it
Once all those good morning vibes are harnessed, I get to work.
And that's it. Contrary to what my must-hustle, overachiever mind predicted would happen, I've been more productive than ever these past few months. Even better, I've been happier too. So, so happy. Not for any one reason in particular but simply because I'm allowing myself to be and to exist within each moment as opposed to forcing my way through to the next one.