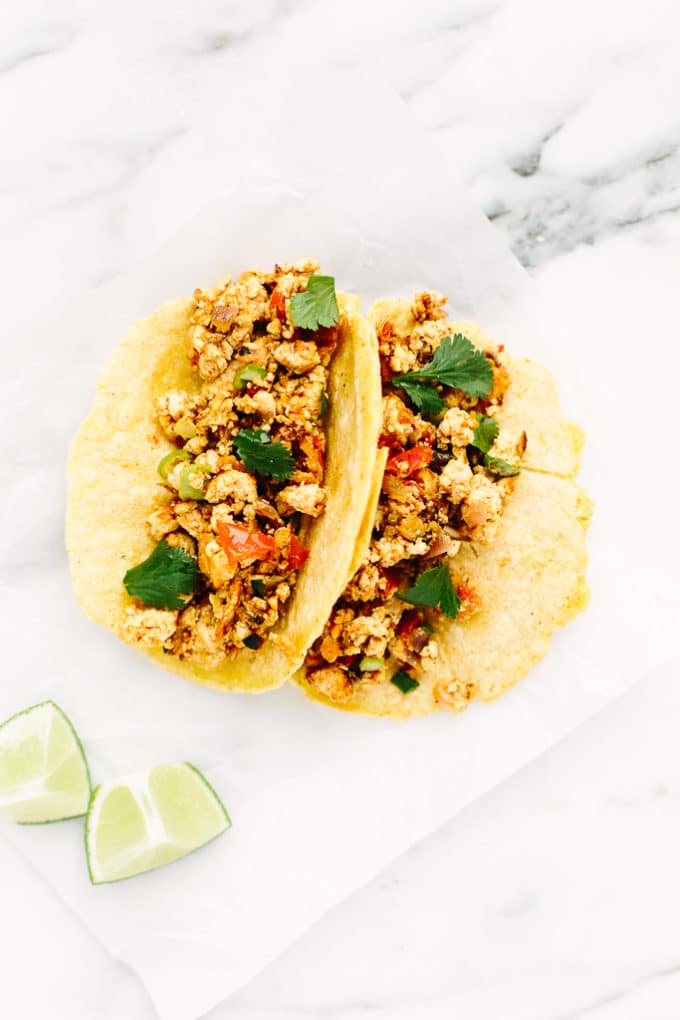 Juice cleanse? Pshh. How about a taco cleanse?
The Taco Cleanse by Wes Allison, Stephanie Bogdanich, Molly R. Frisinger, and Jessica Morris is a vegan cookbook and lifestyle guide that promises to "prevent or reverse taco deficiency" as it playfully pokes at the cleanse culture that's taken root in recent years.
Truth be told, I haven't strictly adhered to the book's cleanse protocol (i.e., tacos morning, noon, and night for 30 days). But I have made a handful of the 75+ recipes from this book, and they're just as worthy of the you-must-try-this praise swirling around popular mainstream cleanses.
Take, for instance, the Mighty Migas breakfast tacos. They're easy to make, bursting at their tortillas with flavor, and hit the spot without that heavy, nap-necessary feeling. Plus, I love learning about the history behind different dishes, and the recipe headnote provides a handful of informative highlights about the origins of this particular variation of Migas.
A quick search for "Migas" (i.e., "crumbs" in English) returns information about a variety of connected yet vastly different dishes that have origins in Portugal, Spain, Mexico, and the U.S. (i.e., Austin, Texas). The common thread between each variation is that leftover bread, tortas, or tortillas (i.e., crumbs) are incorporated into a warm and savory dish that is typically served for breakfast.
This particular variation of Migas appears to be most closely tied to the version commonly found in Austin, Texas, only the traditional base of scrambled eggs is swapped for a vegan-friendly base of scrambled tofu. After lightly browning tofu, jalapeño slices, and onion in a simple yet flavorful combination of spices, you'll stir in crushed tortilla chips, nutritional yeast, and tomatoes. Then, spoonfuls of that savory, subtly spiced mixture are carefully tucked into warm corn tortillas.
The result is simple, yet packs a surprisingly flavorful dish that satisfies. I stirred in a small handful of thinly-sliced scallions and fresh cilantro for a pop of freshness/color and also spritzed fresh lime juice over each taco to balance the savoriness with a bit of bright acidity. You can absolutely skip those additions as this recipe is fantastic as is, but I had everything on hand and figured a little dash of green does most things good.
Be sure to scroll on down to the bottom of this post to grab the recipe AND enter to win a copy of The Taco Cleanse or snag your very own copy here.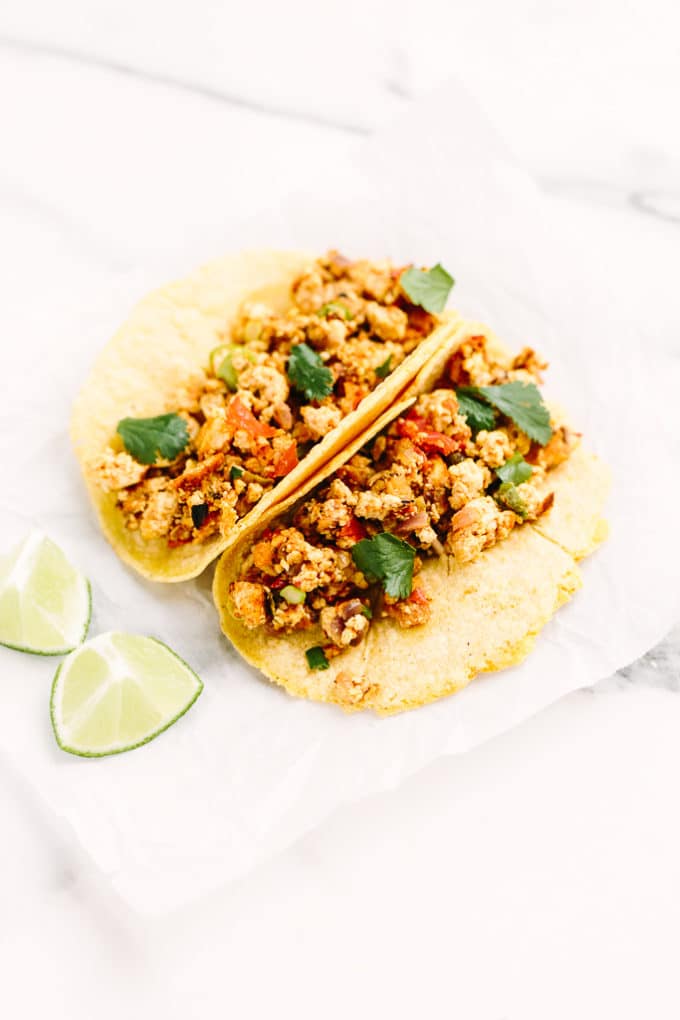 📖 Recipe
Mighty Migas Breakfast Tacos from The Taco Cleanse + A Giveaway!
"What started out as a way to use up leftover corn tortillas has become a staple of brunch tables. Migas tacos are transformational because they contain two superfoods: corn and flour tortillas. If you've been afflicted with collywobbles or gripe, try eating at least one migas taco a week. Because your homemade corn tortillas are probably too delicious to leave any leftovers, tortilla chips stand in here." - The Taco Cleanse
Ingredients
1

tablespoon

cooking oil

½

cup

(70 g) chopped onion

1

jalapeno, sliced into rings

14 to 18

ounces

(397 to 454g) firm tofu, drained

1

teaspoon

salt

½

teaspoon

ground cumin

⅛

teaspoon

black pepper

1

cup

(37 g) crumbled tortilla chips

1

cup

(170 g) seeded, chopped tomato

¼

cup

(15 g) nutritional yeast

¼

cup

(60 ml) unsweetened plant milk or water

½

cup

(48 g) vegan cheddar, optional

8

tortillas (I used homemade corn tortillas)
Instructions
Heat the oil in a large sauté pan over medium-high heat. Sauté the onion and jalapeño for 2 minutes, or until the onion starts to soften. Crumble the tofu into the pan and sprinkle with the salt, cumin, and pepper. Cook until the tofu is dry and browned on at least one side, about 10 minutes. Try not to stir too often as this prevents browning.

Add the rest of the ingredients, including the cheese if you're using it, and stir thoroughly. Cook until the tomato softens and the liquid is completely absorbed.

Serve in the flour tortillas.
Notes
Recipe from The Taco Cleanse: The Tortilla-Based Diet Proven to Change Your Life, copyright ©Wes Allison, Stephanie Bogdanich, Molly R. Frisinger, Jessica Morris, 2015. Reprinted by permission of the publisher, The Experiment. Available wherever books are sold. theexperimentpublishing.com
The Taco Cleanse Giveaway
One winner will receive a copy of The Taco Cleanse. For a chance to win, simply enter the giveaway using the Rafflecopter widget below and comment on this post between February 5th and February 19th. Please note: this giveaway is only open to residents of the US and Canada.