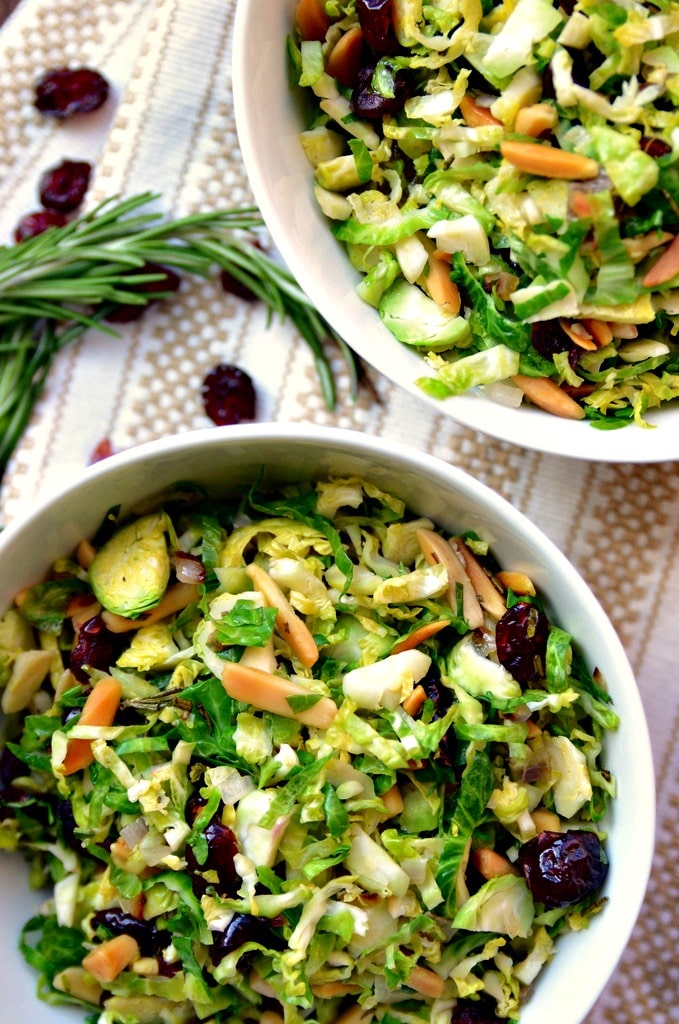 We're on a bit of a brussels sprout kick at our household. Roasted, boiled, chopped, shredded, halved. You name it, we're eating them. Something about these mini cabbages is so fun and incredibly delicious.
For this particular recipe, the brussels sprouts are shredded and topped with cranberries, toasted rosemary almonds, and a sweet maple-shallot vinaigrette. The salad is served warm which makes it even more swoon-worthy than expected. The combination is pure soul-warming deliciousness. The almonds and cranberries excel in their ability to add textural depth, and the chewy-crunchy combo cannot be beat. This salad is filling enough to be enjoyed for lunch or dinner but can easily be served in smaller portions as a side dish. Just be careful what you pair it with... wouldn't want to outshine the main event!
Hope you all have a cozy and fun weekend. I'll be back next week with a couple of recipes that are guranteed to bring warmth and comfort to your homes during this relentless winter blast.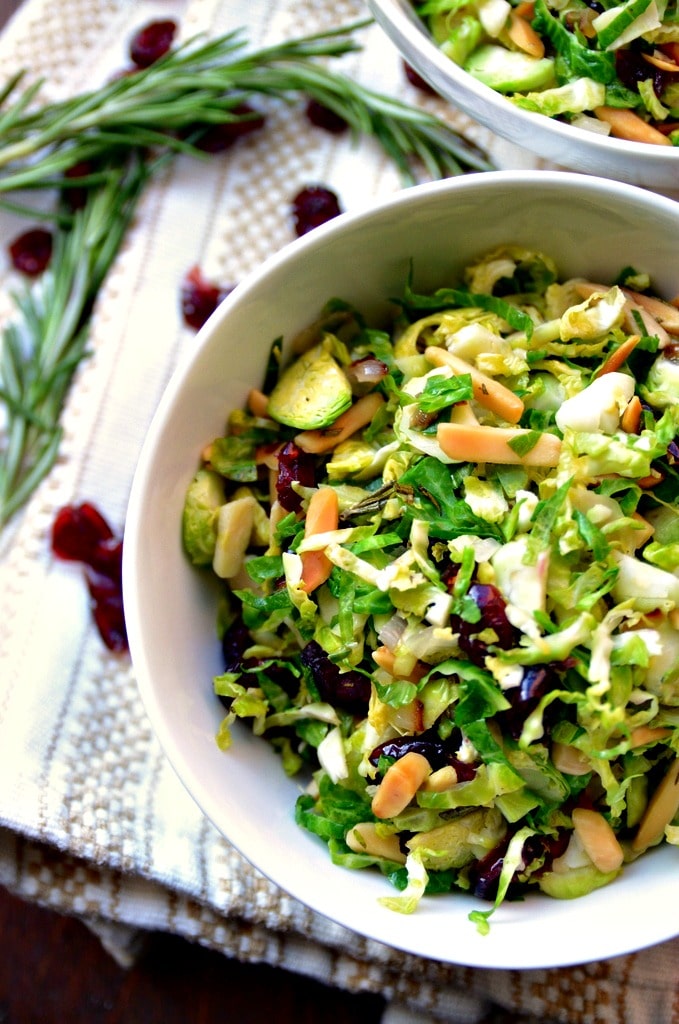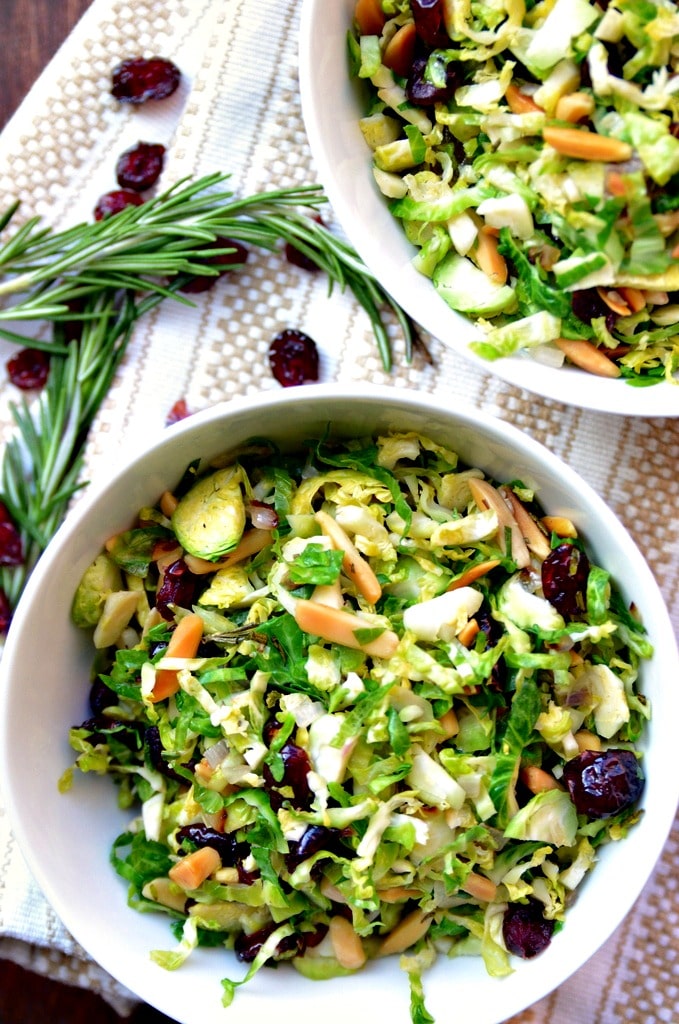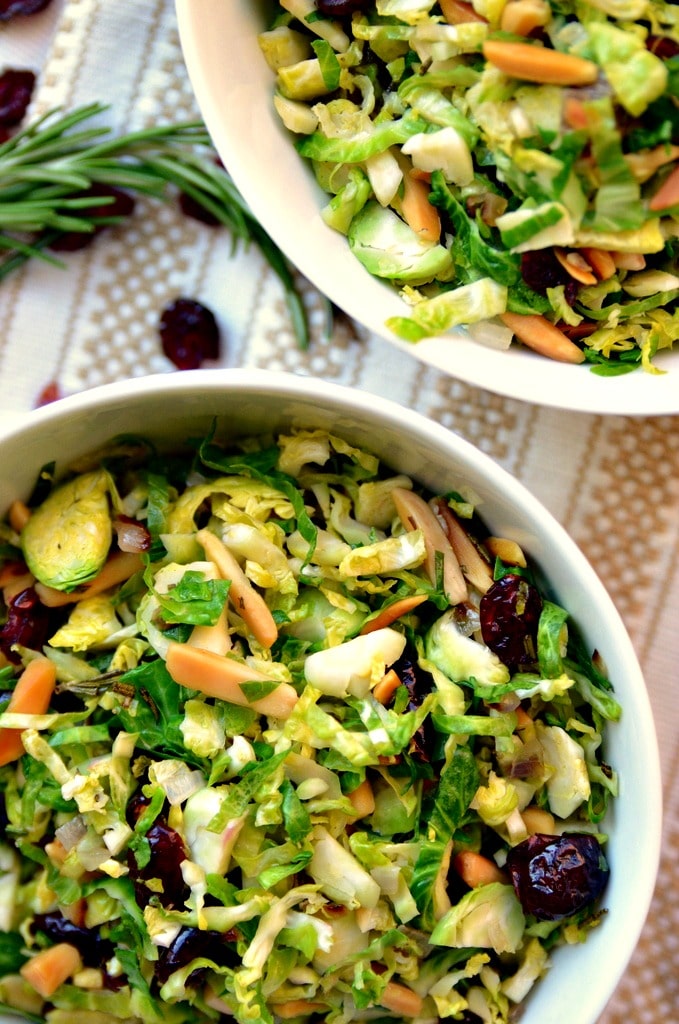 Maple-Shallot Brussels Sprout Salad
Brussels sprouts are shredded and topped with toasted rosemary almonds and cranberries. A drizzle of sweet maple-shallot vinaigrette adds depth and loads of flavor to this warm salad.
Ingredients
½ cup slivered raw almonds
1 ½ tablespoons olive oil, divided
1 tablespoon chopped fresh rosemary
3 shallots, finely diced
1 pound Brussels sprouts
½ cup dried cranberries
¼ cup extra-virgin olive oil
2 tablespoons 100% pure maple syrup
2 tablespoons apple cider vinegar
¼ teaspoon salt
pepper, to taste
Instructions
Heat oven to 350 degrees Fahrenheit.
Toss the slivered almonds in ½ tablespoon olive oil, chopped rosemary, and a pinch of sea salt. Spread out over a small baking pan. Bake for 8 minutes or until just beginning to turn golden.
Add 1 tablespoon of olive oil to a large nonstick skillet and heat over medium heat.
Add in the 3 diced shallots and cook until translucent.Remove half of the cooked shallots and reserve for vinaigrette.
While the shallots are cooking, "shred" the Brussels sprouts by cutting each in half lengthwise and thinly slicing from end-to-end. Be sure to discard knobby base of each.
Add the shredded Brussels sprouts to the skillet, season with salt and pepper, and cook until just starting to wilt. Remove from heat and transfer to a large salad bowl. Top with the toasted almonds and cranberries.
While the Brussels sprouts are cooking, make the vinaigrette by whisking together the reserved shallots, olive oil, maple syrup, cider vinegar, salt, and pepper.
Pour the vinaigrette over the salad, toss to coat, and serve immediately.