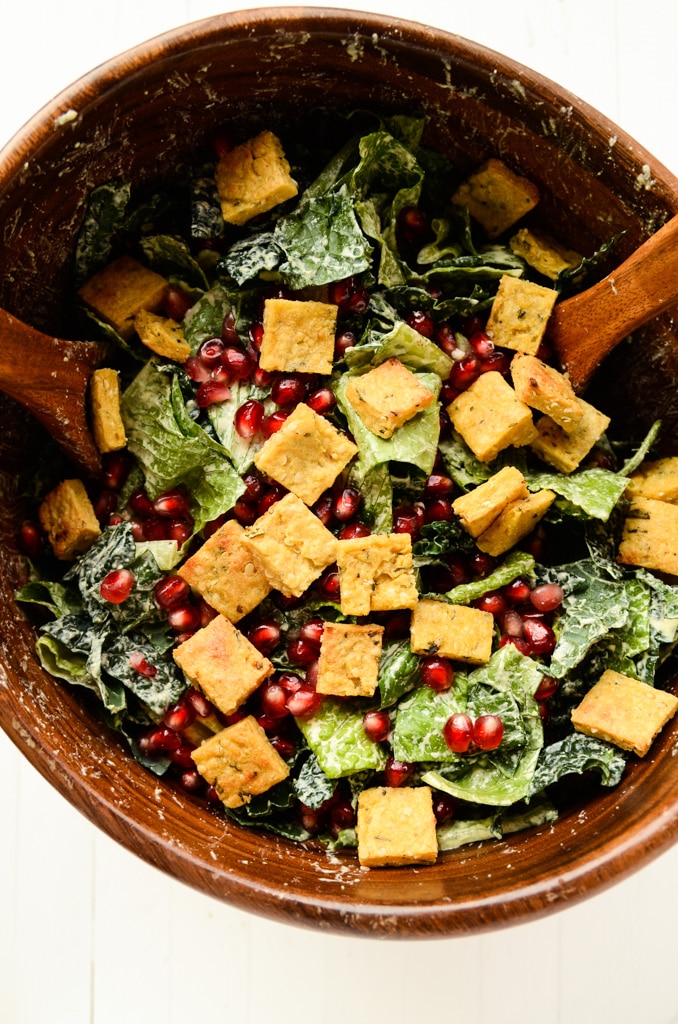 This post is sponsored by Manitoba Harvest; however, all thoughts, opinions, and statements about being in-love with their products are 100% my own.
The first salad I ever made outside of my parents' kitchen was a caesar salad in my 6th grade Home Ec class. I barely remember a thing we made in that class besides this caesar salad, and it's because 1) I was surprised it was so easy to whip together homemade dressing and 2) that was the start of my love affair with cooking.
Later that week, I came home and replicated the salad for my family. It was gratifying to create something that nourished my family members and made them mmm and ahh. Memories are built around the dinner table, and to make a meal for loved ones is to offer them a nugget of contentment that they can pull out of their mental filing cabinets years later and somehow still feel a loving pang within their hearts.
You might have guessed it, but caesar salad has a special place in my heart because it's where this all began for me. I can't possibly whittle all of my passion for cooking down to that one moment because there have been so many transformative moments that have shaped my feelings toward it, but I can say this: no matter how far I've drifted from my kitchen over the years, I come back to it to feel the way I did after making that caesar salad for my family. That feeling breathes inspiration into my life and soothes my heart when it becomes wary.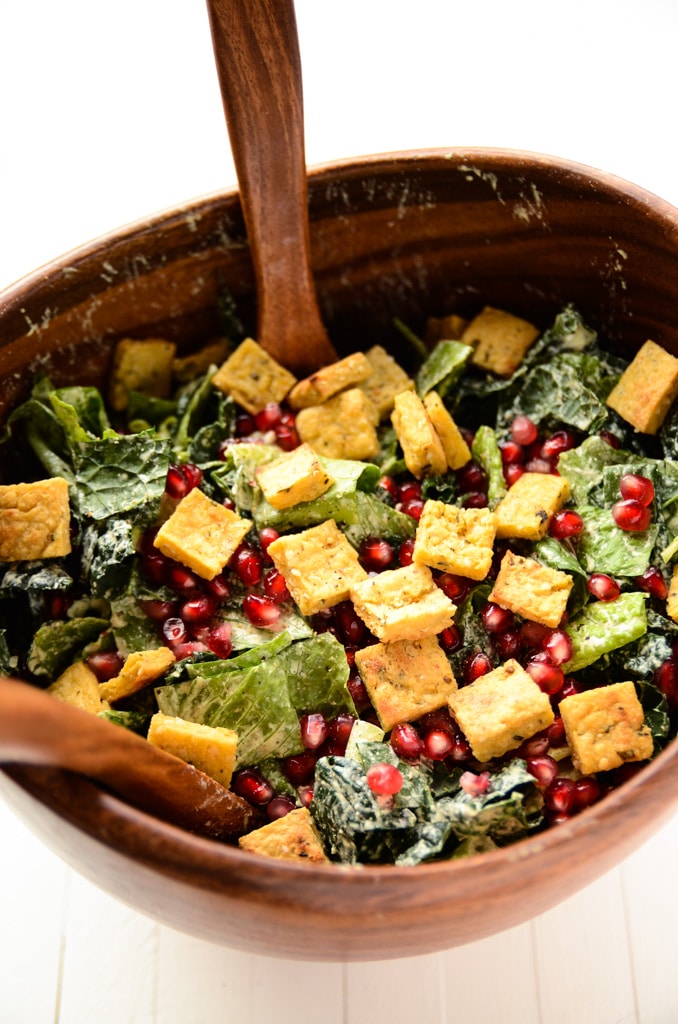 This vegan holiday caesar salad with hemp seed dressing is extra special because it's filled with festive flare, packed with superfoods (i.e., hemp seeds, hemp oil, kale, pomegranate seeds), and built to serve a family. It's a salad that will nourish, charm, and encourage heartwarming memories, and for those reasons, it's one to be shared around the holidays.
The base for this caesar dressing is Manitoba Harvest's Hemp Hearts. I've tried many brands of hemp seeds, but these are my absolute favorite. They yield an ultra-creamy texture and impart a mild flavor, so they're wonderful to use as a base in creamy dressings, and they can also be sprinkled onto just about anything (e.g., oats, salads, hummus, yogurt, etc).
I've ranted on before about why hemp seeds are so fantastic for those living a plant-based lifestyle, but here's a quick-and-clean refresher: they're a complete protein source, 3 tablespoons packs a powerful 10 grams of protein, and they're rich with omega-3 and omega-6 fats. If you haven't used hemp seeds before, you're going to have to take a delicious leap of faith with me.
To make the dressing, you'll toss hemp seeds, water, lemon juice, hemp oil, nutritional yeast, white wine vinegar, garlic, dijon, sea salt, and black pepper into a blender. You'll blend it all on high for a few minutes or until you have a super creamy caesar dressing. Not even kidding, it's that simple. Best part? The fact that this dressing is uber-healthy will be a secret kept between you, me, and your blender. No one will guess it's packed with this much goodness.
And the croutons? Oh my. You're in for a treat. These crunchy, chewy bites are made by whisking together boiling water, chickpea flour, garlic powder, hemp seeds, rosemary, and a pinch of salt. You'll pour the mixture into a pan, let it chill for an hour, slice into croutons, and bake with a drizzle of olive oil until they're golden and crispy. They're packed with protein thanks to the chickpea flour and hemp seeds, and the rosemary adds a wintry touch of flavor.
To assemble the salad, you'll add chopped romaine and chopped kale to a large bowl, pour on the dressing, and toss to coat. Then, you'll sprinkle on those ruby-hued pomegranate seeds, protein-rich croutons, and a flurry of hemp seeds. The last step? You guessed it: serve it up to those loved ones and offer them a dish upon which to build happy memories.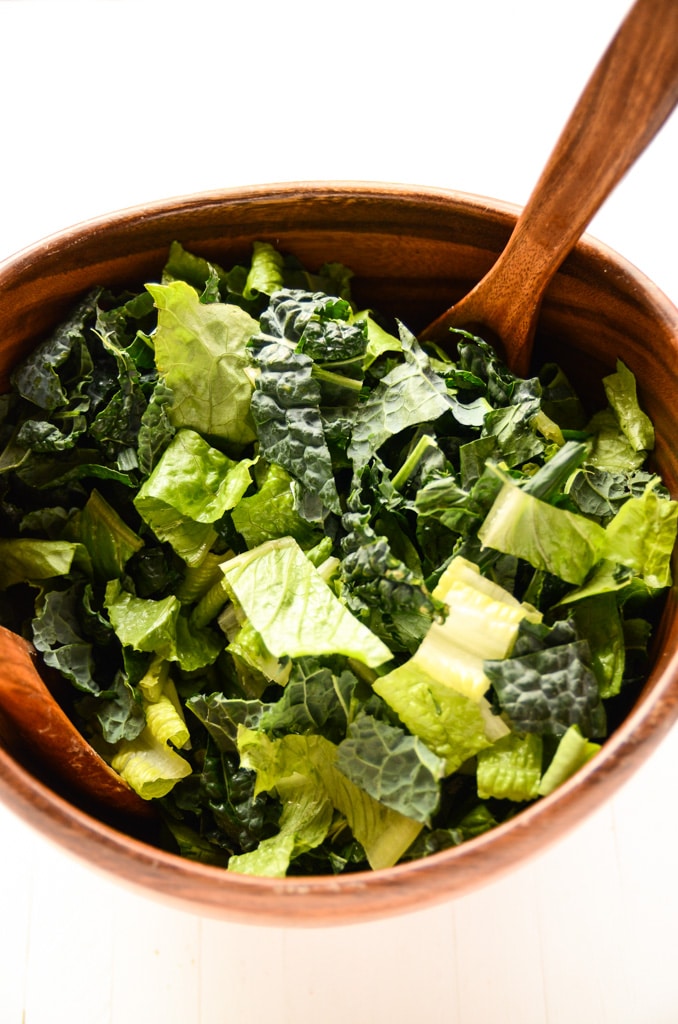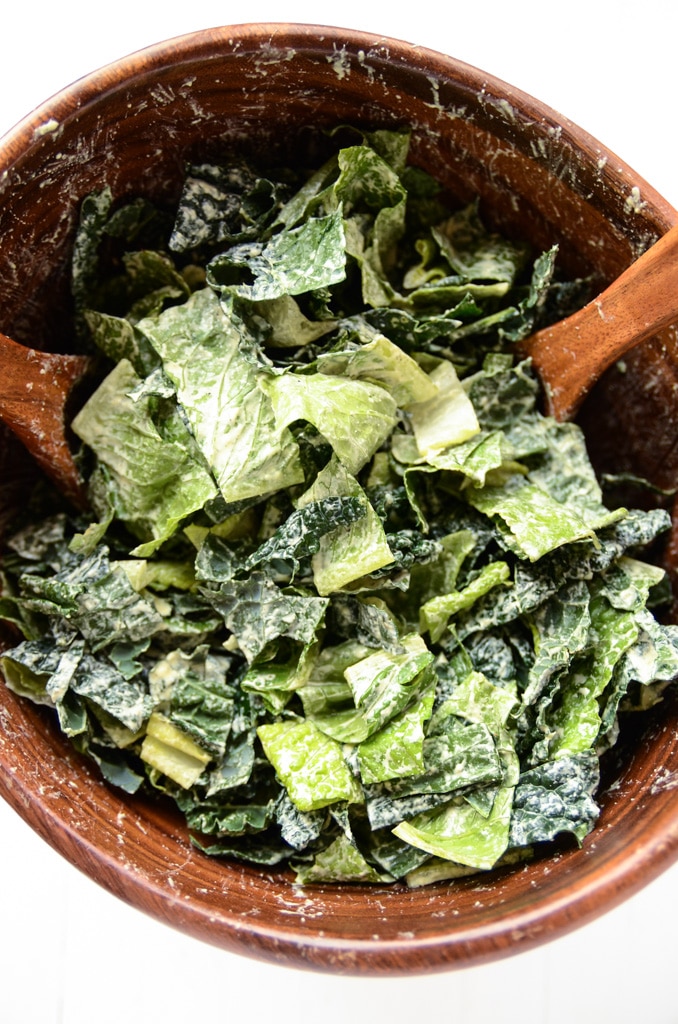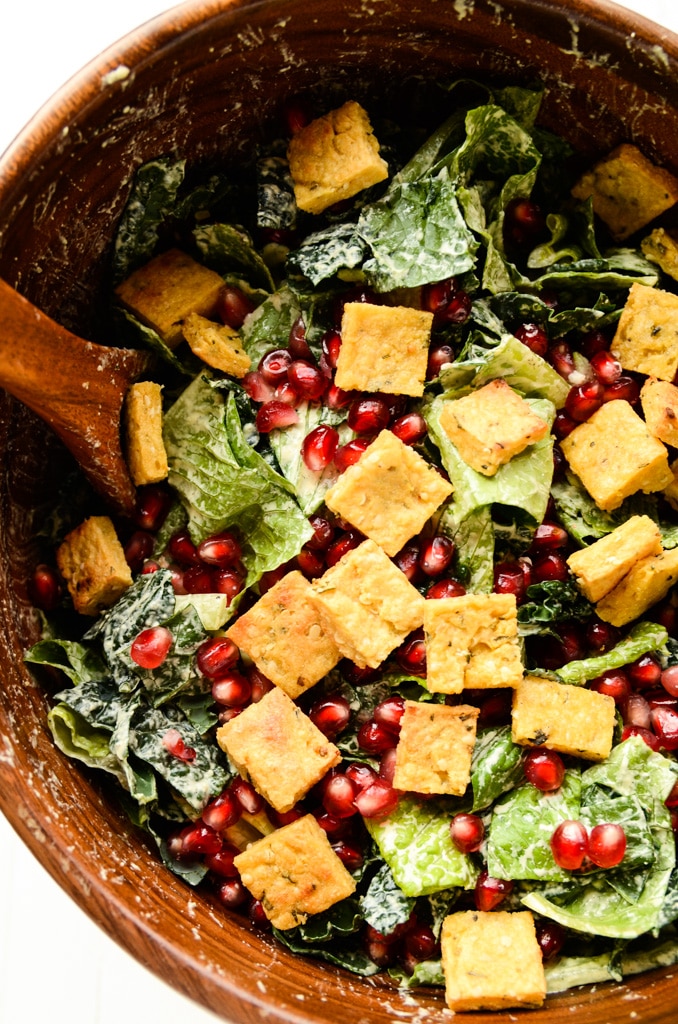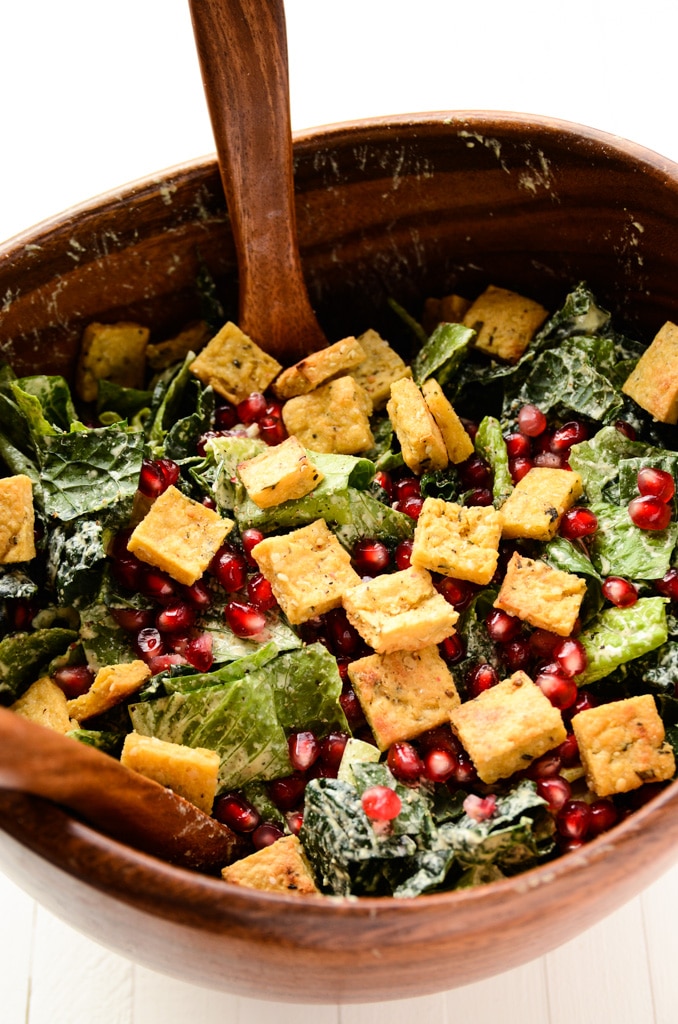 Holiday Caesar Salad with Hemp Seed Dressing & Protein Croutons (vegan, gluten-free)
This festive caesar salad is far from ordinary. It's packed with superfoods (i.e., kale, hemp seeds, hemp oil, and pomegranate seeds), holiday flare, and a variety of textures to keep you and your guests coming back bite after bite.
Servings
8
-10 as a small side salad
Ingredients
For the Protein Croutons
2

cups

water

1

cup

chickpea flour

½

teaspoon

garlic powder

½

teaspoon

sea salt

¼

cup

Manitoba Harvest Hemp Hearts

1

tablespoon

chopped fresh rosemary

2

tablespoons

olive oil

sea salt
For the Hemp Seed Dressing
½

cup

Manitoba Harvest Hemp Hearts

¼

cup

water

3

tablespoons

fresh lemon juice

2

tablespoons

Manitoba Harvest Hemp Oil

2

tablespoons

nutritional yeast

1 ½

tablespoons

white wine vinegar

2

garlic cloves

¾

teaspoon

dijon mustard

¼

teaspoon

sea salt

Freshly ground black pepper, to taste
For the Salad
1

head romaine, chopped

1

bunch of lacinato or curly kale, stemmed and chopped

1 ½

cups

pomegranate seeds

2

tablespoons

Manitoba Harvest Hemp Hearts
Instructions
To Make the Protein Croutons
Bring the water to a boil in a medium sauce pan.

Slowly pour in the chickpea flour while whisking continuously. Whisk in the garlic powder and sea salt, turn off heat, and whisk another minute or until smooth.

Stir in the hemp hearts and chopped rosemary.

Line a small (9x13) baking pan with parchment paper. Pour the mixture into the pan and use a spatula to spread it evenly across the pan. To make it easier to smooth out, spray both sides of a spatula with cooking spray or olive oil, and gently smooth out the batter.

Cover and refrigerate for at least one hour.

Preheat oven to 425F.

Lift the parchment paper out of the pan, and slice the chickpea batter into equally-sized croutons. Spread the croutons out over a pan that has been lined with parchment paper. Drizzle them with olive oil, sprinkle with sea salt, and toss to coat.

Bake for 25-35 minutes, stirring every 10 minutes until crispy and golden.
To Make the Dressing
Add the hemp hearts, water, lemon juice, hemp oil, nutritional yeast, white wine vinegar, garlic, dijon, sea salt, and black pepper to a high-powered blender. Blend on high for 1-2 minutes or until completely smooth. Refrigerate until ready to use.
To Assemble the Salad
Add the romaine and kale to a large bowl, pour the dressing over top, and toss to coat. Top the salad with as many croutons as desired, pomegranate seeds, and hemp hearts.

Serve.

Refrigerate leftovers.