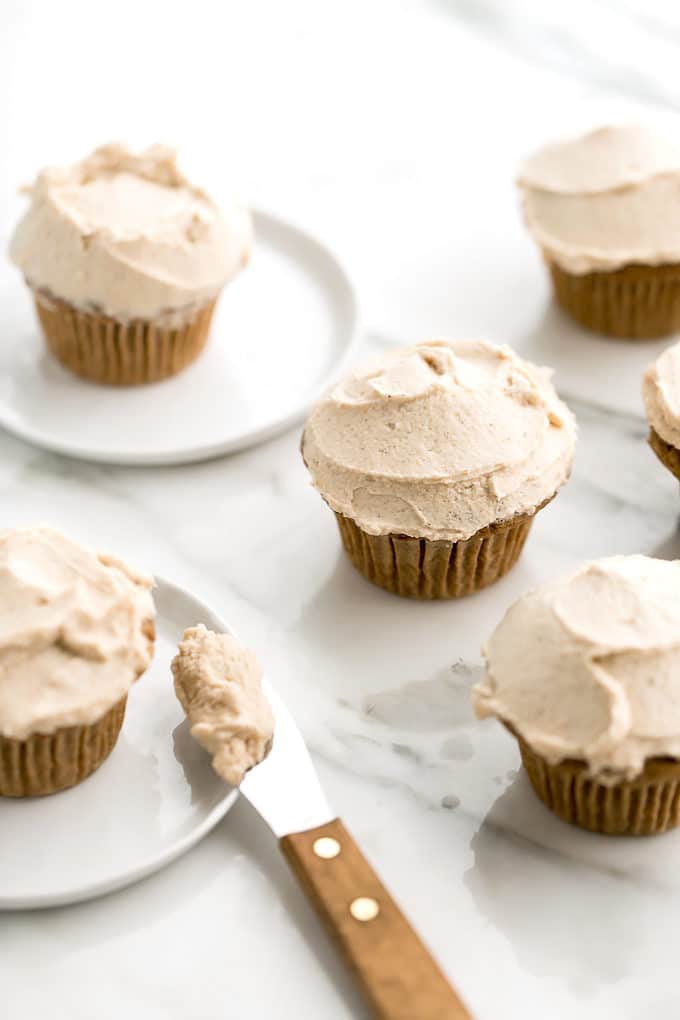 One memorable day in 2010, I stumbled upon a blog written by a woman who exuded a courage and passion that was destined to inspire. Her words, brave and heartfelt, landed softly yet left a lasting impression, and I found myself regularly visiting that special space nestled within the plant-loving corner of the internet.
It's been six years since my first brush with Angela Liddon of Oh She Glows, and her kindness, wisdom, and kitchen creativity never cease to capture both my heart and attention. In a world with so many options and an aversion to sameness, it takes authenticity and a zesty, spirited attitude to withstand the test of time, and Angela has done so with ease and grace.
For all the reasons above and about one thousand more, it's an honor to be sitting here, all these years later, writing a review for her second cookbook, Oh She Glows Every Day. Angela's first cookbook won me over immediately, and it's reigned as the most loved cookbook on my shelf for over two years. It has all the telltale signs of greatness—tattered edges and worn binding with soup splatters, chocolate, and wandering bits of kale adorning its pages.
All this to say that book one set the bar high, real high, for book two. And let me tell you, if the dog-eared pages and splatters accrued over the last month are any indication, book two may well give book one a run for its veggies . . .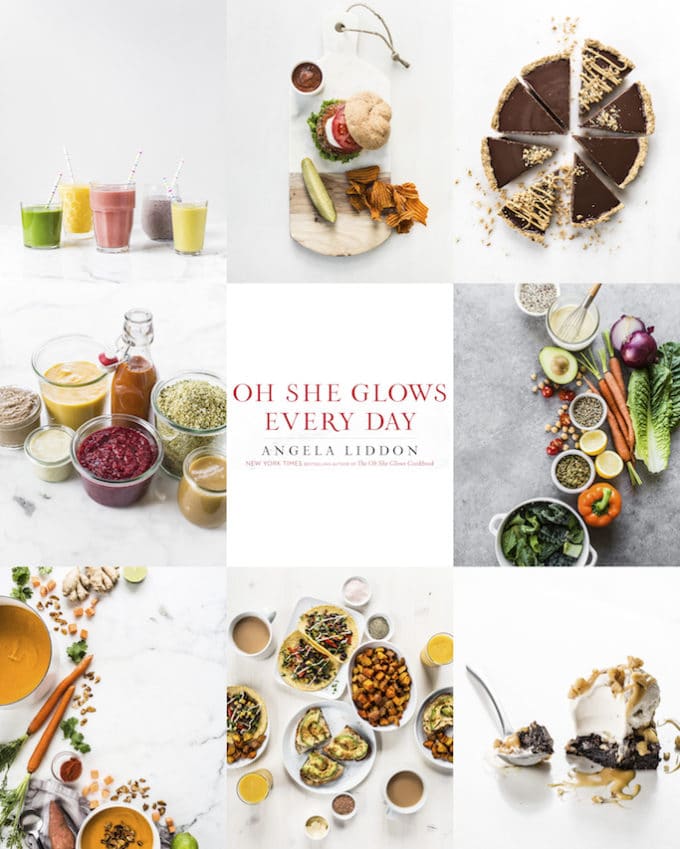 I had such a difficult time picking a recipe to share in this post that I ended up making and photographing two recipes—High Rise Pumpkin Cupcakes and The Best Marinated Lentils. Then, I peaked at other bloggers' review posts to see which recipes had been shared and ultimately chose the cupcakes because the lentils had been already been slathered with well-deserved attention and praise. If you want to make the lentils (do it—they're amazing), checkout Laura Wright's stunning review post.
These cupcakes? Also amazing. As their name suggests, they rise high and beautifully. They're packed with pumpkin and warming spices and their pillowy, rounded tops are the perfect canvas for a thick slather of Spiced Buttercream Frosting. I wouldn't change a thing about them. The recipe is easy to follow and the cupcakes themselves are the perfect antidote to a craving for sweet-'n'-spiced fall decadence.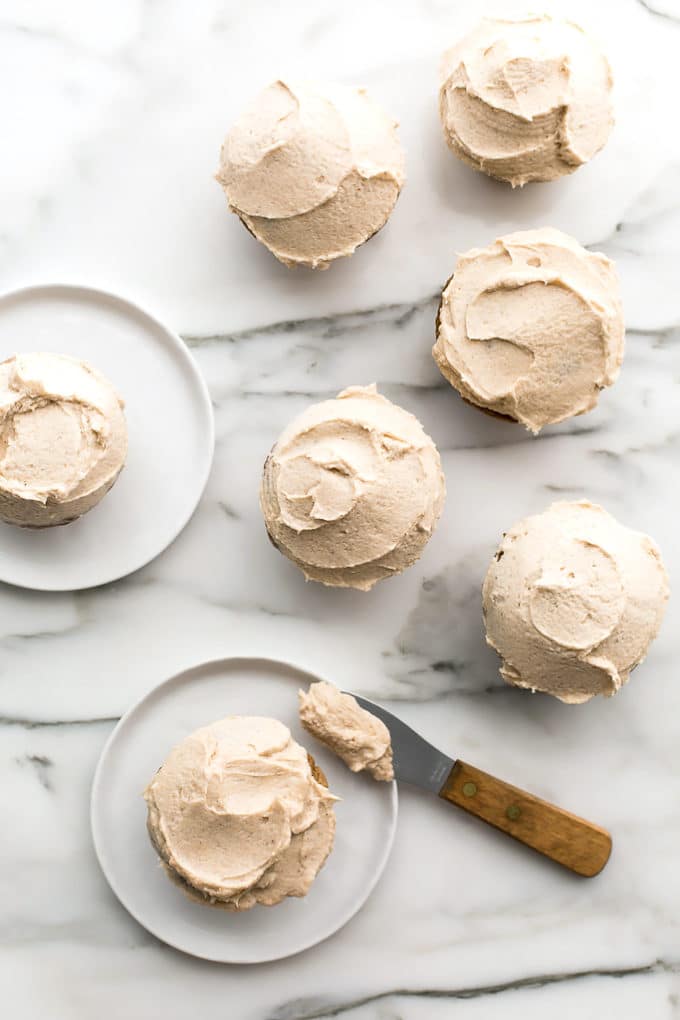 As with Angela's first book, Oh She Glows Every Day is perfect for anyone, vegan or otherwise, looking for recipes that satisfy, nourish, and inspire. The photography is stunning, and each and every recipe is accompanied by a full-page photo shot by the talented Ashley McLaughlin of Edible Perspective.
Recipes on my immediate must-make list include the Golden French Lentil Stew, Thai Crunch Salad, 9-Spice Avocado Hummus Toast, Reset Button Green Smoothie, Marinated Italian Tofu, Chili Cheese Nachos, The Ultimate Flourless Brownies, Mile-High Black-and-White Freezer Fudge, and many, many more. My usual method for dog-earing standout recipes quickly became meaningless because it was so liberally applied. But that's the best kind of problem to have, isn't it?
Below, you'll find 1| the recipe for those dreamy High Rise Pumpkin Cupcakes and 2| a giveaway where you can enter to win a copy of Oh She Glows Every Day!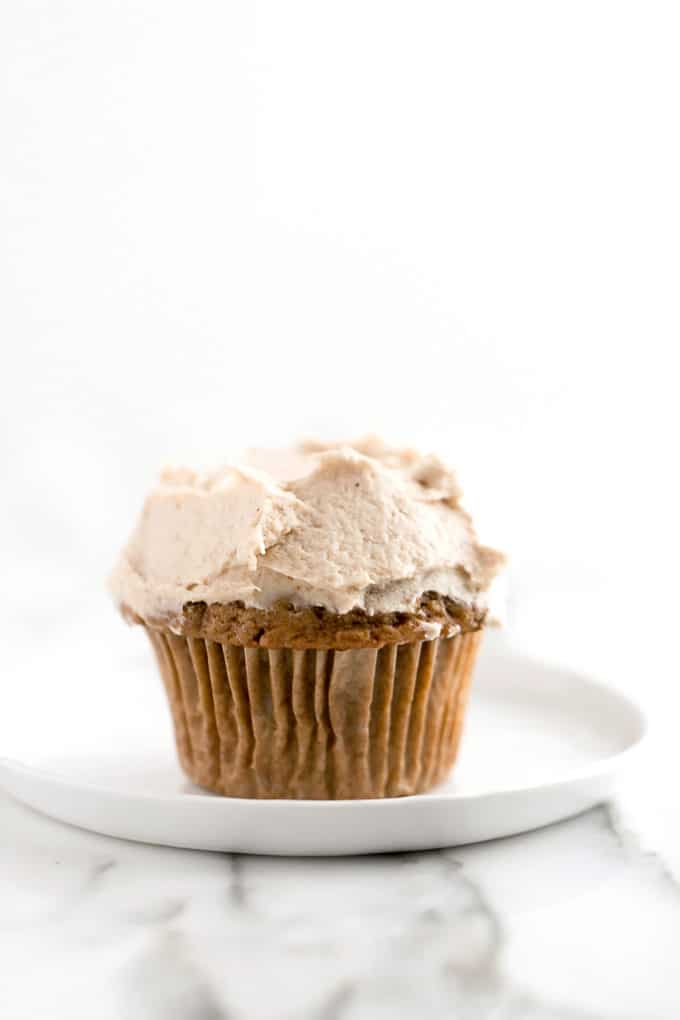 📖 Recipe
High Rise Pumpkin Cupcakes
"These irresistible pumpkin spice cupcakes (photo on previous page) are amazing in the fall or winter months—but I certainly don't hesitate to make them in the summer, too! The cupcakes are surprisingly light and fluffy, and if you're anything like me you might scream with delight when you see how much they rise while they bake. I use white (or light) spelt flour to give these a wonderful, moist, and light texture. If you can't find any, you can use whole spelt flour in the recipe, but be aware that the cupcakes will be denser (yet still tasty!)." —Angela Liddon, Oh She Glows Everyday
Ingredients
2 ¼

cups (550 mL/10 ½ ounces/ 300 g)

white/light spelt flour

(see Tip)

½

cup (125 mL, 30 mL)

plus 2 tablespoons natural cane sugar

2

teaspoons (10 mL)

baking powder

2

teaspoons (10 mL)

ground cinnamon

1 ½

teaspoons (7 mL)

freshly grated nutmeg

½

teaspoon (2 mL)

baking soda

½

teaspoon (2 mL)

fine sea salt

¼

teaspoon (1 mL)

ground allspice

⅛

teaspoon (0.5 mL)

ground cloves

¾

cup (175 mL)

unsweetened pumpkin purée

1

cup (250 mL)

unsweetened almond milk

¼

cup (60 mL)

pure maple syrup

¼

cup (60 mL)

grapeseed oil or refined coconut oil

melted (see Tip)

1

tablespoon (15 mL)

fresh lemon juice

2

teaspoons (10 mL)

pure vanilla extract

Spiced Buttercream Frosting

(recipe below)
Instructions
Preheat the oven to 350°F (180°C). Lightly grease a 12-cup muffin tin with oil or line it with nonstick paper liners.

In a large bowl, whisk together the flour, sugar, baking powder, cinnamon, nutmeg, baking soda, salt, allspice, and cloves until combined.

In a medium bowl, whisk together the pumpkin purée, milk, maple syrup, oil, lemon juice, and vanilla until smooth.

Add the wet mixture to the dry mixture and stir until combined. Stop mixing as soon as there are no dry patches of flour, on the bottom of the bowl; it's important not to overmix spelt flour as it can result in a dense cupcake. The batter will be quite thick (like a muffin batter), but this is normal.

Scoop the batter (I like to use a retractable ice cream scoop) into each well of the prepared muffin tin, filling them two-thirds to three-quarters full. Smooth out the tops a bit. Bake for 24 to 30 minutes, or until a toothpick inserted into the center of each cupcake comes out clean and the cake springs back—very slowly—when touched. The cupcakes rise beautifully—you might actually scream with joy when you see the beautiful rounded tops!

Let cool in the pan on a cooling rack for about 10 minutes. Gently transfer the cupcakes to the rack and let cool completely. (Be sure the cupcakes are not warm when you frost them, or the frosting will melt.)

Frost the cooled cupcakes with Spiced Buttercream Frosting or Orange-Maple Coconut Whipped Cream. Store any leftovers in an airtight container in the fridge for up to 5 days. You can also freeze the cupcakes: Place the frosted cupcakes on a plate and freeze, uncovered. Once the frosting has hardened, remove the cupcakes from the freezer and wrap them individually with plastic wrap. Transfer them to an airtight container and freeze for up to 1 month. To thaw, unwrap the cupcake and place it in the fridge or on the counter until thawed throughout.
Notes
VEGAN, NUT-FREE OPTION, SOY-FREE OPTION, ADVANCE PREP REQUIRED,
KID-FRIENDLY, FREEZER-FRIENDLY
*Tip: I use grapeseed oil in this cake because it's neutral, with virtually no flavor. I don't recommend using a strong-tasting oil like extra-virgin olive oil. If you don't have grapeseed oil or refined coconut oil (which is also flavorless), you can use melted virgin coconut oil. Just note that the cake will have a light coconut flavor. When using melted coconut oil, make sure the rest of your ingredients are at room temperature to prevent the coconut oil from solidifying.
*Make it nut-free Swap the almond milk for coconut milk or another nut-free milk of your choice.
*Make it soy-free Use soy-free vegan butter for the Spiced Buttercream.
Reprinted from Oh She Glows Every Day by arrangement with Avery Books, a member of Penguin Group (USA) LLC, A Penguin Random House Company. Copyright © 2016, Glo Bakery Corporation. Cover photograph (above) copyright © 2016 by Ashley McLaughlin.
📖 Recipe
Spiced Buttercream Frosting
Ingredients
¾

cup (175 mL)

vegan butter

(see Tip)

1 ½

cups (375 mL)

confectioners' sugar, plus more if needed

1

to 3 teaspoons ( 5 to 15 mL)

almond milk, as needed

½

teaspoon (2 mL)

pure vanilla extract

½

teaspoon (2 mL)

ground cinnamon, or to taste

¼

teaspoon (1 mL)

freshly grated nutmeg, or to taste

Pinch of fine sea salt
Instructions
In a large bowl using electric beaters or in the bowl of a stand mixer fitted with the whisk attachment, beat the butter for about 30 seconds until fluffy and smooth.

Add the sugar, 1 teaspoon (5 mL) of milk, vanilla, cinnamon, nutmeg, and salt. Beat again, starting on low speed and covering the bowl or stand mixer with a tea towel, until smooth and fluffy, stopping to scrape down the bowl as necessary. If your buttercream is still too thick, you can thin it with a touch more milk. If it becomes too thin, you can thicken it by beating in more sugar.
Notes
Tip For the vegan butter, I use soy-free Earth Balance buttery spread. You can use whichever vegan butter you prefer, though.
Make it nut-free Swap the almond milk for a nut-free milk of your choice, such as coconut milk.
Make it soy-free Use soy-free vegan butter.
Oh She Glows Every Day Cookbook Giveaway
One winner will receive a copy of the Oh She Glows Every Day cookbook by Angela Liddon. For a chance to win, simply enter the giveaway using the Rafflecopter widget below and comment on this post between September 21st and October 5th. Please note: this giveaway is only open to residents of the US and Canada.