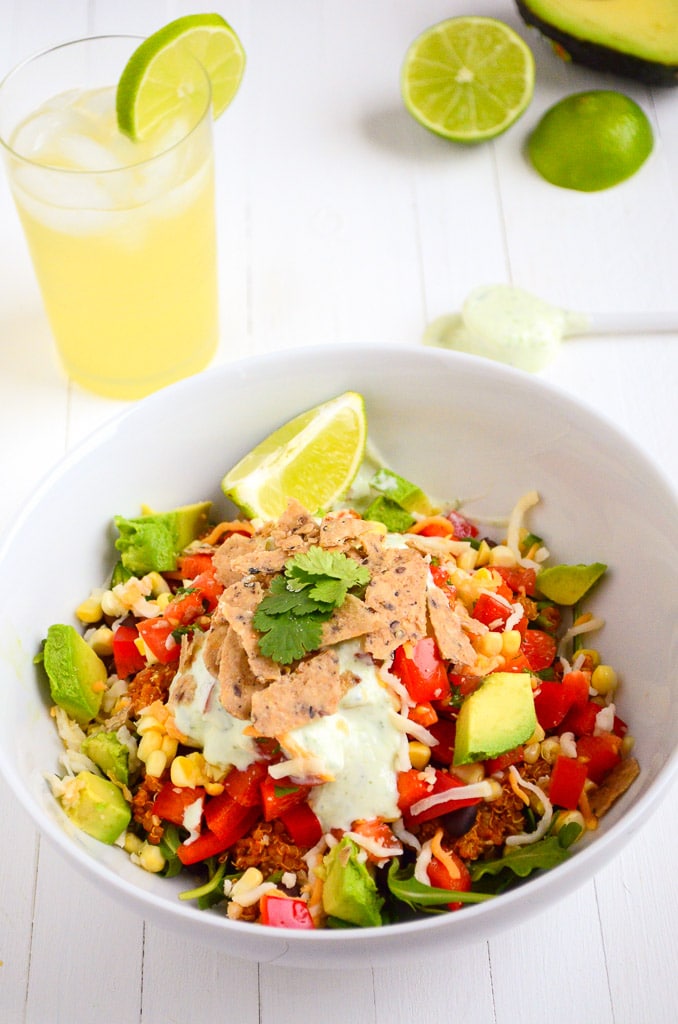 If you live in Chicago or another area where February 2013 was full of snow and hazy gray skies, you're likely in need of some serious doses of sunshine. Most Chicagoans are tumbling about in a constant cycle of love + hate for the windy city. The winters... oh, the winters... they will make you question your sanity, retreat into hibernation and, come the end of February, you'll be telling all of your friends and loved ones that you will be moving to some tropical island where you'll spend the rest of your days pitying the poor souls who have chosen to endure yet another Chicago winter.
But then something strange will happen...
You'll stick around for a few more months while purchasing your tropical gear and procuring your perfect island paradise, and a few 80-90 degree days will sneak themselves into the months of March, April + May. These days will grasp you by the sundress you thought you would never wear again when you were in the midst of your February doldrums, and they'll lure you into their fun-filled notions of summer. These sunny outliers in our typically rainy and/or snowy springs will give you the dose of healthy false hope you needed to make it to June when the summer you've been waiting for will finally become a reality. You'll enjoy a few days of 70, 80, or 90 degree weather, and all of your friends will officially dust off their winter cobwebs in exchange for cool beverages, delicious BBQ's, and sandy toes. You will regard these as the best times of your life and have déjà vu of perhaps making that same declaration last summer. You will also regard Chicago as the greatest city in the entire world because Lake Michigan will take on a tropical turquoise hue, and the sandy beaches will become the temperature of hot lava and burn your feet, making you feel like you truly are living somewhere exotic.
And then late July will roll around and the warm summer air will heat further and increase its humidity to 99%. On these 100° days, you will curse Chicago and all of the midwest for being so humid and welcome the cooler days of fall into your balmy arms. Fall will eventually arrive and Chicago will once again be revered as a whimsical city full of magic and wonder. You and all of your friends will gather together in cute new hoodies the first day it drops below 80 degrees (you've been wanting to wear that hoodie since July), and you'll likely be sweating as you partake in fabulous fall activities like apple picking and October Fest. You'll tweet and post status messages gloating about your city -- @AshleyMelillo: Chicago: The Most Fabulous City on Earth. #iknowyourejealous #chicago4life #loveyourcitymore
And then November will roll around, and you'll consider the first snowfall to be a wonderful novelty because by now you've forgotten what it's like to shovel 3 feet of snow off of your car with an ice scraper while mascara is running down your face from the slush that is viciously dripping from the trees above you. You'll naively prance around in this first snowfall with your loved one and make soon-to-be-deemed-crazy statements like "Oh my gosh, we totally have to go to Lincoln Park's Zoo Lights or ice-skating in Millenium Park! How romantic! I love the winter! It's so cozy!"
And then the winter will last from November 1st until at least April 30th, and somewhere in the midst of February you'll be dreaming of moving to your tropical paradise once again. But history will repeat itself, and you'll yet again become a sucker for those sunny outliers.
This is the wacky cycle of Chicago weather and the reason that, despite having 6 months of winter, most of us just can't quit our love-hate relationship with this city.
Because I'm not capable of inducing one of those warm, sunny March outliers, I figured I'd give you something unseasonably flavorful to nosh on: a high-protein taco salad full of summer flare. Don't worry, it gets better: this taco salad is low in fat and super high in protein thanks to the quinoa taco "meat," black beans, and greek yogurt. The combination of flavors is lively, delicious, and downright addictive. The quinoa creates a well-seasoned base, the variety of vegetables packs a flavorful punch, and the cilantro-lime crèma pulls the entire salad together in one sassy swoop. I highly recommend doubling the batch of crèma and topping tacos, nachos, and fajitas with the flavor-packed sauce.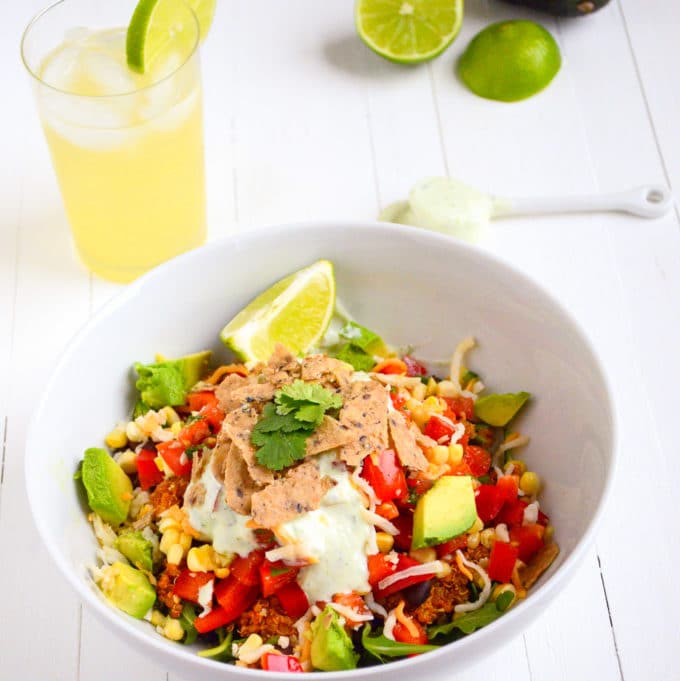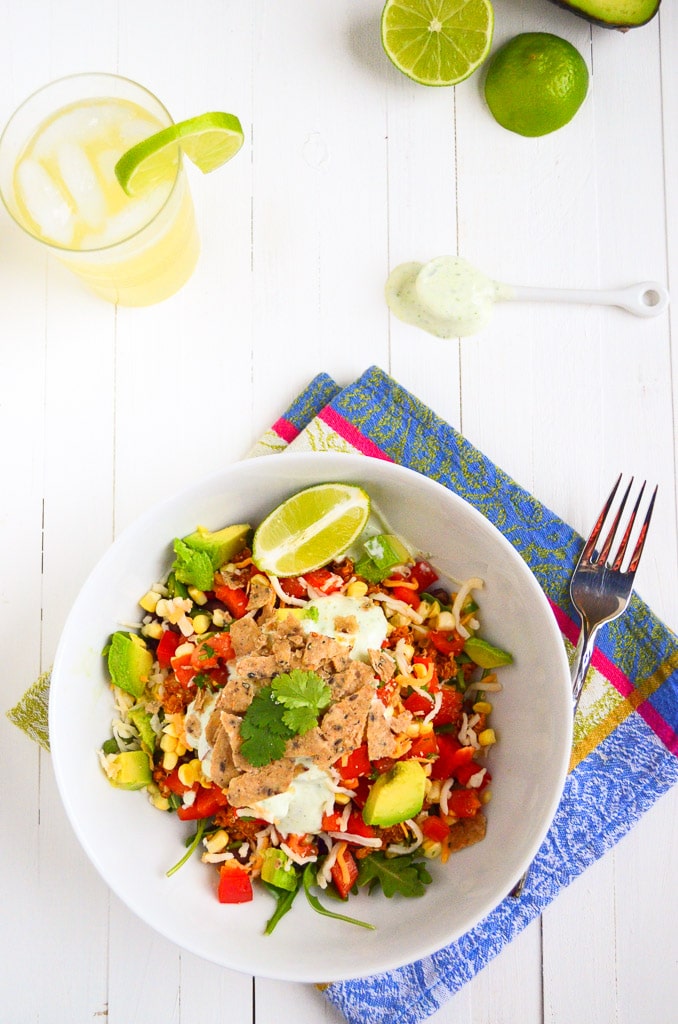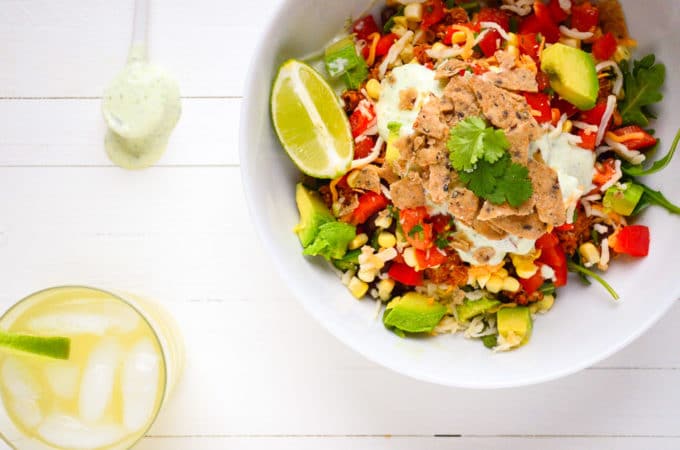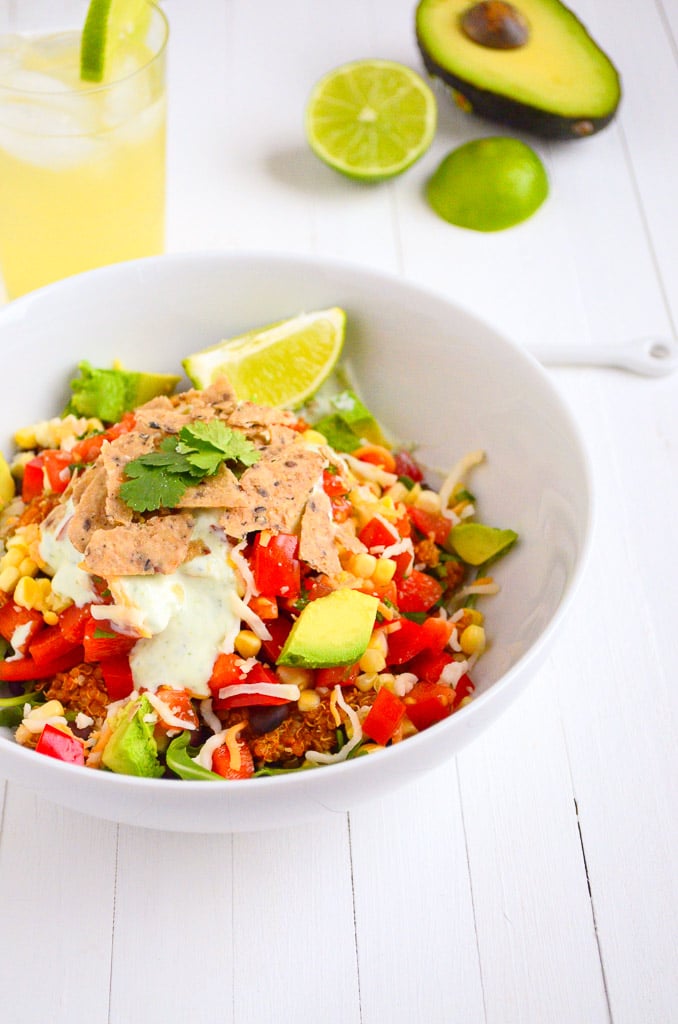 High-Protein Taco Salad + A Rant on Chicago's Winters
Author:
Ashley Melillo | Blissful Basil
Ingredients
For the Salad
1 cup uncooked quinoa, cooked according to package instructions
1 ½ teaspoons chili powder
1 teaspoon smoked paprika
¼ teaspoon cumin
⅛ teaspoon cayenne pepper
½ teaspoon sea salt
1 can black beans, drained and rinsed
2 ears of corn, kernels removed
1 red pepper, diced
1 jalapeno, seeded and diced
1 avocado, diced
½ cup shredded cheddar cheese*
4 cups arugula
Optional: tortilla chips for garnishing
For the Salsa
2 medium tomatoes, diced
¼ cup cilantro, chopped
¼ teaspoon sea salt
Dash of cayenne pepper
For the Cilantro-Lime Crèma
1 cup fat-free plain Greek yogurt, soy or almond yogurt*
1 garlic clove, minced
juice from 1 ½ limes
½ teaspoon salt
¼ cup cilantro, chopped
Instructions
For the Salsa
Add the tomatoes, cilantro, sea salt, and cayenne pepper to a medium bowl, mix together, and refrigerate until ready to use.
For the Cilantro-Lime Crema
Add all ingredients to a blender. Blend on high for 30 seconds. Refrigerate until ready to use.
To Assemble the Salads
In a medium bowl, mix cooked quinoa, chili powder, smoked paprika, cumin, cayenne, and salt together until all spices are well-distributed.
Begin assembling your salads in bowls by placing a handful of fresh arugula on the bottom. Top the arugula with the taco "meat." Then, top with black beans, peppers, corn, salsa, avocado, cheese, crèma, and crushed tortilla chips. Serve immediately and enjoy.
Notes
*To make vegan, opt for vegan shredded cheese and vegan yogurt.