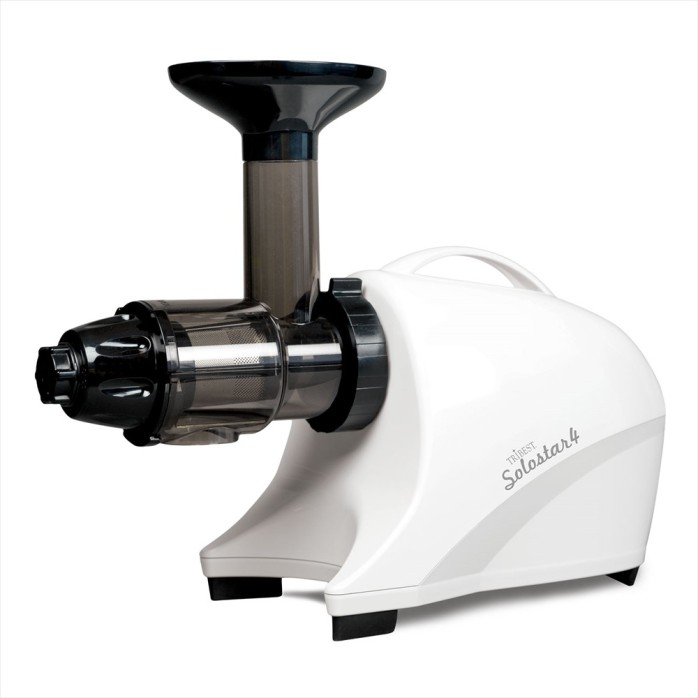 Whether you're 1) a diehard believer in the power of green juice, 2) looking for an effective way to up your micronutrient content, or 3) simply giving this post a once-over because a good giveaway gets your blood pumping, lend me a moment of your time, and I'll offer you some juicing truth and wisdom.
I purchased my first juicer, a centrifugal juicer, in December of 2013 partially out of curiosity after watching Fat Sick and Nearly Dead but mostly because I noticed a subtle yet observable difference in myself, inside and out, when I regularly drank green juice. And because regularly purchasing swanky bottles of cold-pressed green juice is one of the more efficient ways to bust a bank account, I figured investing in a juicer would save me money in the long run. And I was right. It absolutely did save me money and despite my premonitions that it would sit lonely in a corner collecting dust, I actually used it regularly (pats back).
BUT although my centrifugal juicer expels juice in a speedy fashion and was less expensive than other types of juicers, I have to run the pulp through up to five times to extract a decent amount of juice. If you want to see a funny sight, stop by my kitchen during my fifth round of juicing juice pulp through a whirling centrifugal juicer -- the stuff is on our cabinets, in my hair, and splattered across the floor by round three, but things get especially hairy pulpy by round five. Plus, the thing just flat-out refuses to juice kale. Instead, it chops it into tiny bits, offering a single drop of juice per every 3+ stalks.
Thus, when I was offered the chance to try the Tribest Solostar 4 Juicer, SS-4200-B, Horizontal Slow Masticating Juicer (I don't recommend saying that 10 times fast, but I do recommend you continue reading), I jumped at the opportunity. Having solely used my good ol' centrifugal juicer in the past, I had always been curious about other types of juicers. Plus, I was determined to solve the longstanding mystery of whether or not a juicer can juice kale or simply transform it into kale-fetti.
Well let me tell you, if there was such a thing as love at first juice, the Solostar 4 had me at hello. When I flicked the power button, it let out a soft purr which actually alarmed me at first because I'd grown accustomed to the disorienting, copter-like clamor of my other juicer. It was so quiet, I honestly thought it was broken. But as I nudged the first piece of kale through, it delicately yet efficiently transformed that single dark leafy green into a small river of kale juice. At which point I did a little dance.
As I continued to juice, running everything from romaine to green apples to cucumbers to ginger to lemons to cilantro to parsley through this compact but mighty juicer, I became more and more amazed. Not only did it run quietly and juice kale, but it juiced everything more efficiently and gently. By the time I was finished, I easily had 1 ½ to 2 times the juice with about ¼ of the waste that I typically have when running a similar amount of produce through my centrifugal juicer. Plus, the color was a glowing emerald green that was visibly more vibrant than the juice I was used to seeing.
Over the past few months, I'd estimate that I've used the Solostar 4 95% of the time I've juiced, and I love it. The only minor drawback between masticating juicers and centrifugal juicers is that fruit/veggies need to be cut smaller to fit through the opening. However, I find that the additional chopping time for a masticating juicer is less than the time needed to repeatedly run pulp through a centrifugal juicer (not to mention the time needed to clean up the mess).
And because data is always fun, let's checkout the technical details, features, and benefits of the Solostar 4...
* Runs at a slow and gentle 57 RPM to preserve more nutrients and enzymes. Plus, it's the slowest and gentlest horizontal single auger juicer on the market.
* Efficient motor drive produces 20% more torque using 10% less electricity than other single auger juicers. More torque means less jamming and less electricity means savings on your electric bill.
* Sleek, modern design that takes up less space on your kitchen countertop.
* The Dual-Stage Extraction Process crushes and presses produce for maximum juice yields.
* Compatible with the Zstar Manual Conversion Kit for when you need to juice on-the-go.
* The Ultem auger is 8x stronger than other types of plastic, which allows for an aggressive auger design that makes it easy to feed your produce into the juicer.
* All food contact parts are made from BPA- and BPS-free materials.
* Detachable Power Cord for easy storage.
* 15 Year Warranty
Tribest Solostar 4 Juicer Giveaway (Approximate value of $430)
One winner will receive the Solostar 4 Juicer (approximate value of $430). For a chance to win, simply enter the giveaway using the Rafflecopter widget below and comment on this post between January 27th and February 10th. Please note: this giveaway is open to US residents only.
Disclosure: This is not a sponsored post; however, Tribest generously offered me a Solostar 4 for review purposes.