Do you love blueberry pancakes but despise the tedious (and steamy) pour-and-flip pancake tango? Well, then this vegan and gluten-free giant blueberry skillet pancake has your name on it. In this simplified pancake recipe, you'll prepare the batter, pour it into a cast iron skillet, and bake until fluffy and golden. That's it. No laboring over the stove = more time to relax or spend with loved ones.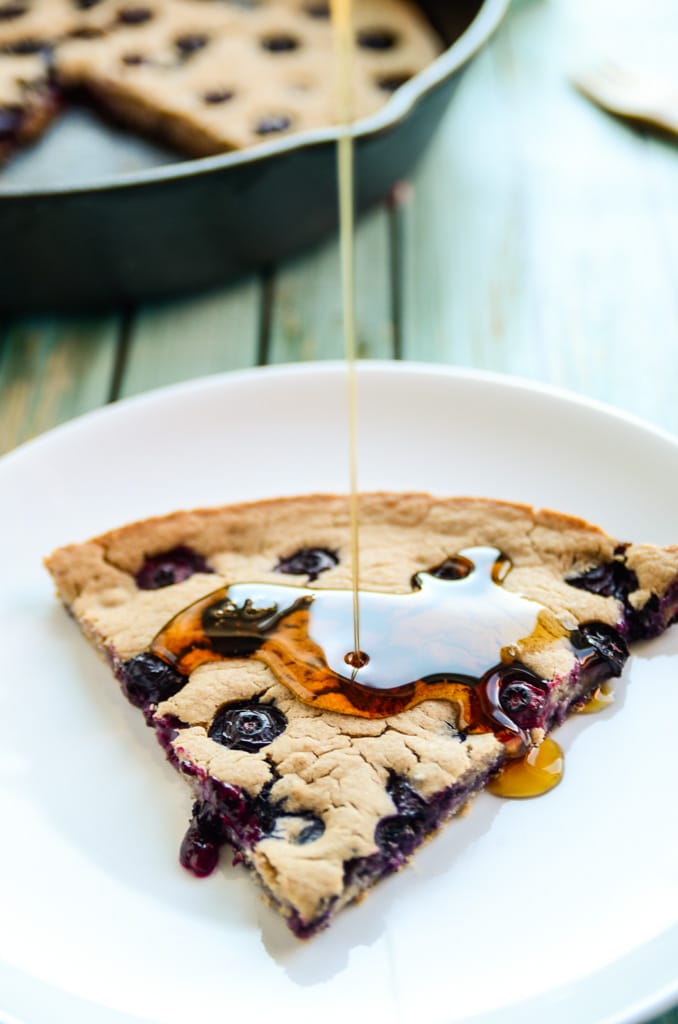 I love pancakes, but I don't make them too often simply because they require quite a bit of time standing over the stove.
Pour.
Wait.
Flip.
Wait.
Repeat.
Pour.
Wait.
Flip.
Wait.
Repeat.
A few weekends ago, Dan and I were both craving sweet blueberry pancakes, so I figured I'd attempt to bake one gigantic pancake in our cast iron skillet in hopes of allowing for more leisurely coffee drinking time and less kitchen time.
Well, this blueberry pancake recipe is easy like Sunday morning and hits the spot when those comfort-food cravings come knocking on your door as the days grow shorter and chilly fall air settles in for the long haul.
In fact, I was so happy with the way it turned out that I remade it later that week so that I could snap some photos and share the recipe with you.
This giant pancake is packed to its golden, skillet-baked edges with fresh blueberries, lightly sweetened thanks to a bit of mashed banana and pure maple syrup, and only requires about five minutes of active kitchen time. Not too shabby, right?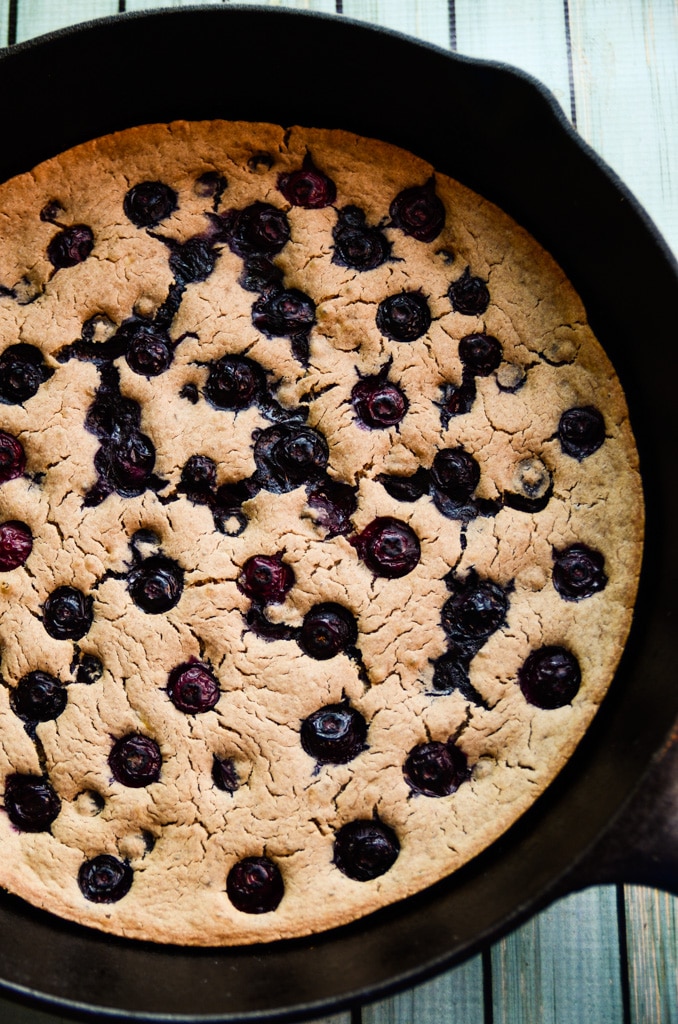 To make this purple-dotted beauty, you'll whisk together oat flour, lite coconut milk, mashed banana, baking powder, vanilla extract, cinnamon, cardamom, and a pinch of sea salt.
Then, you'll fold in a half cup of fresh blueberries and pour the batter into a 12-inch cast iron skillet that has been greased with coconut oil.
After dropping another half cup of blueberries on top of the batter, you'll pop your pan in the oven and bake to pancakey perfection for 25-30 minutes.
Finally, slice your giant pancake into wedges, stack 'em high, and pour on a heavy-handed drizzle of pure maple syrup. The rest is yum-worthy breakfast history.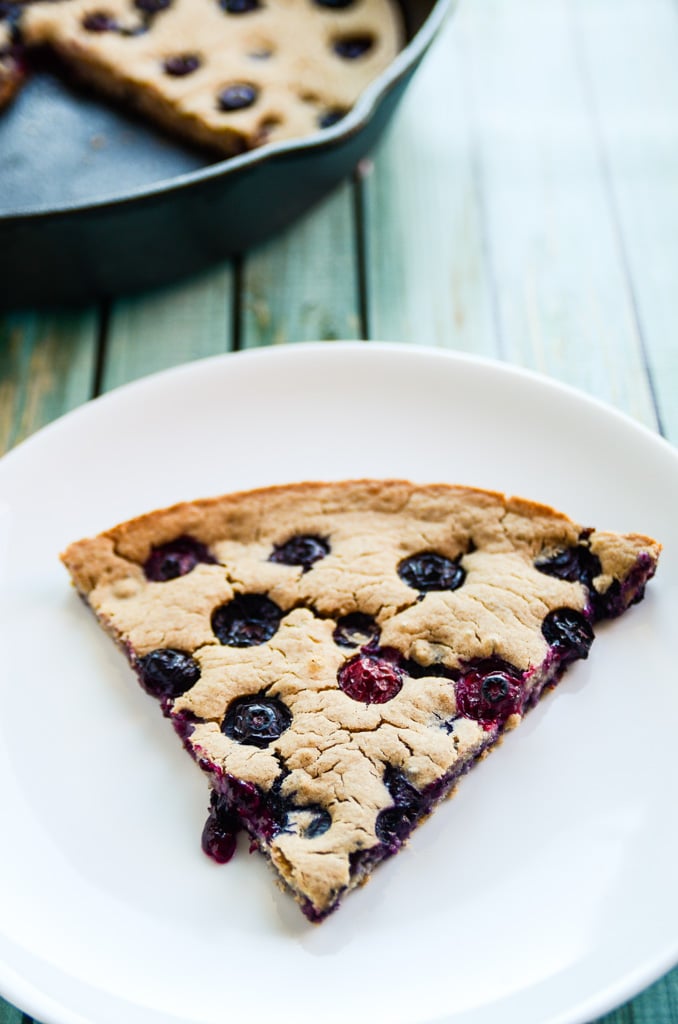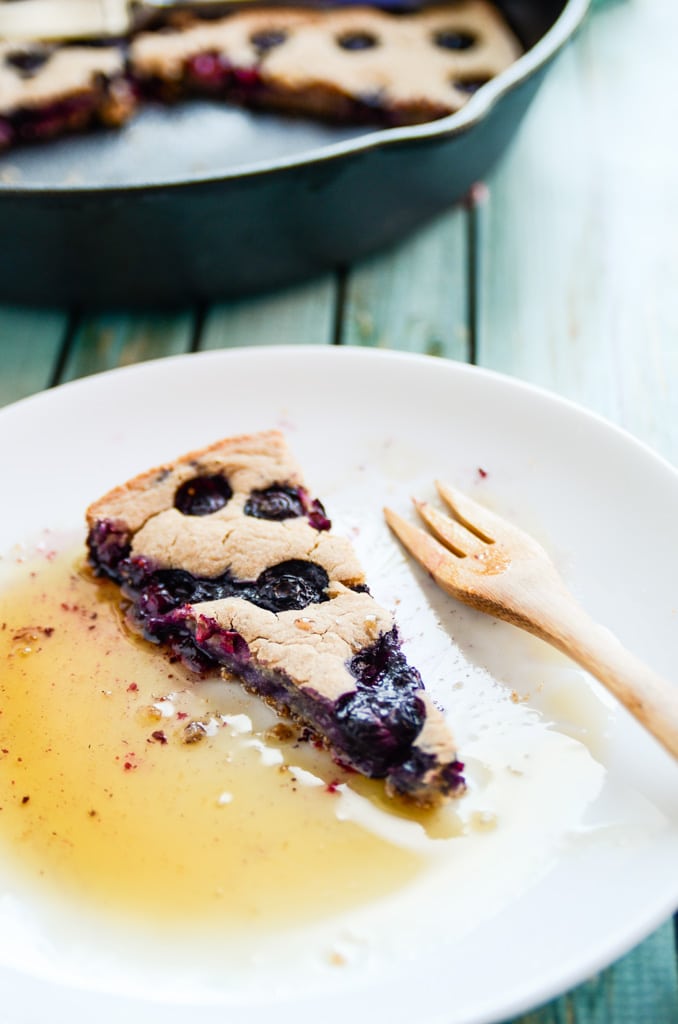 📖 Recipe
Giant Blueberry Skillet Pancake | Vegan & Gluten-Free
A blueberry-packed and giant pancake is baked to perfection in the oven and drenched in pure maple syrup. Breakfast perfection.
Ingredients
1 ¼

cups

gluten-free oat flour*

1 ½

cups

lite coconut milk

¼

cup

mashed ripe banana (about ½ a large banana)

1

tablespoon

pure maple syrup

2

teaspoons

baking powder

1 ½

teaspoons

pure vanilla extract

½

teaspoon

ground cinnamon

⅛

teaspoon

ground cardamom

tiny pinch of fine-grain sea salt

1

cup

fresh blueberries, divided

pure maple syrup for serving
Instructions
Preheat oven to 425F.

Grease a 12-inch cast iron skillet with a bit of coconut oil.

Add the oat flour, coconut milk, mashed banana, pure maple syrup, baking powder, vanilla, cinnamon, cardamom, and sea salt to a large mixing bowl. Whisk together until all ingredients are incorporated. Add in ½ cup of the fresh blueberries and gently fold into the batter.

Pour the batter into the skillet and carefully drop the other ½ cup of fresh blueberries on top of the batter.

Bake the pancake for 25-30 minutes or until the edges are golden brown and the pancake has set. Remove from oven and let cool slightly before slicing.

Slice and serve with pure maple syrup.

Refrigerate leftovers.*
Notes
I like to make this pancake on Sunday and save the leftovers for breakfast during the weekdays. It's delicious straight out of the refrigerator drizzled with maple syrup.
*Do not substitute the oat flour (especially not with coconut flour).