This frosty java-cacao shake shake is cool, chocolaty, and packs a rich punch of java.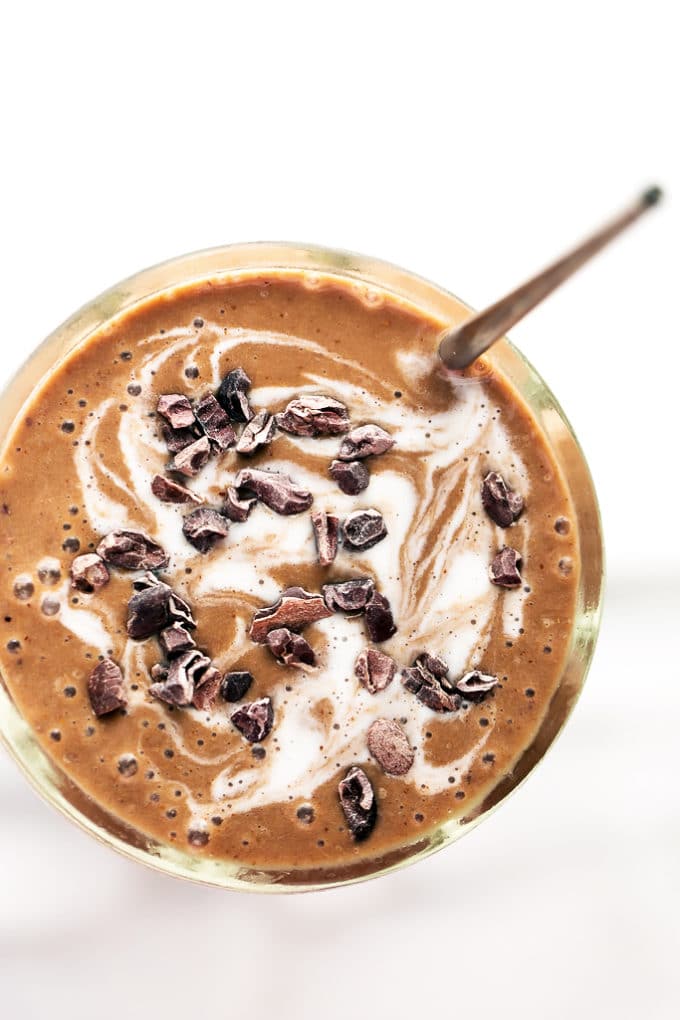 Disclosure: This is a sponsored post written by me on behalf of  O Organics® as part of the #OrganicforAll™ campaign with the Healthy Aperture Blogger Network. All opinions are my own.
For well over a year, I gave up coffee and exclusively stuck to tea. But one day last spring, as I faced a flurry of cookbook edits with an exhausted mind, tea just wasn't cutting it. Sometimes there's no substitute for a hot cup 'o' jo (and/or work-life balance). That said, there is nothing I love more in the morning than a warm cup of chai tea, so when I hopped back on the java train, I was 99% certain it would be a one-day adventure.
Apparently, I underestimated my former love for coffee, because over the last handful of months, I've welcomed it back into my morning routine. Most weeks I go halfsies, splitting my mornings between either tea or coffee, but occasionally I'll just brew the two together. Seriously.
Dan, having become a bit of a coffee snob in recent years, about spit out his perfectly brewed french press coffee when he saw me combining the two the other day. A little of this, a little of that...
What can I say, all's well that ends well. Besides, most of the time I'd like to think I'm pretty good at combining ingredients. Case in point: this Frosty Java-Cacao Shake . . .
Trust me when I say that it tastes even dreamier than it looks.
To make it, you'll start by brewing one "cup" (i.e., 6 ounces) of O Organics® Dark French Roast Ground Coffee. Then, chill it in the freezer for 15 minutes, or until cold.
Once the coffee is cold, you'll add it to a blender along with a frozen banana, a handful of ice cubes, a splash of coconut milk, a few medjool dates (to sweeten), a generous spoonful of raw cacao powder, a small dollop of almond butter, and a pinch of sea salt.
Then, you'll blend on high for just a minute. Once the mixture is smooth and creamy, you'll add a tablespoon of raw cacao nibs and blend briefly to thoroughly chop and disperse them throughout the shake.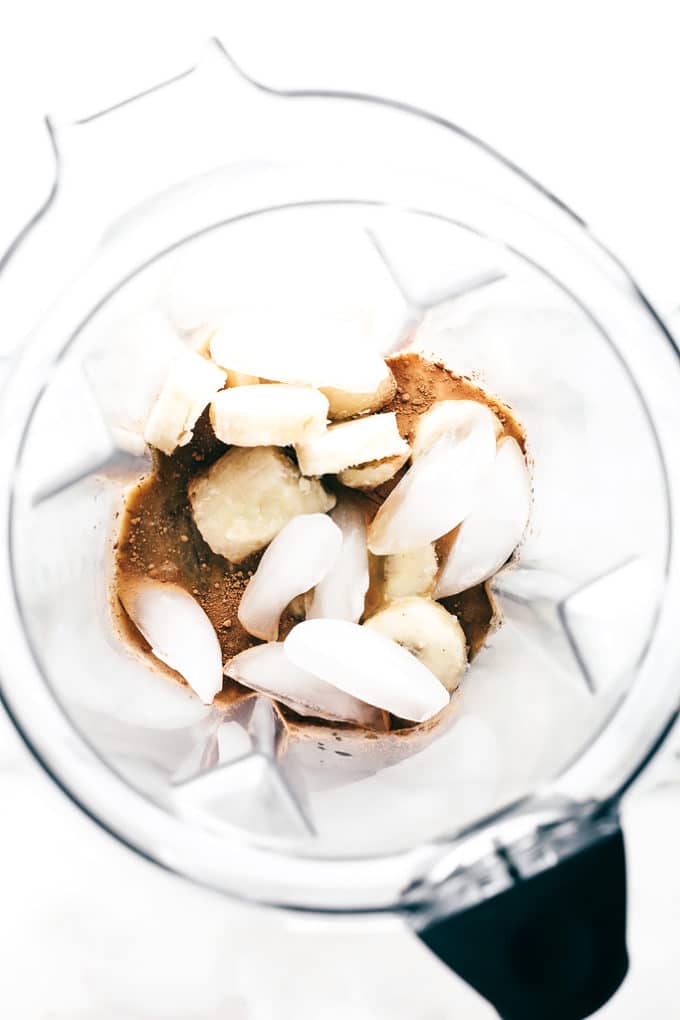 Then, pour all of that frosty, java-kissed goodness into a glass, sink a straw in it, and sip away.
This shake is sweet enough for dessert but also breakfast appropriate. That O Organics Dark French Roast Coffee weaves warm, toasted notes throughout, offering a satisfying punch of flavor as well as a smooth kick of energy. The coconut milk and almond butter add an irresistible decadence. The coffee pairs perfectly with the double dose of chocolate provided by the cacao powder and cacao nibs.
Coffee + Chocolate + Coconut Milk + Almond Butter = Morning Time LOVE. I'm sure of it.
📖 Recipe
Frosty Java-Cacao Shake
This shake is cool, chocolaty, and packs a rich punch of java thanks to
O Organics'
Dark French Roast Ground Coffee.
O Organics
is available exclusively at
Jewel-Osco
stores in the greater Chicago area. Having recently added more than 100 new items, the
O Organics
line now includes more than 300 items for every occasion—from fresh fruits and vegetables, to cereals, snacks, and more.
O Organics
®, the top-selling organic brand, makes it easy to incorporate organic items into everyday meals.
Servings
1
(16-ounce) shake or 2 (8-ounce) shakes
Ingredients
1

large ripe and speckled banana, peeled, sliced, and frozen

¾

cup

(6 fluid ounces) brewed and chilled O Organics Dark Roast French Roast Coffee*

½

cup

to 1 ice cubes, to taste (to cool)

¼

cup

full-fat canned coconut milk, can shaken before measuring

3

pitted medjool dates, more or less to taste**

1

tablespoon

raw cacao powder

½

tablespoon

natural almond butter

⅛

teaspoon

sea salt

1

tablespoon

cacao nibs
Instructions
In a high-speed blender, combine the frozen banana, chilled coffee, ice, coconut milk, dates, cacao powder, almond butter, and sea salt (if using).

Blend on high until smooth.

Then, add in the cacao nibs and pulse a few times or blend for a quick 5 to 10 seconds to chop them into the shake. You want them to be thoroughly chopped but not completely pulverized.

Pour into a glass and serve immediately.
Notes
*Brew 1 cup of coffee according to package instructions (i.e., 1 tablespoon of ground O Organics Dark Roast French Roast Coffee and 6 ounces of water), and chill it in the refrigerator or freezer until cold.
**If your dates are firm, as opposed to soft and sticky, soak them in hot water for 30 minutes before blending.