This french lentil, fennel + cabbage detox salad is renewing, rejuvenating, and energizing.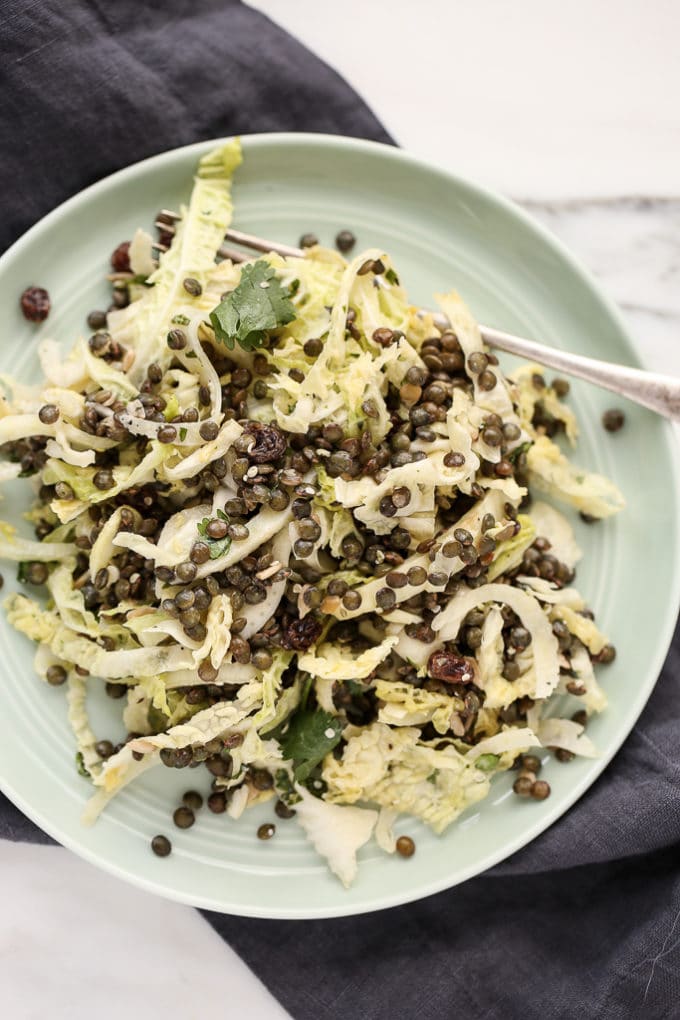 I'm coming down from a long and lovely weekend with my sister-in-law, brother-in-law, and precious little niece. The three of them made the trek to Chicago from PA, and we spent Thursday thru Sunday adventuring through a sun-kissed Chicago. It was exactly the kind of weekend that proves that the summertime version of this city is indeed worth the long wait through the wintertime version. From bowling to dinners to a baseball game and back again, we happily meandered through each moment we had together. Today, our place feels extra quiet -- almost too quiet -- and I'm missing the pitter-patter of our niece's little feet running up and down our hallway.
After reaching a point of burnout in mid-June, I've been making downtime and rest a priority over the last 6 weeks. When we were on vacation in Colorado, I vacationed. When we've had guests in town like this past weekend, I've stayed in the moment rather than chipping away at work at odd hours or scrolling through social media while chatting over breakfast. It's amazing what regular relaxation does for the body, heart, and mind.
I have a sort of fear about unplugging, and I know I'm not alone in this experience. I worry about what I'm going to miss and think that some of you might feel as if I'm not engaged enough. There's also that competitive edge that occasionally creeps in and starts comparing.
But that person doesn't seem to need a break, why do I? I am my own person with my own delicate balance.
 What if I'm not doing enough? I do enough. I am enough. I've always been enough.
I should work as hard as him or her. Nope. I will work as hard as feels right for me in this moment and relax as much as needed.
But I am a better, more centered person when there is balance between work, rest, and play in my life. We all are. And we have so much more to offer to others when we take care of ourselves first. It seems counterintuitive, but sometimes the acts that seem a tiny bit selfish in the moment actually allow us to sustain our selflessness. If you think back to your most recent flight, do you remember what the flight attendant reminded you to do? Put your oxygen mask on first before helping others. If you didn't help yourself first, you'd be too exhausted and depleted to help others.
When we're feeling depleted and lacking inspiration, it's easy to pin the blame on something else because it can be hard to slow down. It can even be a bit scary. I actually noticed myself starting to become anxious when I would first unplug. A major case of FOMO coupled with the reality of spending time with a worn out version of myself was actually anxiety-producing at first.
However, now that I've reacquainted myself with this whole relaxation thing, I've been sliding into the groove without hesitation. And let me tell you, it feels good. Two movies on a Sunday? Yes, please. Brunch? Of course. Lounging around with a book for a few hours? Hellooo, couch. With the hustle and bustle of a world that's bursting with technology and the latest and greatest, there's a looming sense of urgency to keep up. But keeping up isn't necessary, relaxation is, and I'd go so far as to say it's a cornerstone in our well-being.
If you've found yourself caught in a constant game of keep-up, give yourself permission to slow down a few times this week. Shut your phone off, close your laptop, and nestle into your favorite form of relaxation. The world doesn't need you to move faster; it needs you to slow down, breathe, and refresh so that you can harness your unique goodness and share it upon your return.
Whew. Who knew a little detox salad would have such a lengthy, unrelated intro? I certainly didn't, haha. Let's have a better look...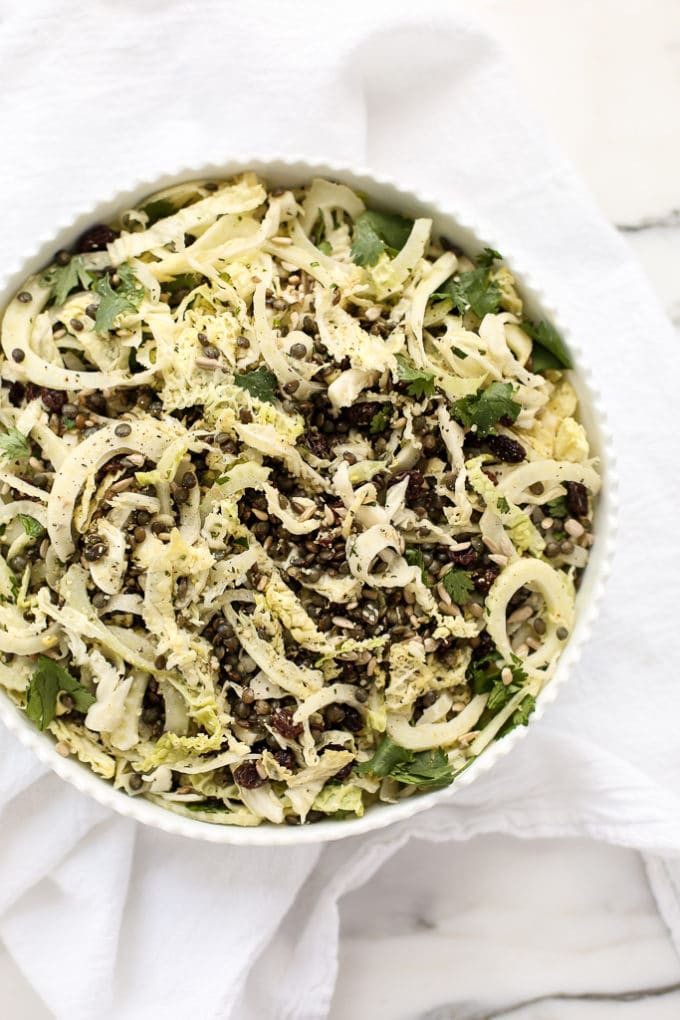 Just like a weekend of relaxation, this salad offers a renewed sense of energy. It's packed with detoxifying ingredients, including:
Fennel | Rich in vitamin c, potassium, and fiber. Fennel soothes digestion and has antimicrobial properties.
French Lentils | Packed with fiber, protein, and minerals. French lentils are a blood-sugar-stabilizing and heart-healthy energy source.
Cabbage | Bursting with vitamin k, vitamin c, and manganese. Cabbage is cholesterol-lowering, digestion-friendly vegetable.
The dressing is oil-free, yet creamy and calcium-rich thanks to tahini. Plus, it's packed with cilantro and apple cider vinegar, which are known for their cleansing properties within the body. Originally, I made this salad with half the amount of dressing but found it wasn't enough to coat the entire salad, so I ended up doubling it. If you prefer a lighter, more straightforward detox salad, you can half the dressing recipe or make the full amount and add as much as desired.
The crunch of the fennel and cabbage is balanced by the tender, peppery bite from the lentils. Hemp seeds and sunflower seeds offer a rich (nut-free) nuttiness while raisins (or goji berries/dried cranberries) weave a playful sweetness throughout. Because this salad is both fiber- and protein-rich, it's a bit more filling than some of the other detox salad recipes I've shared in the past. Just one serving (⅙th of the recipe) offers 10 grams of dietary fiber, 15 grams of protein, 23% daily value of Potassium, 49% daily value of vitamin c, 22% daily value of iron, and 9% daily value of calcium. Pretty impressive, right? Plants are powerful.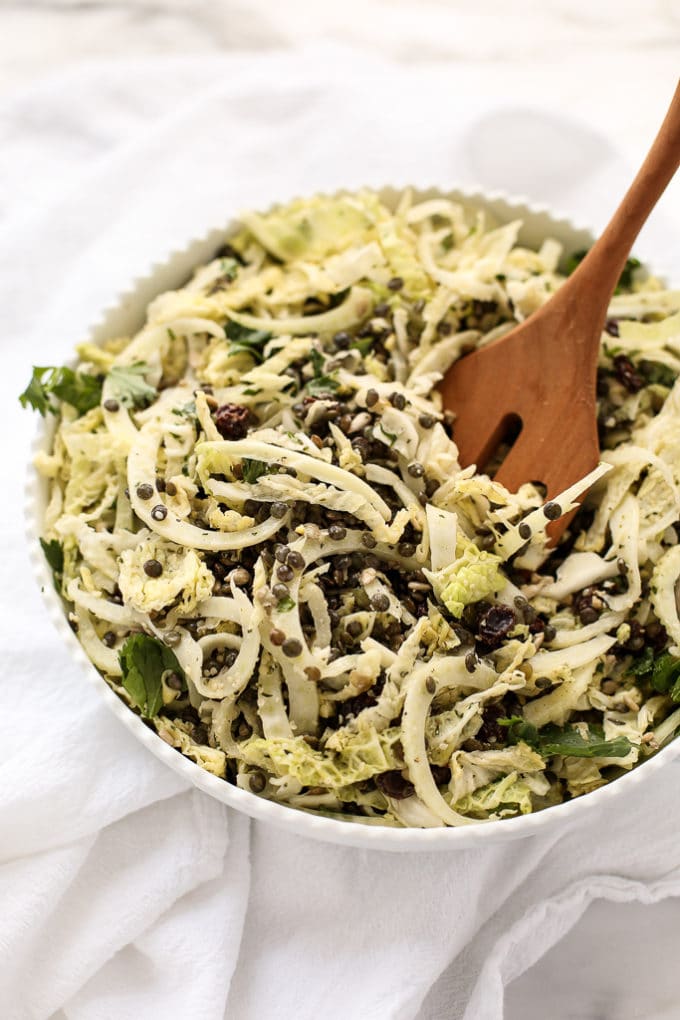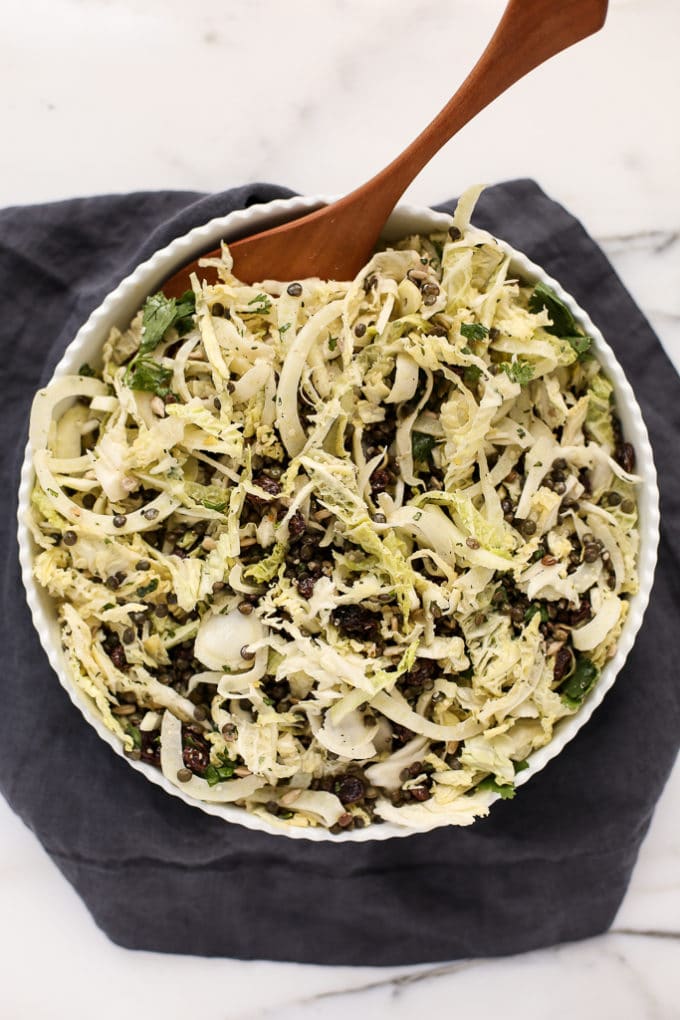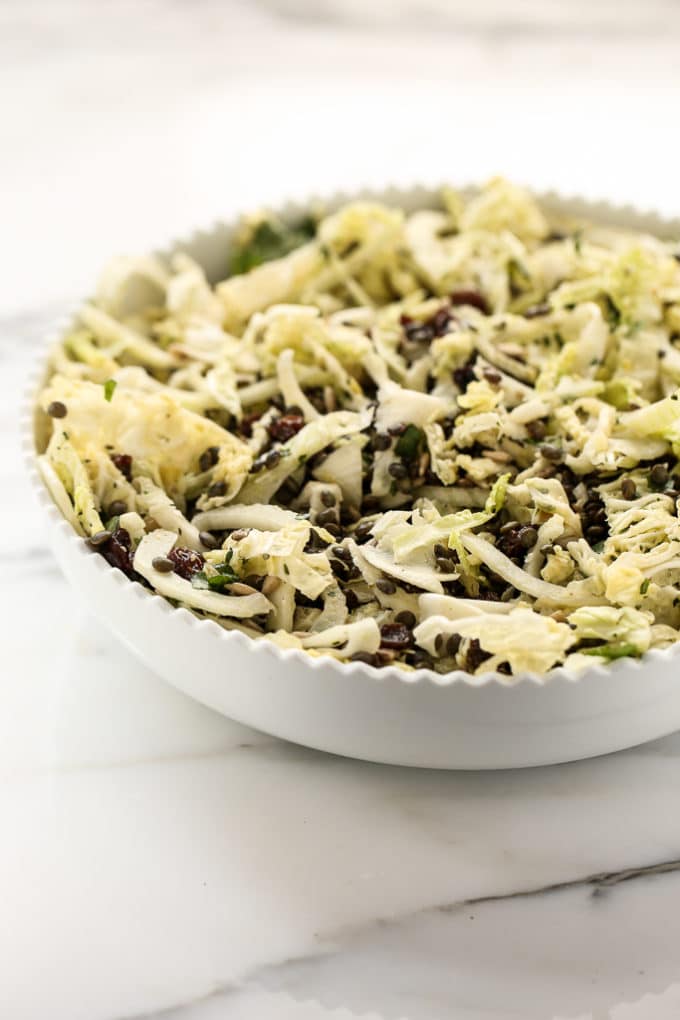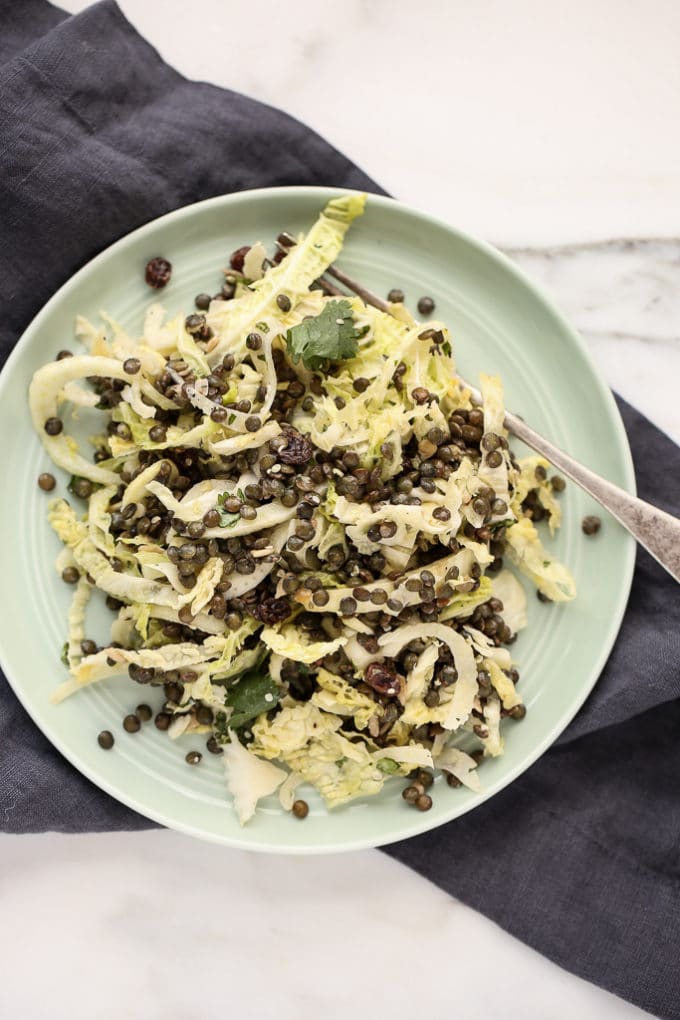 📖 Recipe
French Lentil, Fennel + Cabbage Detox Salad
This french lentil, fennel + cabbage detox salad is renewing, rejuvenating, and energizing. Packed with protein-packed lentils, detoxifying fennel and cabbage, and calcium-laden tahini, it packs a big nutritional bang for its ultra-flavorful buck.
Ingredients
Salad
1

cup

french lentils, thoroughly rinsed

2

cups

water

1

large fennel bulb, ends trimmed and and very thinly sliced

1

small head of savoy or green cabbage, thinly sliced or shredded (about 6 cups)

½

cup

unsweetened seedless raisins, dried cranberries, or goji berries

2

tablespoons

to ¼ cup raw sunflower seeds

2

tablespoons

shelled hemp seeds
For the Tahini-Cilantro Dressing (double the amount for post)
½

cup

chopped fresh cilantro

¼

cup

plus 2 tablespoons runny tahini

¼

cup

filtered water

¼

cup

apple cider vinegar

2

tablespoons

fresh lime juice

2

teaspoons

pure maple syrup

½

teaspoon

pink Himalayan sea salt

black pepper

, to taste
Optional Garnishes
cilantro leaves

lime wedges

, for spritzing fresh lime juice over the salad when served
Instructions
In a medium saucepan, combine the lentils and water over medium-high heat. Bring to a rapid simmer, reduce heat, and simmer uncovered for 20 to 25 minutes or until tender but not mushy. If needed, add in more water to ensure that the lentils are slightly covered by the water throughout cooking. Once the lentils have finished cooking, strain off any excess water, and let cool slightly.

Meanwhile, chop the veggies and make the dressing. Once the veggies are chopped, add them to a large serving bowl along with the raisins. To Make the Tahini-Cilantro Dressing: In a small mixing bowl, whisk together the cilantro, tahini, water, apple cider vinegar, lime juice, maple syrup, pink sea salt, and black pepper.

Once the lentils have cooled a bit, add them to the serving bowl.

Pour the dressing over the salad, toss to coat, sprinkle with the seeds, and serve. Refrigerate leftovers.
Nutrition
Serving:
1
g
|
Calories:
312
kcal
|
Carbohydrates:
40
g
|
Protein:
15
g
|
Fat:
11
g
|
Fiber:
10
g
|
Sugar:
15
g