These vegan five ingredient chocolate-covered ice cream bars ice cream bars are downright delicious. A sweet vanilla ice cream center is made with a simple combination of coconut cream, maple syrup, and fresh vanilla bean seeds. That's it. It gets poured into molds, frozen, and then dipped in a rich chocolate coating made with raw cacao powder, coconut oil, and pure maple syrup. Biting into these sweet ice cream bars leads to a satisfying crunch from the chocolate shell that gives way to a silky smooth vanilla ice creamy layer. Here's to sloppy bites and chocolate-covered hands.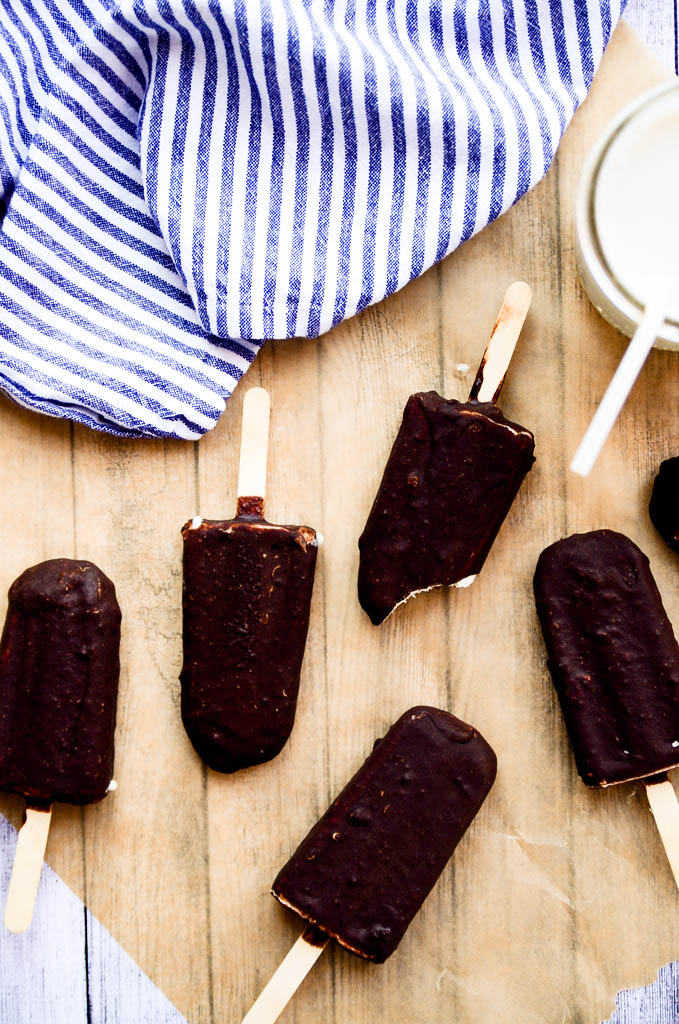 Happy Memorial Day! I hope you're all surrounded by friends and family to honor this special holiday.
Chicago was graced with some amazing weather these past few days, so I'm feeling energized and slightly rosy-cheeked after spending yesterday on our deck with this in my hand and this on my plate. Speaking of, I'm actually writing this post outside with the birds chirping and the lush green trees peeking out over the city rooftops, and it feels so good.
I'm looking forward to many more outdoor blogging sessions this summer when I'll be able to dedicate 100% of my work week to Blissful Basil. The last two summers, I've taken on extra evaluation cases at work to keep myself busy; however, this summer I decided to focus solely on the blog. I'm grateful to be in a position where I can dedicate a solid 2+ months to building up content, interacting with all of you (my absolute favorite part), and investigating new paths and plans. Thank you from the very bottom of my heart for reading, sharing, and being supportive of this journey. It means so much to me.
Back to your regularly scheduled programming...
All of the food photography books and tutorials I've read say that your photos should tell a story. I'm not sure that I went the most optimal route, but these photos certainly tell a story: I was hungry. As I started paging through the photos to edit them, I realized it was like a flip book of a disappearing ice cream bar. I started off with dainty, "creative" bites to showcase the vanilla ice cream tucked away under the chocolate shell, but halfway through those artsy bites turned into big, sloppy bites. So sloppy that I had to can a handful of photos where I was holding one of the ice cream bars up because I had smears of chocolate adorning my thumb.
These ice cream bars are plant-based and so delicious. The vanilla ice cream center is made with coconut cream, maple syrup, and fresh vanilla bean seeds. That's it. Just three ingredients makes a flavorful and silky ice cream. As you pour the mixture into your popsicle molds, I highly recommend reserving a little bit of it to enjoy in its pre-frozen state. It's so sweet and creamy!
The ice cream center is frozen and then coated in a mixture of raw cacao, coconut oil, and maple syrup. The shell hardens up almost immediately upon touching the ice cream bars, so you don't have to worry about letting the coating set during yet another round of freezing. Biting into the bars gives way to a satisfying crunch from the chocolate shell, and then that simple vanilla ice cream works its magic. Here's to sloppy bites and chocolate-covered hands.
Note | This recipe is dedicated to my incredibly thoughtful, ridiculously intelligent, and super hilarious brother, Brad. He's recently embarked on a healthy lifestyle journey, and his passion for it is so inspiring. He's the most humble person I know, and his knack for seeing the sweeter side in every situation is infectious.
📖 Recipe
Chocolate-Covered Ice Cream Bars | Vegan, Paleo, Gluten-Free
Coconut cream is whipped with maple syrup and vanilla to create an ultra-creamy ice cream base. The mixture is poured into molds, frozen, and coated in a rich dark chocolate shell. The perfect summer treat.
Ingredients
For the Ice Cream Bars
1 ¾

cups

coconut cream (about two cans without the water*)

¼

cup

pure maple syrup

1

vanilla bean, seeds scraped
For the Chocolate Shell
½

cup

coconut oil

½

cup

raw cacao or cocoa powder

⅓-1/2

cup

pure maple syrup, depending on desired sweetness
Instructions
For the Ice Cream Bars
Add the coconut cream, maple syrup, and vanilla bean seeds to a food processor. Process for 1 minute. Transfer the mixture to a small pitcher or mixing cup with a spout. Pour the vanilla mixture into popsicle molds. It should make about six bars depending on the size of your mold.

Freeze for at least 8 hours.
For the Chocolate Shell
Add coconut oil to a dish and microwave for 20 seconds to melt. Add in the cacao and ⅓ to ½ cup maple syrup and whisk together until completely smooth. Transfer the mixture to a shallow dish to make for easier coating.

Prepare a small baking sheet by lining it with parchment paper.

Remove the ice cream bars from the mold and coat them in the chocolate mixture one at a time. Place on baking sheet. Repeat with each bar.

Enjoy and return any remaining bars to the freezer.

You will likely have extra chocolate coating. I like to pour the extra into an airtight plastic container and pop it in the freezer. In a few hours you'll have a delicious chocolate bar.
Notes
*You'll want to scrape the coconut cream off the top of each can and measure only that portion. Do not include the water that sits at the bottom of the can in your measurements.