Peanut Butter Cookie Dough Bark | Vegan + Gluten Free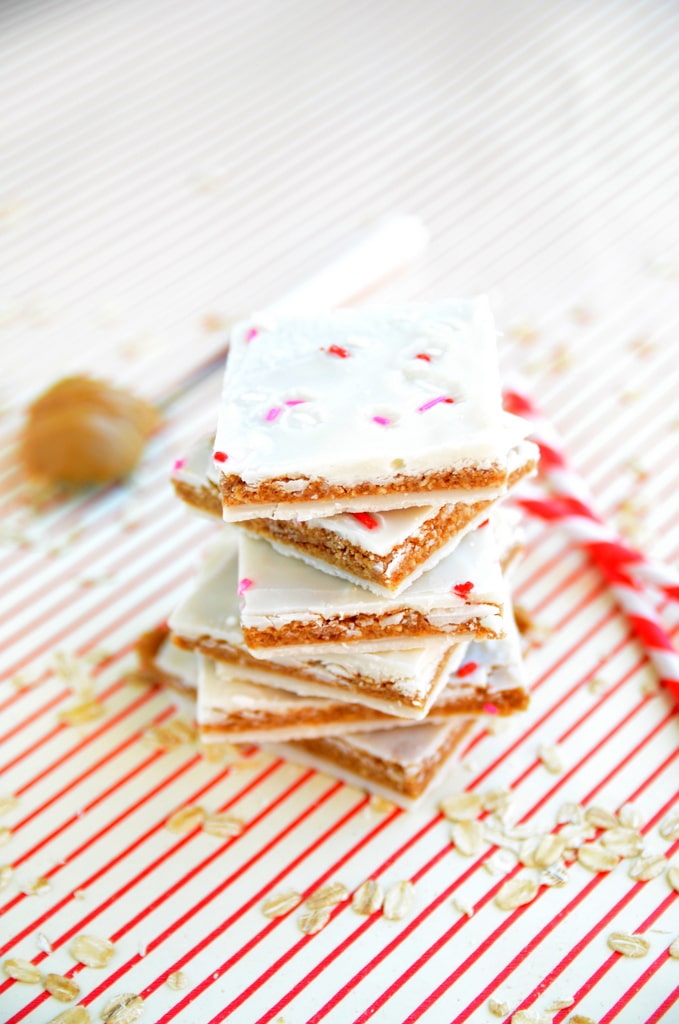 2 tablespoons coconut oil
1/2 cup creamy peanut butter
1/2 cup brown sugar
2 teaspoons vanilla extract
1/8 teaspoon salt
1 cup oat flour
1 1/2 cups coconut butter (this is different than coconut oil)
Optional: vegan sprinkles
In a large mixing bowl, cream together the coconut oil, peanut butter, and brown sugar with a hand mixer. Add in the vanilla extract and salt and beat for another 20 seconds. Slowly beat in the oat flour until just incorporated and set aside.
Melt the coconut butter by placing it in a bowl in the oven and preheating the oven to 350 degrees for 5-7 minutes (watch it carefully because coconut butter burns quickly) OR melt over a double boiler.
Line a 9x13 jelly roll pan with foil. Pour 3/4 cup of coconut butter onto the foil and spread evenly with a spatula. Pop the pan into the freezer for 5 minutes to set the coconut butter.
Next, carefully spread the peanut butter cookie dough across the layer of set coconut butter. It's easiest to smooth it out using a butter knife or your fingers. Be patient with this step as it will take a few minutes to get the dough evenly spread across the pan.
Pour the remainder (3/4 cup) of the melted coconut butter on top of the cookie dough and spread across with a spatula until it is as smooth as possible. Top with sprinkles if desired.
Pop the pan back in the freezer for 10 minutes to set.
Remove from freezer, peel bark from foil, and use a large, sharp knife to cut the bark into squares. Enjoy!
Refrigerate leftovers in an airtight container.
Recipe by
Blissful Basil
at https://www.blissfulbasil.com/peanut-butter-cookie-dough-bark-vegan-gluten-free/