Vegan Cream of Mushroom Soup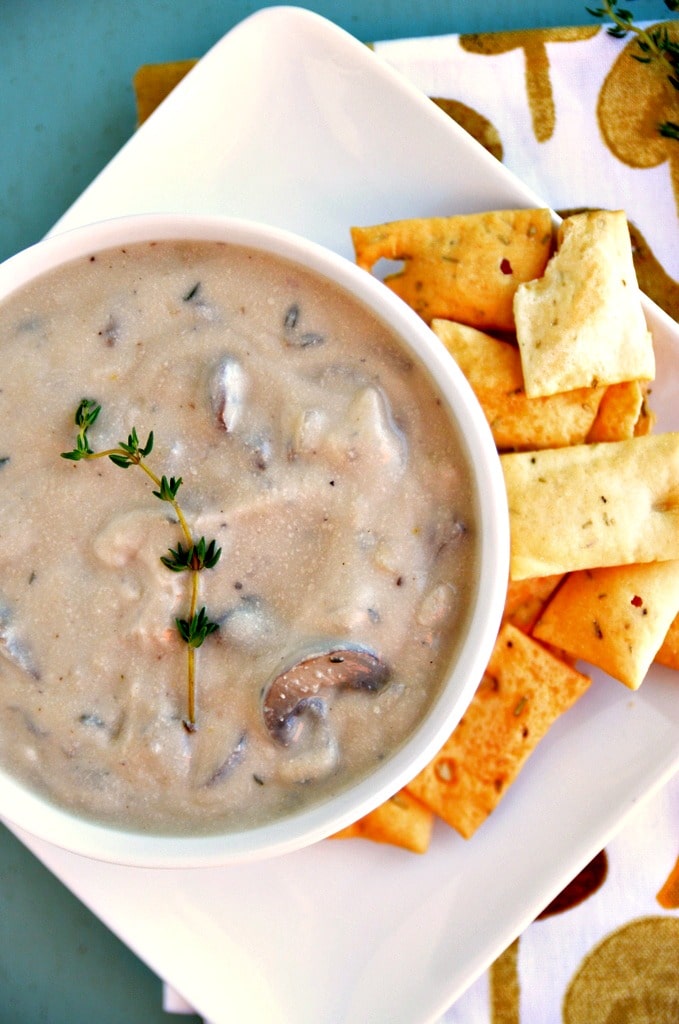 4 cups plain, unsweetened almond milk
1 medium head of cauliflower, chopped
2/3 cup raw cashews
1 tablespoon olive oil
2 garlic cloves, minced
1 medium yellow onion, finely diced
20 ounces baby bella mushrooms, sliced
1/2 teaspoon garlic powder
1 tablespoon chopped fresh thyme
2/3 cup dry white wine
2 teaspoons sea salt (more or less, to taste)
1/2 teaspoon black pepper (more or less, to taste)
In a large stock pot, heat almond milk, cauliflower, and cashews over medium-high heat. Cover and cook for 20 minutes, stirring every few minutes.
In another stock pot, cook garlic and onion in 1 tablespoon of olive oil over medium heat until tender.
Add in sliced mushrooms, garlic powder, thyme, and white wine. Cook until mushrooms are tender and alcohol has cooked off of wine (approximately 5 minutes).
Once the almond milk mixture has finished cooking, pour it into a blender (you may need to do this in batches depending on the size of your blender). Being careful to hold down the top of the blender firmly so hot liquid isn't released, turn the blender on high and blend for 1-2 minutes or until mixture is completely smooth.
Add the blended almond milk mixture to the stock pot with the mushrooms and whisk. Add in salt and pepper, to taste. Reduce heat to low and simmer for 15 minutes to allow flavors to meld.
Serve and refrigerate leftovers.
Recipe by
Blissful Basil
at https://www.blissfulbasil.com/vegan-cream-of-mushroom-soup/