Calvin's Cookie Butter Bars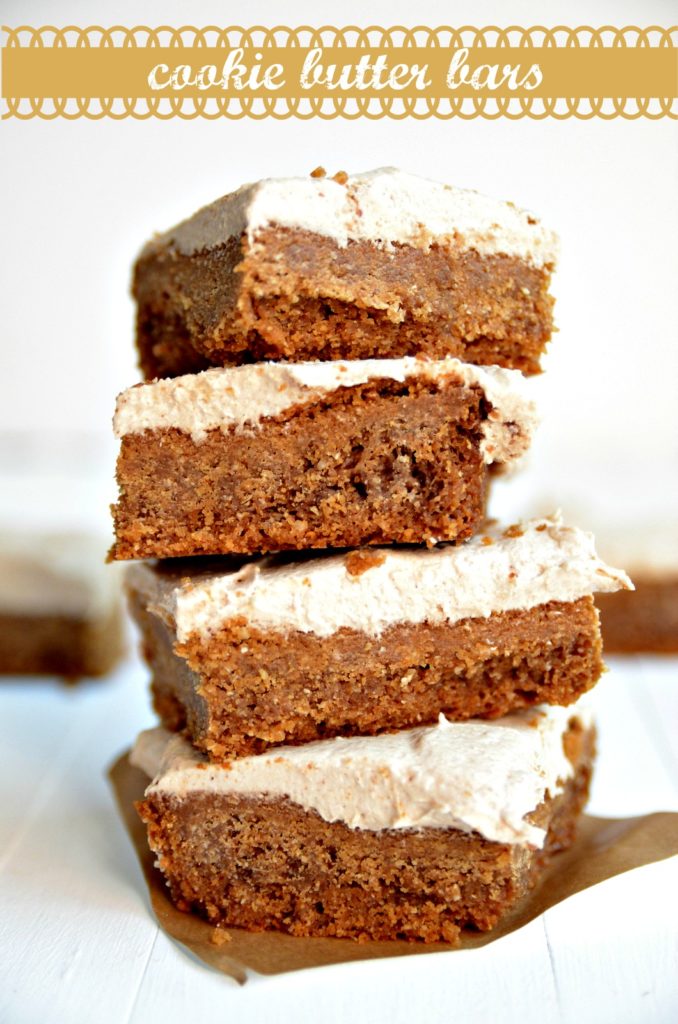 3/4 cup cookie butter (I used Trader Joe's brand)
1/4 cup unrefined coconut oil, at room temperature
1 cup brown sugar
1 tablespoon vanilla extract
2/3 cup oat flour
1/8 teaspoon salt
1/2 teaspoon baking soda
1/2 cup buttery spread (I used Earth Balance)
1 1/2 cups powdered sugar
1 1/2 teaspoons vanilla extract
1 teaspoon cinnamon
Preheat oven to 350 degrees fahrenheit.
Cream together cookie butter, coconut oil, and brown sugar for 1 minute. Add in vanilla extract and beat for another 30 seconds.
Sift dry ingredients together in a separate bowl (oat flour, salt, baking soda).
Slowly pour the dry ingredients into the wet and beat together until just incorporated.
Press the dough into a well-greased 8x8 baking pan.
Bake for 13-15 minutes. Let cool completely.
While the bars bake, beat together the buttery spread, powdered sugar, vanilla extract, and cinnamon for 1-2 minutes or until light and fluffy.
Over turn the bar pan onto a cooling rack and frost with buttercream.
Slice into bars and enjoy!
Store at room temperature.
Recipe by
Blissful Basil
at https://www.blissfulbasil.com/calvins-cookie-butter-bars/