Supremely Sassy Nachos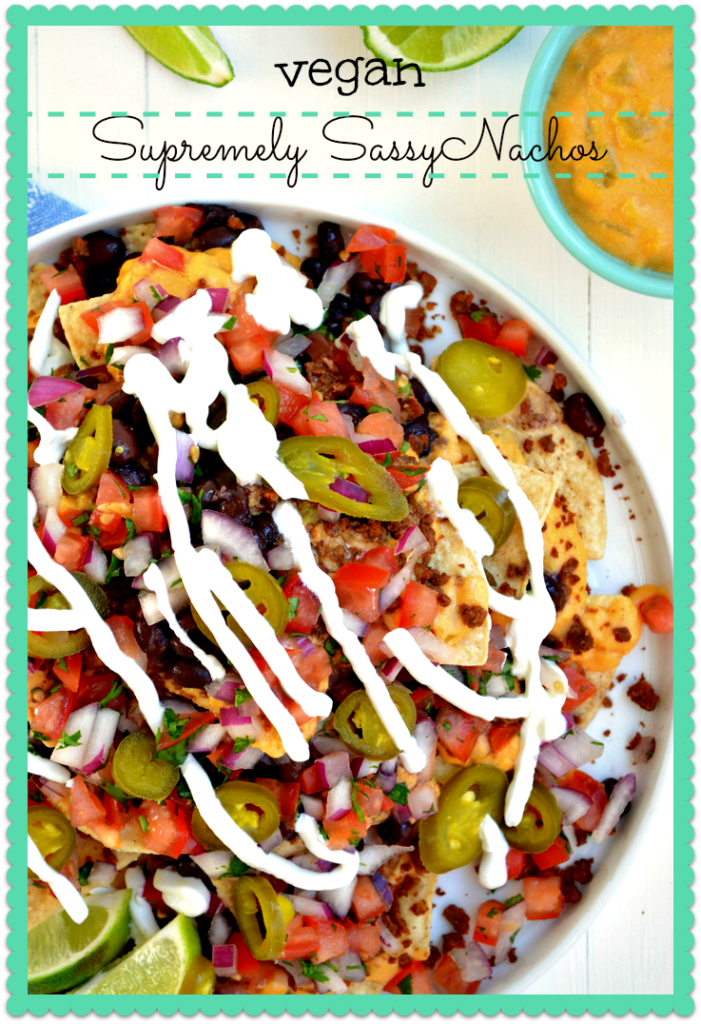 1/4 cup raw cashews
1 1/2 cups cold water
2 tablespoons cornstarch
2 tablespoons nutritional yeast flakes
2 ounces jarred pimientos
1 tablespoon fresh lemon juice
1/2 teaspoon sea salt
1 4-ounce can diced green chilies
1 cup soy veggie crumbles
1 teaspoon cumin
1 teaspoon chili powder
1 teaspoon smoked paprika
3 small vine-ripe tomatoes, diced
1/2 of a medium red onion, finely diced
1/4 cup chopped fresh cilantro
1/2 15-ounce can black beans, drained and rinsed
1/2 avocado, diced
1/4 cup fresh or jarred jalapeno peppers, sliced
1/3 cup vegan sour cream
6 servings tortilla chips of choice
Limes for garnishing, if desired
Begin making the vegan nacho cheese (recipe credit: http://kidtestedfirefighterapproved.com/2012/04/18/real-deal-nacho-cheeze/) by soaking the raw cashews in hot water for 10-15 minutes.
Add the cold water, cornstarch, nutritional yeast, pimientos, lemon juice, and sea salt to a blender and blend for 30 seconds. Add in the soaked cashews and blend an additional 1-2 minutes or until you have a completely smooth liquid.
Pour the "cheese" liquid into a medium sauce pan over medium heat and stir constantly until thickened (about 8-10 minutes). Add in the green chilies, remove from heat or continue to heat on low if you want hot cheese.
Add the veggie crumbles to a large nonstick skillet over medium heat and break up with a spoon. Add in the cumin, chili powder, and smoked paprika and cook for 5-6 minutes. Remove from heat and set aside.
Combine the diced tomatoes, red onion and cilantro in a small bowl. Season with sea salt.
Now you're ready to start the layering! I used a ceramic tart pan the first time I made these and it worked perfectly to catch and beans, tomatoes, and avocados gone wild.
Begin by covering the bottom of your large plate or tart pan with a healthy layering of tortilla chips. Cover the chips in a heavy drizzle of nacho cheese, sprinkle on some veggie crumbles, and drop a layer of black beans over top. Repeat this process three to four times.
Top your mountain of sassy nachos with the pico de gallo, diced avocado, jalapenos, and an artful drizzle of vegan sour cream. Garnish with lime wedges and serve immediately.