Super Protein Star Crunch Bars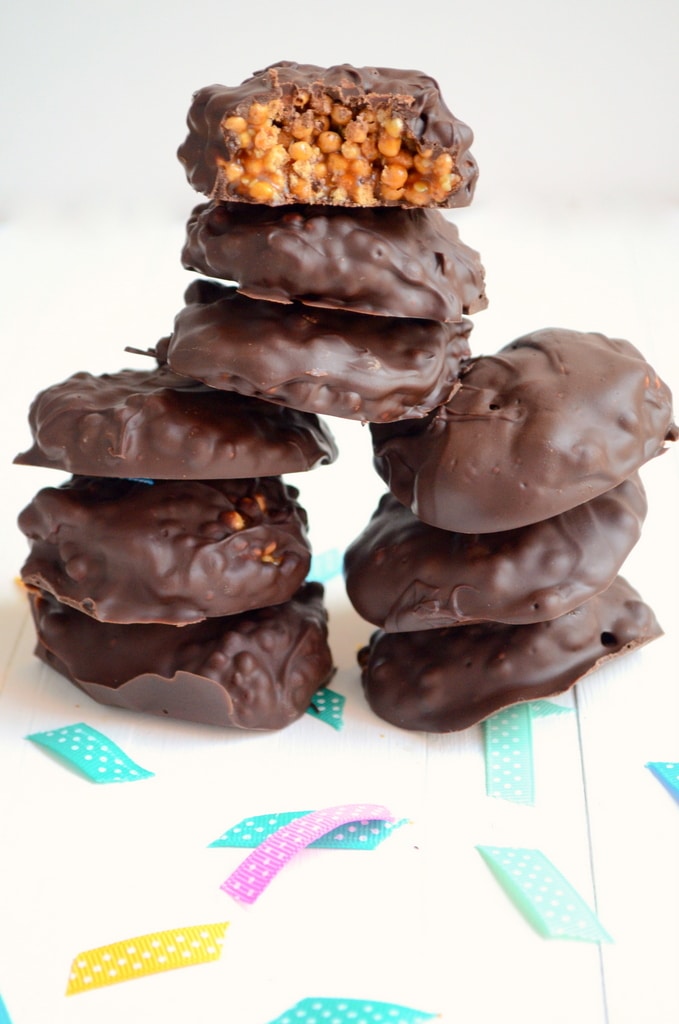 5 ounces thick caramel sauce (I recommend Trader Joe's Fleur de Sel Caramel Sauce and can't vouch for other brands)
1 1/2 cups crunchy flax cereal (I used Enjoy Life's Crunchy Flax from Whole Foods)
1 tablespoon butter
4 tablespoons shelled hemp seeds
12 ounces melted dark chocolate
Heat caramel sauce in a large pot over low heat until melted.
Add in the butter and hemp seeds and stir until incorporated.
Remove from heat and add in the flax cereal and stir until evenly coated with caramel mixture.
Drop spoonfuls of the mixture into a well-greased muffin tin and gently press down to form patties (makes 10 patties). Pop the muffin tin in the refrigerator for 30-45 minutes to set the patties.
Line a baking sheet with parchment paper. Dip the cool patties, one at a time, into the melted dark chocolate to coat. Turn out onto lined baking pan. Repeat with all caramel patties.
Refrigerate for 25-30 minutes to set chocolate.
Serve and enjoy.
Leftovers can be stored in the refrigerator.
Recipe by
Blissful Basil
at https://www.blissfulbasil.com/super-protein-star-crunch-bars/