Dairy-Free Vanilla, Cardamom + Currant Custard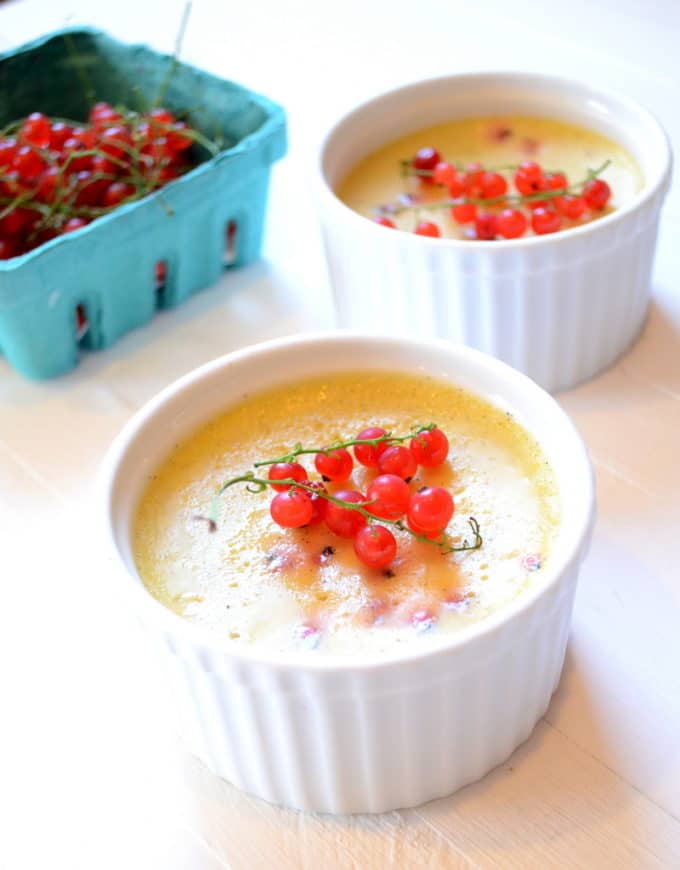 1 3/4 cup full-fat coconut milk (about 1 14-ounce can)
1/4 cup granulated sugar
1 vanilla bean
1/4 teaspoon ground cardamom
4 egg yolks, whisked
1 cup red currants
Preheat oven to 325 degrees Fahrenheit.
Begin by splitting the vanilla bean lengthwise. Use the back of a knife to scrape the seeds out of the vanilla bean.
Heat a medium saucepan over medium-high heat. Add coconut milk, sugar, vanilla bean pod and seeds, and cardamom. Whisk together and bring to a boil. Boil for one minute and then remove from heat and let cool for 10 minutes. Discard vanilla bean pod.
Add the egg yolks to a mixing bowl. Slowly pour warm coconut mixture into the egg yolks as you whisk.
Pour 1/4 cup currants the bottoms of four ramekins.
Pour the custard mixture over the currants.
Pour boiling water into a baking dish until water is about 1-inch deep.
Carefully place the ramekins in the baking dish, being careful not to splash water into them as you do so.
Bake for 45-50 minutes or until mixture has set.
Cool completely in refrigerator and serve with a garnish of currants.
Recipe by
Blissful Basil
at https://www.blissfulbasil.com/dairy-free-vanilla-cardamom-currant-custard/