Lightened-Up: Artichoke, Leek + Parmesan Dip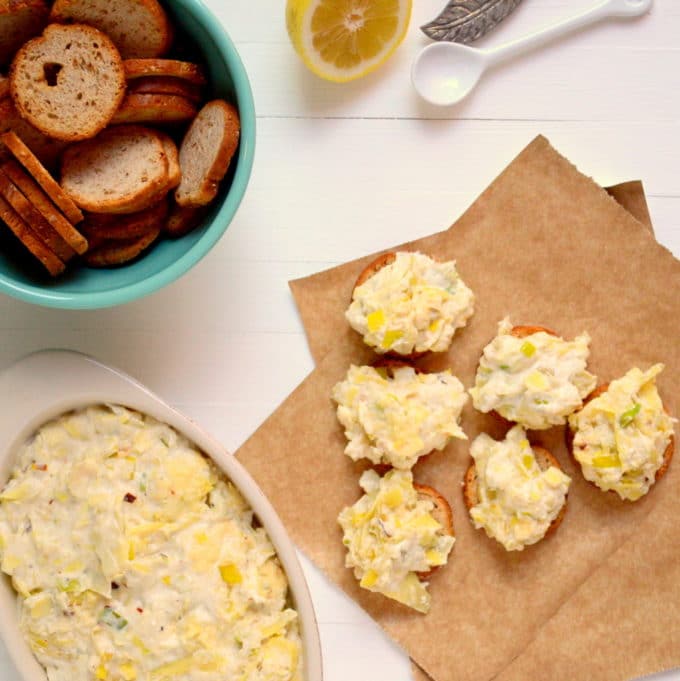 2 leeks, halved and thinly sliced (white and light green parts only)
1 tablespoon olive oil
1/4 teaspoon salt
black pepper, to taste
1 garlic clove, minced
1 15-ounce can artichoke hearts, roughly chopped
6 ounces fat-free Greek yogurt
4 ounces reduced-fat cream cheese
8 ounces grated parmesan cheese
1/4 teaspoon crushed red pepper {or less if you don't enjoy a slight kick of spice}
1 tablespoon fresh lemon juice
40 melba rounds or other dipping toasts or crackers
Preheat oven to 375 degrees Fahrenheit.
Heat olive oil in a large skillet over medium heat. Add in the leeks, garlic, salt, and pepper and sauté for 8-10 minutes or until leeks become tender.
In a large bowl, thoroughly mix the Greek yogurt, cream cheese, parmesan cheese, crushed red pepper, and lemon juice. Add in the artichokes and cooked leeks and gently stir.
Transfer the mixture into a small, lightly greased baking pan. Bake for 20 minutes or until mixture is bubbling.
Serve alongside melba rounds or toasts/crackers of choice.
Recipe by
Blissful Basil
at https://www.blissfulbasil.com/lightened-up-artichoke-leek-parmesan-dip/