Strawberry-Basil Chia Fresca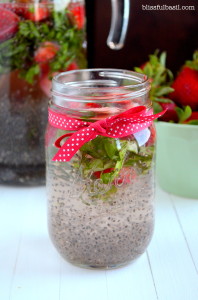 1 cup quartered fresh strawberries
1/2 cup chopped fresh basil
8-10 cups water
1/4 cup chia seeds
1 cup water
1 - 3 tablespoons agave nectar, depending on desired sweetness
Add strawberries, basil and water to a large glass pitcher. Pop in fridge overnight.
Strain off strawberries and basil OR transfer water to a spouted jug (if you opt to keep strawberries and basil in, you'll want to drink the fresca through a straw).
In a small bowl, mix chia seeds, water and agave nectar. Let stand for 10-15 minutes. Add to strawberry-basil flavored water and stir vigorously to separate chia seeds.
Store water in fridge for up to 3 days.
Recipe by
Blissful Basil
at https://www.blissfulbasil.com/strawberry-basil-chia-fresca/