Spring Thyme + Goat Cheese Gnocchi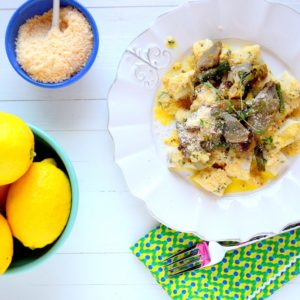 Recipe type:
Pasta, Entree
16 ounces goat cheese
2 large eggs, lightly beaten
1 cup grated parmigiano-reggiano
1 tablespoon chopped fresh thyme
1 cup all-purpose flour
1/3 cup extra-virgin olive oil
2/3 cup grated parmesan cheese
juice of 1 lemon
1 teaspoon chopped fresh thyme
black pepper, to taste
1/4 teaspoon sea salt
2 tablespoons extra-virgin olive oil
2 leeks, cleaned, halved, and sliced
8 ounces fresh asparagus, ends removed and cut into 1-inch pieces
8 ounces fresh or frozen artichokes, quartered
sea salt, to taste
black pepper, to taste
Let the goat cheese stand at room temperature for 20-25 minutes to soften.
In a large, glass mixing bowl, add the goat cheese, eggs, parmigiano, and thyme. Mix well. Slowly add in the flour and gently knead until a soft, wet dough forms.
Divide the dough into four equal pieces.
Sprinkle a clean work surace with flour. Take one portion of the dough at a time and roll it into a 1-inch thick long rope. Slice rope into 1-inch pieces and place each on a baking sheet lined with parchment paper. Continue to do this with each dough piece.
Store gnocchi in refrigerator until ready to cook. Can be made up to two days in advance.
When ready to cook, bring a large pot of water to a boil.
Add in half of the gnocchi and cook for approximately four minutes or until the gnocchi begin to float.
Remove with a slotted spoon and set aside. Add in second half of gnocchi and repeat.
In a small bowl, whisk together all ingredients.
Heat olive oil in a large, nonstick skillet over medium-high heat. Add in the leeks and sauté for 4-5 minutes. Add in the artichokes, asparagus, salt, and pepper. Continue to sauté for 15-20 minutes or until the asparagus becomes tender.
Divide the warm gnocchi among four plates, drizzle with citrus-parmesan sauce, and top with spring veggies. If desired, sprinkle with more parmesan cheese. Serve immediately.
Recipe by
Blissful Basil
at https://www.blissfulbasil.com/spring-thyme-goat-cheese-gnocchi/