Quinoa, Spinach + Mushroom Meatballs (Vegan Option)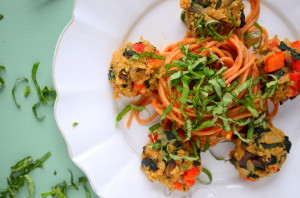 Recipe type:
Entree, Vegetarian Meatball
1 cup uncooked quinoa, cooked according to package instructions
1 tablespoon extra-virgin olive oil
1 red pepper, finely diced
1 yellow onion, finely diced
8 ounces baby bella mushrooms, stems removed and finely diced
6 cups baby spinach
1/4 cup fresh parsley, chopped
1 1/2 cups Italian style breadcrumbs
1/2 cup grated parmesan cheese*
2 eggs, lightly beaten*
1/2 teaspoon sea salt
freshly ground black pepper
Preheat oven to 350° F.
Heat olive oil in a large nonstick skillet over medium-high heat. Add in red pepper and onion and sauté for 5-7 minutes. Add in the mushrooms and sauté another 3-5 minutes. Lastly, add in baby spinach and continue to sauté until spinach is wilted. Remove skillet from heat and set aside.
Add cooked quinoa to a large mixing bowl. Add in sautéed veggies and gently stir. Add in the parsley, breadcrumbs, parmesan, salt and pepper. Stir to evenly distribute. Lastly, add in the eggs and gently mix until just combined to bind.
Prepare two large baking sheets with parchment paper. Spoon 1 1/2 tablespoons of mixture into your hand and roll into "meatball" form and place on baking sheet. Continue to do this until all meatballs have been formed. Note: the mixture will seem very sticky but, trust me, these meatballs will cook up and hold together well. They are sticky because you want them to bake up super moist, which is exactly what they do.
Bake the meatballs for 25 to 30 minutes or until just taking on a golden hue.
Serve with your favorite marinara and pasta.
Store leftovers in fridge for up to 5 days or freeze.
*Imported Parmesan cheese contains calf rennet and is not vegetarian. Domestic brands (e.g., Trader Joe's) often use vegetarian alternatives like vegetable rennet, so be sure to check your Parmesan labels to keep this dish vegetarian.

Vegan Option: substitute vegan parmesan cheese (e.g., Go Veggie) and two flax or chia eggs (i.e., 1 tablespoon chia or flax meal mixed with 3 tablespoons water = one egg. Let sit at room temperature for 10 minutes.)
Recipe by
Blissful Basil
at https://www.blissfulbasil.com/quinoa-spinach-mushroom-meatballs/