Vegan Buffalo Chicken Dip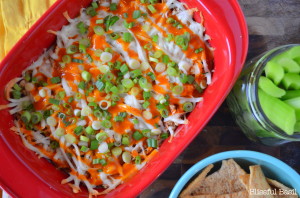 Author:
Ashley Melillo | Blissful Basil
Recipe type:
Dip, Appetizer, Snack
10 ounces "chicken" strips or breasts (I use Gardein Chick'n Scallopini), grilled or cooked according to instructions
8 ounces Tofutti cream cheese
6 ounces mozzarella cheese substitute (I use Daiya)
1/2 cup buffalo sauce of choice, plus more for garnishing
4 scallions, chopped for garnish
Celery sticks, whole wheat pita chips, or tortilla chips for dipping
Heat oven to 350º F.
Shred or chop "chicken" strips.
In a small baking pan, spread tofutti evenly over bottom. Top with chicken, buffalo sauce, and mozzarella.
Bake for 20-25 minutes or until cheese is melted and sauce is bubbling.
Top with scallions and serve immediately.
Recipe by
Blissful Basil
at https://www.blissfulbasil.com/vegan-buffalo-chicken-dip/