Secretly Vegan Cake Batter Fudge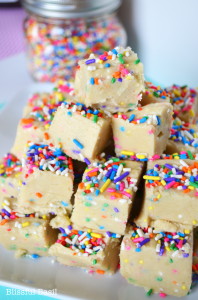 Author:
Ashley Melillo | Blissful Basil
Recipe type:
Dessert, Fudge
1 cup raw cashew butter (see recipe below -- must be raw or it will alter the flavor of the fudge)
1/2 cup vegan buttery spread (e.g., Earth Balance)
pinch of salt
1 teaspoon butter extract
3 to 3 1/2 cups powdered sugar
4 tablespoons sprinkles, divided
Melt the butter in a medium sauce pan over medium-low heat.
Add in cashew butter and stir (note: this will not incorporate with the butter until you begin adding in the powdered sugar).
Turn off the heat, and add in pinch of salt and the butter extract.
Slowly begin adding in the powdered sugar, stirring constantly to ensure all sugar lumps are smoothed out. Once the powdered sugar is added and the mixture has cooled to room temperature or slightly warm, add in 2 tablespoons of the sprinkles and give the batter a few stirs. If you add in the sprinkles when the batter is too warm, the color is more likely to bleed.
Pour the mixture into a lightly greased 5 x 8 or 8 x 8 baking pan (depending on desired thickness).
Top with remaining 2 tablespoons of sprinkles.
Pop in the fridge for at least one hour or until fudge sets.
Cut into 40 or more pieces.
Store uneaten fudge in fridge or freezer.
Recipe by
Blissful Basil
at https://www.blissfulbasil.com/happy-100th-blissful-basil/